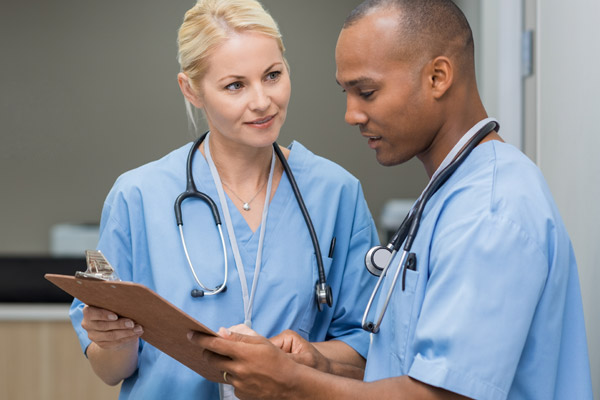 May 16, 2018 | Purdue Global
|
Updated January 20, 2023
An evolving health care environment and a desire for greater career opportunities is sending increasingly more registered nurses back to school. Earning a bachelor's degree in nursing is the right idea—according to the American Association of Colleges of Nursing, 71.7% of employers are expressing a strong preference for BSN program graduates. This growth is attributed to a number of factors, including an aging baby boomer population and the growing prevalence of chronic conditions, such as diabetes and obesity. As health care continues to focus on primary and preventive care, nurses need to be prepared for expanding professional roles that require the ability to practice in a variety of settings.
Perhaps your employer requires it or maybe you're looking for a career opportunity—whatever your motivation, here's what you need to know about going from an Associate of Science in Nursing (ASN) with the RN credential to earning a Bachelor of Science in Nursing (BSN).
Why Earn an RN-to-BSN?
If you're already a licensed RN, earning your BSN can be a worthwhile pursuit. A BSN can help you gain appreciable skills and explore new career possibilities.
Advance Your Career
Most, if not all, graduate nursing programs require a bachelor's degree upon admittance. According to the BLS, three of the most advanced nursing jobs—nurse practitioner, nurse midwife, and nurse anesthetist—require a master's degree in nursing, to which a BSN is a stepping stone.
Overall, nurses with a BSN can be prepared to pursue roles that are responsible for more than basic clinical care. You might also consider other positions related to the field. For instance, even if you love your work right now, in the future, you may want to move into administration or teaching. A BSN can help facilitate your path to getting there.
Prepare to Increase Your Opportunities
With a BSN, you could pursue opportunities in patient care coordination, community education and public health, nursing management and leadership, health care administration, and more.
Provide Better Care
Research has long shown that higher levels of nursing education are associated with better clinical patient outcomes. A 2022 study published by Nursing Outlook found that hospitals with a higher proportion of BSN nurses show a better survival rate for patients receiving surgery.
Ultimately, nurses with a BSN or higher-level degree have been found to have stronger communication and problem-solving skills, and a higher proficiency in making accurate diagnoses based on evaluations.
Why Earn Your RN-to-BSN Online?
For many RNs, leaving the workforce to pursue higher education isn't an option. And traditional class schedules are difficult to accommodate if you have a family and a job. This is what makes an online program so appealing. It provides the same rigorous curriculum as a campus program, yet is flexible enough to allow you to work, go to school, and take care of family responsibilities.
How Long Does It Take to Complete an Online
RN-to-BSN

?

Many online RN-to-BSN programs are accelerated—at Purdue Global, for instance, RN-to-BSN students can graduate in as few as 12 months of full-time study. For example, Purdue Global's ExcelTrack® RN-to-BSN online nursing degree offers a personalized, competency-based program that enables RNs to move quickly past what they already know and focus on the topics they still need to learn. The RN-to-BSN ExcelTrack® program offers flexibility at a manageable pace, so you can earn a bachelor's degree in nursing—in less time for less money.

When you enter this program with a nursing degree, you can transfer up to 90 credits toward your RN-to-BSN degree. You may be eligible to receive additional credits for work experience or other coursework.
How Should You Choose Your School?
When it comes to online universities, accreditation is key. Programmatic accreditation ensures that an unbiased agency recognized by the Department of Education reviewed a program to validate its quality and rigor. Online RN-to-BSN programs should be accredited by either the Commission on Collegiate Nursing Education or the Accreditation Commission for Education in Nursing.
Other criteria to consider include courses offered, available specializations, student outcomes, available career support services, and the quality of faculty members. Make sure to look for an institution that offers what's important to you and will best help you achieve your end goals.
How Will You Afford It?
Qualifying for financial aid, such as Pell Grants and the Federal Supplemental Educational Opportunity Grant, are a few ways to help you afford tuition. Others could include:
Employer payment contributions
State grants
Subsidized and unsubsidized loans
In addition, military experience and prior credits could help you save on an RN-to-BSN degree.
Earn an RN-to-BSN Degree Online with Purdue Global
If you already have your nursing license, the flexibility of an online RN-to-BSN program offers you the same rigorous coursework of an on-campus education without the rigid schedule—all while meeting high industry standards.
If you're considering pursuing an online RN-to-BSN, request information about the Purdue Global degree program. Our accredited program is led by experienced faculty and is flexible to meet the needs of today's busy working adults.
---
---
Your Path to Success Begins Here
Learn more about online programs at Purdue Global and download our program guide.
Request Information