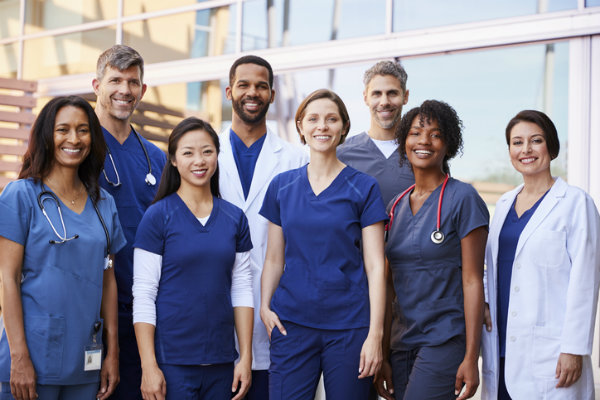 May 2, 2019 | Purdue University Global
May 2, 2019 | Purdue University Global
Americans love their nurses—for the 17th consecutive year, nursing ranked as the nation's most trusted profession in Gallup's 2018 poll about honesty and ethics in professions. At the same time, the U.S. is facing a nursing shortage.
In this infographic, we take a close look at up-to-date information surrounding various aspects of nursing in the United States. We examine such nursing data as:
Total U.S. nursing population
RNs by gender, age, and race/ethnicity
Job satisfaction rates
Levels of education attained
Thoughts on nurse leadership
Numbers of nursing specialties
Rates of job growth and employment need
Retirement statistics
Nurses are the backbone of the health care industry; we admire and respect the integral role they play in America's health care system. Let's look at recent data that gives a snapshot of nursing in the U.S.

Nursing by the Numbers Infographic Content
Total U.S. Nursing Population
2,906,840 registered nurses - BLS
155,500 nurse practitioners - BLS

Men in Nursing
The percentage of nurses who are male is increasing:
2013 - 7% male
2015 - 8% male
2017 - 9% male
Age
The average age of RNs in 2017: 51
Race/Ethnicity
75.3% White
9.9% Black or African American
8.3% Asian
4.8% Hispanic
1.3% Two or more races
0.4% American Indian or Alaskan Native
Job Satisfaction
83% of nurses are satisfied with nursing as a career choice
66% of nurses say they would encourage others to become nurses
60% of nurses say they are satisfied with their current jobs
Respect
17: The number of consecutive years nursing has been rated the most trusted profession
Educational Attainment
The number of RNs who qualify for their first U.S. nursing license with a BSN is increasing:

2013 - 36%
2015 - 39%
2017 - 42%
Nurse Leadership
82% of nurses agree or strongly agree that more nurses are needed in executive health care leadership roles
When asked about their plans to pursue leadership roles:

61% are not planning to pursue a leadership position
22% responded "yes"
17% said they were already in a leadership position
10 Prominent Nursing Specialties
Ambulatory care nurse
Case management nurse
Hospice nurse
Medical-surgical nurse
Nurse educator
Nurse executive
Nurse practitioner
Pediatric nurse
Psychiatric nurse
Public health nurse
Job Growth & Employment Need
Employment of registered nurses is expected to grow 15% from 2016 to 2026 - BLS
Employment for nurse practitioners is expected to grow 31% from 2016 to 2026 - BLS
7 states are facing critical nursing shortages. By 2030, the projected number of open positions in these states will be:

California: 44,500
Texas: 15,900
New Jersey: 11,400
South Carolina: 10,400
Alaska: 5,400
Georgia: 2,200
South Dakota: 1,900
Retirement
More than 55% of registered nurses are 50 years old or older.
More than 1 million registered nurses will be eligible for retirement within the next 15 years.
73% of Baby Boomer nurses who are planning to retire say they will do so in 3 years or less
Learn More About Earning a Nursing Degree
Purdue University Global offers a variety of nursing degrees that can help you start or advance your nursing career. Learn more about nursing degrees at Purdue Global or request information.
Your Path to Success Begins Here
---
Learn more about online programs at Purdue Global and download our program guide.
Request Information
Your Path to Success Begins Here
---
Learn more about online programs at Purdue Global and download our program guide.
Request Information