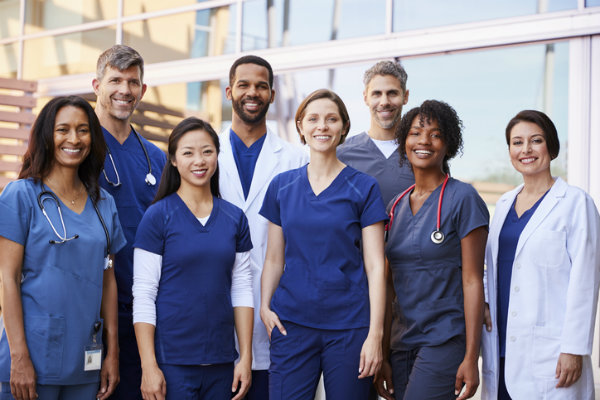 May 9, 2019 | Purdue Global
|
Updated April 19, 2022
Americans love their nurses—for the 20th consecutive year, nursing ranked as the nation's most trusted profession in Gallup's 2021 poll about honesty and ethics in professions. At the same time, the U.S. is facing a nursing shortage.
In this infographic, we take a close look at up-to-date information surrounding various aspects of nursing in the United States. We examine such nursing data as:
Total U.S. nursing population
RNs by gender, age, and race/ethnicity
Job satisfaction rates
Levels of education attained
Thoughts on nurse leadership
Numbers of nursing specialties
Rates of job growth and employment need
Retirement statistics
Nurses are the backbone of the health care industry, and we admire and respect the integral role they play in America's health care system. Let's look at recent data that gives a snapshot of nursing in the U.S.

---
Nursing by the Numbers Infographic Content
Total U.S. Nursing Population in 2020
Men in Nursing
The percentage of registered nurses who are male is increasing:
2019 - 11.1% male
2020 - 12.6% male
2021 - 13.3% male
BLS Labor Force Statistics from the Current Population Survey
Age
The average age of RNs in 2020: 52
National Nursing Workforce Study
Race/Ethnicity
74.9% White
13.3% Black or African American
8.8% Hispanic or Latino
8.6% Asian
BLS Labor Force Statistics from the Current Population Survey
Job Satisfaction
81% of nurses are satisfied with nursing as a career choice
64% of nurses say they would encourage others to become nurses
67% of nurses say they are satisfied with their current jobs
Respect
20: The number of consecutive years nursing has been rated the most trusted profession
Educational Attainment
The number of RNs who qualify for their first U.S. nursing license with a BSN is increasing:
2015 – 39.0%
2017 – 41.7%
2020 – 42.0%
National Nursing Workforce Study
Advanced Practice Nursing
When asked about their plans to pursue an advanced practice education:
8% of all nurses are currently enrolled in an advanced practice program
30% of all nurses plan to pursue education to become an advanced practitioner
57% of nurses currently enrolled in a nurse education program are pursuing a master's degree or doctoral degree
24% of current nurses are planning to pursue further education in the next 3 years
Job Growth & Employment Need
Employment of registered nurses is expected to grow 9% from 2020 to 2030 - BLS
Employment for nurse practitioners is expected to grow 52% from 2020 to 2030 - BLS
7 states are facing critical nursing shortages. By 2030, the projected number of open positions in these states will be:
California: 44,500
Texas: 15,900
New Jersey: 11,400
South Carolina: 10,400
Alaska: 5,400
Georgia: 2,200
South Dakota: 1,900
U.S. Health Resources and Services Administration
Retirement
Nearly 80,000 nurses left the workforce in 2020
More than 1 million registered nurses will be eligible for retirement within the next 10 years
The American Association of Colleges of Nursing
15% of all nurses are currently eligible for retirement
Of nurses eligible for retirement, 12% plan to retire in less than one year
An additional 41% of nurses eligible for retirement plan to retire in 1-3 years
Learn More About Earning a Nursing Degree
Purdue Global offers a variety of nursing degrees that can help you start or advance your nursing career.* Learn more about online nursing degrees at Purdue Global or request information.