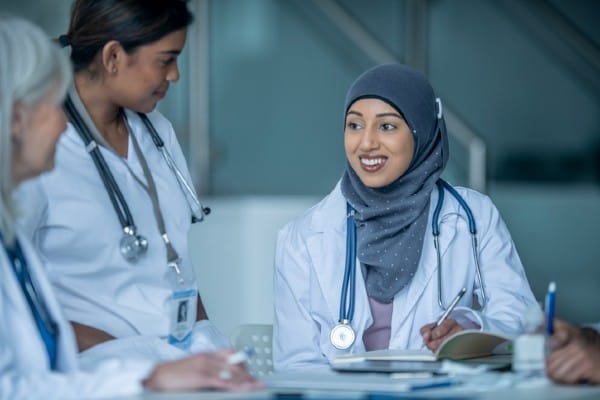 January 3, 2023 | Purdue University Global
More nurses are making the move to earn a Doctor of Nursing Practice (DNP) degree, the American Association of Colleges of Nursing indicates. The growth of DNP programs has continued, with 40,834 students enrolling in 2021, up from 39,530 in 2020. The number of graduates in the same period increased to 10,086 from 9,158.
The online DNP program helps nurses practice at the highest level of nursing by helping them:
Analyze data and research⁠—This will help nurses improve nursing practice and quality of health care and foster interprofessional collaboration.
Be culturally competent leaders⁠—They can help transform global health care with an emphasis on advanced clinical practice, health care policy, health care delivery systems, information systems, and leadership.
Evaluate and help develop health policies⁠—They can measure ethical, legal, and social factors in shaping these policies.
Angela Owens, department chair for the DNP program at Purdue University Global, discussed what a DNP is, what to expect from the DNP degree, and how a DNP can benefit a nurse's career.
What Can Nurses Do with a DNP Degree?
A DNP degree lays the groundwork for nurse leaders to improve patient outcomes with the latest new techniques. Nurses with a DNP are sought after for their leadership in clinical applications and are considered key players in the future of health care. However, Owens says not all DNP degree holders are nurse practitioners.
"Nurse educators also hold DNPs, as well as nurses in leadership positions, nurse informaticists, and nurses in health care policy. So there's a wide range of areas where a nurse with a DNP can apply their skills," she says.
"The DNP prepares nurses to lead change from a systems level. The ultimate goal is to improve patient outcomes. That patient may be an individual or it may be a community," Owens says. "The degree helps nurse leaders take a closer look at what's going on in their environment and see what they can do to encourage change, and who they can partner with to make it happen."
The DNP is intended to broaden career opportunities for nurses. With the degree, nurses possess the knowledge to influence health care outcomes through all levels, from organizational leadership to health policy implementation down to direct patient care.
"I personally feel like the sky's the limit," Owens says.
>> Read: What Can You Do With a Doctor of Nursing Practice Degree?
How Can a DNP Degree Help You?
The importance of a DNP is growing. In 2018, the National Organization of Nurse Practitioner Faculties said the DNP should be the new entry-level preparation for nurse practitioners by 2025.
The DNP is attractive because it is a terminal degree for nurses, the apex of their practice-based training in nursing.
"For nurses, this is the doctorate for our practice," Owens says. "What the DNP-prepared nurse does is take what has happened in research and pull that into application. So it's translational research; we're taking what has been studied and found to work and putting that into practice."
Owens says DNP nurses look for the best solutions to issues within health care. She says that's why she chose to get a DNP herself.
"I wanted to change nursing from a leadership position and from a policy level," Owens says. "So for me, the DNP was a natural fit because I want to be in action. I want to be implementing things that help change my profession for the better. My focus is also on quality improvement and implementing changes that help my students and faculty."
What Is the Difference Between an MSN and a DNP?
Many nurses choose to pursue a master's degree in nursing (MSN) to gain more skills in their specialty. This makes sense because an MSN offers opportunities to learn about the specific skills and advanced knowledge required for practice as an advanced practice nurse.
A DNP, however, helps prepare nurses to pursue advanced clinical and leadership positions in the industry.
"In the MSN program, you're learning the fundamentals of the specialty area that you have decided to go into, whether that's as a nurse practitioner, in informatics, education, or leadership," Owens says. "You're learning the fundamentals that you need to be able to practice with that degree and apply that knowledge."
The DNP is more all-encompassing, Owens says.
"You're learning how to take everything you've learned before, and then look at your environment, your community, and your work environment. You look at it through the lens of continual improvement and always wanting to make things better and change things for the better," she says.
Owens says these skills help nurses build teams, manage programs, and then implement changes with the right kind of support.
"We're used to trying to change things sometimes without gaining the right support," Owens says. "We give students a lot of the soft skills—leadership skills—that they need in order to get people behind their cause."
>> Read "A Guide to Nursing Programs, Degrees, & Career Paths"
What Skills Are Needed for Success in a DNP Program?
There are some key skills that students need to be successful in a DNP program. Among these:
Ability to prioritize
Adaptability
Clear vision
Desire for excellence
Effective time-management skills
Good communication
Strong work ethic
"Good time management and communication skills are really important," Owens says.
Owens says adaptability is also important because nurses may need to change their focus depending on the needs of the organization and the requirements of the program. Furthermore, "Nurse practitioners with a DNP demonstrate a dedication to excellence through advanced education," Owens says.
What Does the Future Hold for Those with a DNP?
According to the AACN, employers are recognizing the benefits of DNP-prepared nurses in the practice arena, and therefore the demand for them continues to grow. However, Owens says, there are still some barriers.
"In some states, nurse practitioners do not have full practice authority," Owens says.
"I think we're still seeing the growth of our degree," she says. "We're seeing DNP nurses involved in great ways in a lot of different institutions. I think you're going to see more of us, and it's just getting the word out on how capable and amazing we are."
Let Purdue Global Help You Achieve Your DNP Goals
Find out more about how a DNP degree can grow your career and help you stay competitive in the rapidly changing health care environment.
Learn specifics about the Purdue Global online DNP program and request more information.