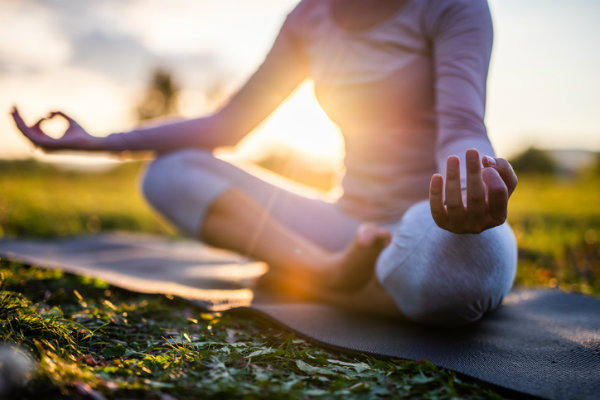 April 4, 2019 | Purdue Global
|
Updated April 28, 2021
As discussed in Part 1 of our two-part series on self-care for nurses, many nurses put the well-being of their patients before their own. This lack of self-care is not only unhealthy and draining for nurses, it could also compromise the quality of care they provide. Especially with the challenges of the COVID-19 pandemic, nurses need to focus on self-care.
Self-care ameliorates the stress that comes with nursing, replenishes a nurse's empathy and compassion, and promotes safety and higher-quality patient care. It is also mandated by the American Nurses Association Code of Ethics.
In Part 1, we suggested nurses do a self-care self-assessment and identify opportunities for growth as a way to develop a nursing care plan for self-care deficit. In this article, we're exploring complementary, alternative, and integrative healing practices nurses can implement in their own lives to better practice self-care.
Defining Complementary, Alternative, and Integrative
Some health care practices are not typically part of mainstream Western medical care. The terms complementary, alternative, and integrative are often confused or used interchangeably, but they have differences. According to the National Center for Complementary and Integrative Health (NCCIH), those differences are:
Complementary health practices are nontraditional methods used together with conventional Western medicine
Alternative health practices use nontraditional methods in place of conventional Western medicine
Integrative health practices use conventional approaches that are coordinated with complementary practices
Let's look at some complementary, alternative, and integrative health practices nurses can use to provide self-care.
Whole Medical Systems
The following healing systems have all been used to alleviate the symptoms of depression, fatigue, anxiety, stress, and migraines, among other ailments that are common among those who need to practice greater self-care.
Homeopathy. This approach uses very small doses of natural substances to activate the body's self-healing abilities.
Naturopathy. This approach promotes practices that encourage noninvasive healing techniques such as acupuncture, exercise, massage, and counseling.
Traditional Chinese medicine. This approach is based on more than 2,500 years of Chinese medical practice and includes acupuncture, herbal medicine, exercise (qigong), and diet.
Ayurvedic medicine. Developed more than 3,000 years ago in India, this holistic approach to physical and mental health combines herbs and minerals with diet, exercise, and lifestyle recommendations.
Manipulative and Body-Based Practices
This health care approach uses therapies designed to keep our bodies running optimally. The therapies address structural or systemic imbalances of the joints, bones, soft tissues, and lymphatic and circulatory systems. The therapies included in manipulative and body-based practices are:
Chiropractic care
Massage
Cupping
Reflexology
Tai chi
Qigong
Yoga
Mind-Body Medicine
This approach believes in the connection between our thoughts and feelings and our physical, emotional, and spiritual health. Nurses can use mind-body techniques to reduce stress and aid in their physical and emotional health. Such techniques include:
Meditation
Biofeedback
Guided imagery
Biologically Based Practices
Biologically based practices include the use of substances found in nature—herbs, foods, vitamins, amino acids, prebiotics, and probiotics—to promote overall health and wellness, reduce stress, and alleviate symptoms of depression.
Aromatherapy, the practice of using aromatic essences from plants to promote good health, is also in this category. According to Healthline, aromatherapy is said to:
Reduce stress and anxiety
Improve digestion
Aid in pain management
Improve sleep
Treat headaches
Boost immunity
Energy Medicine
Energy medicine (also known as energy healing) is the practice of using energy from external sources to directly affect a person's health. All matter is made up of energy, and practitioners believe that the flow and balance of life energies can become blocked, causing disturbing symptoms such as pain and stress. By practicing energy medicine techniques, these energies may be restored and physical and emotional health may be maintained.
Energy healing techniques include:
Reiki
Tapping
Magnet therapy
Therapeutic touch
Distant healing
Contact healing
Bioresonance
To Learn More About These Modalities
If you'd like to learn more about how the health care treatments highlighted in this article can help you practice better self-care, or if you'd like to find a practitioner near you, visit:
Read this NCCIH article, 6 Things to Know When Selecting a Complementary Health Practitioner, for assistance in selecting a provider.
Nurses: Take Time for You
Nursing is a valuable and trusted profession, but unfortunately, burnout is not uncommon. Take the time to care for yourself physically, emotionally, and spiritually. These nursing interventions for self-care deficit enable you to refresh your own well, so you can then better give to others.
If your life goals include earning another nursing degree, learn about the online nursing degree programs offered by Purdue Global.
---
Your Path to Success Begins Here
Learn more about online programs at Purdue Global and download our program guide.
Request Information