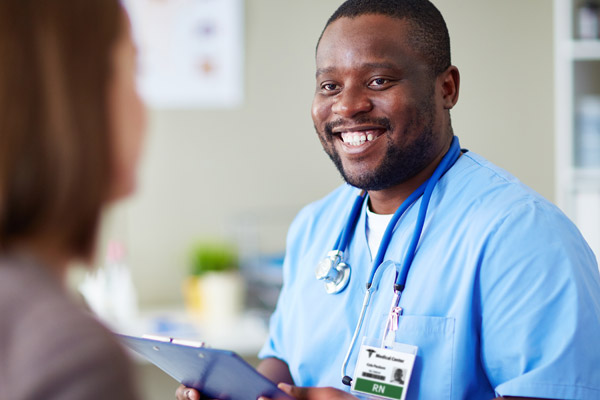 July 23, 2018 | Purdue University Global
|
Updated January 7, 2021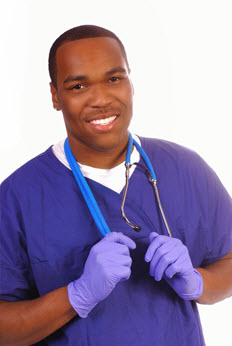 For centuries, nursing had been considered a role for women, and today, the occupation is still largely filled by females. But things are changing.
More men are joining the field and finding it to be a rewarding and lucrative career. According to the Center for Interdisciplinary Health Workforce Studies, the number of male nurses increased from less than 200,000 in 2006 to more than 350,000 in 2016. In a working paper series sponsored by the Washington Center for Equitable Growth, professors Elizabeth Munnich and Abigail Wozniak indicate that men have gone from "rarities in the nursing field to having a significant, if minority, presence."
If you're a man who's considering a career in nursing, you'll find stable job growth and opportunity. According to the U.S. Bureau of Labor Statistics, health care occupations are among the fastest-growing jobs, with RN employment projections surpassing the average for all other occupations.*
What's behind such growth? This article examines the factors that are calling more men into the field, including the national nursing shortage, significant career opportunities, and focused recruitment efforts to bring more men to nursing.
National Nursing Shortage
There are a number of reasons why nurses are in such high demand, including:
Baby boomers are living longer, and an aging population drives a need for more health care services.
The number of people developing and/or living with chronic conditions, such as diabetes and obesity, is dramatically increasing.
A large portion of the nursing workforce is approaching retirement age. According to the Health Resources and Services Administration, 1 million RNs will reach retirement age by 2030.
A shortage of nursing school faculty is causing nursing schools to turn away large numbers of qualified applicants, according to an American Association of Colleges of Nursing report.
For these reasons, the BLS projects employment of registered nurses in the U.S. to grow faster than the average rate for all professions from 2019 to 2029; employment for nurse practitioners is projected to grow 52% in the same time period, making it the second fastest growing occupation.*
Career Opportunities in Nursing
Nursing offers diverse opportunities as far as where you can work and areas of specialization. With a nursing degree, you could pursue opportunities in community education and public health, nursing management and leadership, health care administration, and care coordination.
Nurses are needed in hospitals, doctors' offices, schools, correctional facilities, and hospice care facilities, and for in-home care and flight transports.
Most fellow Americans trust nurses' judgement and appreciate their care. According to a 2019 Gallup report, for 18 years in a row Americans have ranked nurses at the top of the list of occupations with the most honest and ethical standards, especially when compared to other professionals.
And no matter your specialty, as a nurse you'll be among good (and satisfied) company. According to a 2017 Kronos survey, 93% of U.S.-based nurses are satisfied with what they do.
Support Systems for Men in Nursing
The idea of pursuing a career in nursing as a man can be exciting for some and daunting for others. Luckily, several organizations exist to help attract male nurses to the field and support their professional growth.
One of the most prominent organizations is the American Association for Men in Nursing (AAMN), which has a goal to increase male enrollment in nursing programs throughout the United States and the world. As part of this recruiting initiative, the association makes posters featuring male nurses who have combined their interests and hobbies with their nursing jobs. These real-life stories of male nurses who "Do what they love and loving what they do" is meant to encourage people like you to find your niche in the nursing field.
AAMN also offers nursing resources for males, including mentor programs and a list of schools and colleges that have been recognized for their efforts in offering excellent nursing programs for men.
Requirements to Become a Nurse
To become a nurse, you must earn a nursing degree, like an associate's degree in nursing (ADN), and pass the national licensing examination that gives you RN status.† This can include 2 to 4 years of classroom study and hands-on, clinical experience. While the ADN can help you qualify to take the exam that allows you to be an RN, many students start with their ADN and then return to school through an online Bachelor of Science in Nursing (RN-to-BSN) program.
From there, you can earn a master's degree in nursing (MSN) to pursue advanced practice roles such as a nurse practitioner. With a master's degree, you may also wish to become a nursing administrator or educator.
Lastly, if you choose to earn a Doctor of Nursing Practice (DNP), there are two types: research-focused programs and practice-focused programs. While both are designed to produce clinical experts who are leaders in their areas of expertise, your preference of research methodology or evidence-based application will determine your choice in program.
Get Started With Purdue University Global
More men are entering nursing and finding it to be a wonderful career with a wide array of specialties and opportunities. If you want to get started on pursuing a nursing career or further your education in nursing, Purdue University Global's School of Nursing can help. Your path to success begins here. Request more information today.
Your Path to Success Begins Here
---
Learn more about online programs at Purdue Global and download our program guide.
Request Information
Your Path to Success Begins Here
---
Learn more about online programs at Purdue Global and download our program guide.
Request Information