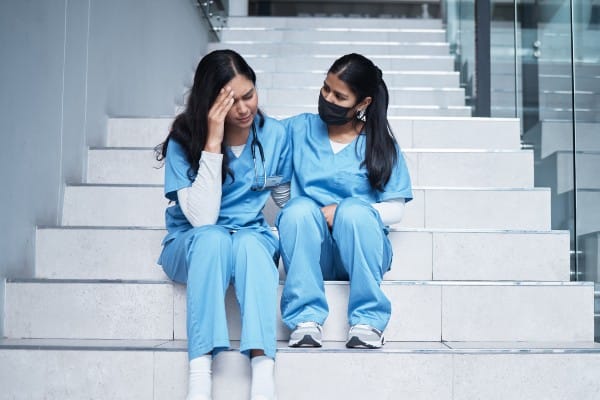 May 9, 2022 | Purdue Global
There's no question that nursing is a rewarding profession. But any nurse will tell you that it can also be mentally and physically demanding. Consider the following nurse burnout statistics:
A 2020 survey by Mental Health America revealed that 93% of health care workers were experiencing stress, and 76% of health care workers reported exhaustion and burnout.
In a March 2022 report, the American Nurses Foundation stated that 60% of acute care nurses report feeling burned out, and 75% report feeling stressed, frustrated, and exhausted.
In a 2021 webinar hosted by U.S. News & World Report, Dr. Victor Dzau, president of the National Academy of Medicine, said about 20% of health care workers have quit their jobs since the beginning of the pandemic. Four out of 5 of those who remain say that staff shortages have affected their ability to work safely and to satisfy patient needs.
Burnout in nursing is, unfortunately, a widespread problem—and it's one of the driving forces behind the nation's nursing shortage.
Whether you're a nurse who is feeling burned out or a nurse leader looking to improve the well-being of your staff, preventing nursing burnout starts with understanding its signs and symptoms.
What Is Nurse Burnout?
The World Health Organization (WHO) classifies burnout as an "occupational phenomenon" resulting from chronic workplace stress that has not been successfully managed. Nurse burnout refers to the mental, physical, and emotional fatigue that nurses experience. This state of fatigue may lead to a lack of motivation and declining performance at work.
To get more information on nurse burnout, we spoke to Dr. Angela Owens, DNP, Department Chair at Purdue Global.
"Nurses are our frontline of defense in health care," says Owens. "It's been that way historically, but it's really come into the spotlight over the last two years."
She explains that the COVID-19 pandemic hit nurses especially hard. "At first, nurses were being asked to work without the appropriate protective equipment. Without the right masks and gowns, it was hard for nurses to feel safe in doing their jobs. To add to this, they were tasked with more patients than usual, and these patients were much sicker than usual," she says. "Overall, the situation put a huge amount of stress on the profession of nursing."
According to the American Nurses Foundation's COVID-19 Two-Year Impact Assessment Survey, burnout is especially common among younger nurses and nurses who are newer to the profession.
Burnout may be caused by long hours, staff shortages, not feeling valued, and conflict with patients and families. In addition, the stress of constantly having to provide support to sick and dying patients takes a toll on nurses.
Signs of Burnout in Nurses
According to WHO, burnout has three primary characteristics:
Feeling depleted or exhausted
Increased mental distance from your job; feeling negative or cynical about it
Reduced professional efficacy
Owens says that there are several signs of burnout nurses may notice in their colleagues. "You might notice a colleague being more critical than they normally are—for example, snapping at someone when they never would have done that before. Someone who's normally upbeat may look down or tired. It may seem like they don't enjoy interacting with patients, families, and coworkers anymore."
Owens admits that recognizing signs of burnout in yourself can be harder than noticing it in others.
"As nurses, it's difficult for us to accept that we need help with certain things," she says. "The truth is we often can't take care of ourselves as well as we can take care of others.
"Burnout doesn't happen all at once, which makes it even more difficult to acknowledge. It can creep in over time. After a while, you might notice that you're dreading going to work, or you find less and less satisfaction in tasks you used to enjoy."
Symptoms of Nurse Burnout
Common nurse burnout symptoms include:
Exhaustion
Anxiety
Decreased job satisfaction
Withdrawal from coworkers
Poor judgment
Frustration
Headaches
Change in appetite or sleep
Lack of motivation
Cynicism
Frequent illness
Missing work
Preventing and Addressing Nurse Burnout
Nursing burnout can negatively affect your job satisfaction and performance. Prolonged feelings of burnout may even start to affect your mental health outside of work. Thankfully, there are a few steps you can take to mitigate the symptoms associated with burnout.
"Once you recognize that burnout is happening, the next step is to figure out why it's happening," says Owens. "Is a specific person or situation causing you emotional distress? Has a workplace policy made your day-to-day work more tiresome? Defining the root cause can help you find solutions to combat the burnout."
Owens' top tip is to take time outside of work to explore activities that bring you joy. While many nurses get joy out of giving back to friends and family, she emphasizes the importance of finding time that's just for you. "You should think of your downtime as a protected space."
>> Read: Stress Management for Health Care Workers: Real Tips on How to De-Stress
How Employers Can Address and Prevent Nurse Burnout
Employers, managers, and leaders play an important role in nurse burnout prevention. Preventing burnout isn't just in the best interest of employees—it can also help improve patient outcomes. In fact, Provisions 5.5 and 5.6 of the American Nursing Association Code of Ethics highlight the reciprocal relationship between self-care and positive patient outcomes. Overworked, emotionally drained nurses may struggle to provide the level of patient care they once did.
Here are a few ways employers and nurse managers can address burnout:
Make self-care part of the company culture. Self-care encourages nurses to look out for their own physical, mental, and emotional well-being. Whether it's tips for how to create a self-care routine or providing resources for complementary, alternative, and integrative health practices, self-care should be integrated throughout the culture of your organization.
Ask nurses what they need. Management should be sure to get the input of nurses before making workplace policy changes. Owens explains that asking nurses what they need to ease workplace stress has two primary benefits. "Nurses will feel like their opinions are valued, and management will be better equipped to come up with solutions that meet the needs of their employees."
Provide wellness opportunities. Wellness opportunities for employees may include exercise programs, paid volunteer time, or access to counseling services. When developing an employee wellness program, ask nurses what types of benefits they would like to see. "Employers often introduce wellness opportunities with the best of intentions, but sometimes they miss the mark," Owens says. "Be sure to find out what nurses really want."
Further Your Nursing Education Online With Purdue Global
Nurses who take better care of themselves are able to offer better patient care. By prioritizing self-care and taking time to focus on other interests outside of work, nurses can mitigate some of the effects of burnout.
Sometimes, changing your nursing specialty or advancing within your career can provide you with a renewed sense of purpose. Purdue Global offers a wide range of online nursing degree programs, including Master of Science in Nursing, Doctor of Nursing Practice, and several postgraduate certificates. If you'd like to learn more about earning an online nursing degree with us, reach out for more information today.
---