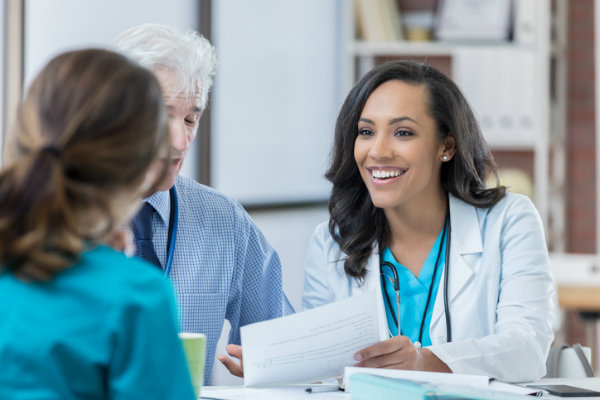 July 5, 2019 | Purdue Global
|
Updated January 5, 2021
Nursing is an honorable and fulfilling career—and one that's in great demand. An aging population combined with an increased emphasis on preventative care is expected to create demand for skilled nurses. In fact, registered nurse is one of the top 5 occupations expected to add the most new jobs from 2019 to 2029. If you're gearing up to interview for one of those jobs, it's vital that you are prepared.
Purdue Global faculty member Jonathan McCarthy offers some advice. "I was in nursing administration for 15 years," McCarthy says, "during which I hired more than 100 nurses. This is what I looked for in a nursing hire, and what would make me say 'thanks, but no thanks.'"
What to Wear to a Nursing Interview
This probably comes as no surprise, but you should dress professionally. Wear clean, crisp clothes. Women should wear a skirt and matching blouse or a pants suit. Men should wear dress slacks and a shirt and tie.
"I think it's almost easier to say what not to wear to an interview," McCarthy says. "No jeans, no sweat pants, no hoodies, and nothing too casual. Dress for the position you want."
McCarthy suggests covering body art during the interview. "One day, a critical mass of people will have body art and nobody will care about it anymore, but we're not there yet," McCarthy says. "Cover up your tattoos. If you have piercings through your lips, tongue, or eyebrow, take them out. Right or wrong, these things make an impression from the moment the interviewer lays eyes on you, and it's always better to play it safe and look professional."
Bring Your Resume With You
Bring clean copies of your resume in a binder or portfolio. Your resume doesn't need to be fancy; it should have your personal information at the top and list your education and work history below.
"Make sure to include a list of your accomplishments," McCarthy says, "and if you've participated on committees or in ways that improved the patient experience, let us know."
What Nursing Job Interview Questions to Expect
One of the biggest changes McCarthy has seen in recent years with regard to interviewing for nursing positions is the rise of behavioral-based interview questions.
According to the Society for Human Resource Management, behavioral interviewing asks you to provide specific examples that demonstrate you have certain knowledge, skills, and abilities. The interviewer wants to learn how you have dealt with issues in the past in an effort to learn more about your experience and how you might handle similar situations for their organization.
"The typical behavioral-based questions you will get will deal with teamwork and conflict," McCarthy says.
How to Prepare for Questions About Teamwork
"To prepare for these, think about a time when you had a difficult customer service experience and how you resolved it," McCarthy says. "As an interviewer, what I'm looking for is a win-win situation, where there wasn't a right and a wrong answer and both sides came away happy."
How to Prepare for Questions About Conflict
"In terms of conflict with peers, talk about ways you were able to use communication skills to understand and resolve the problem," McCarthy says. "Explain a scenario where it worked out for both parties."
Know Your Strengths and Weaknesses
"You're going to get the standard, 'Tell me your strengths. Tell me your weaknesses.' People still ask for these, so know what you are going to say," McCarthy says. "Don't call it a weakness, either—call it an opportunity for improvement. Then, be able to back it up with examples."
Practice
"Practice, and then practice some more," McCarthy advises. "Do a mock interview with a family member or friend. When you give a response, have a brief story or situation that you can relate it to. We want to hear you share your own experiences in a way that demonstrates you are going to be a good fit."
What Qualities Are Interviewers Looking For?
"I have always told the managers who work for me to hire for two things: intelligence and attitude," McCarthy says. "If they're smart and they have good attitudes, usually they're going to be successful. If they're smart and have a poor attitude, they won't work out. If they have a good attitude but lack the knowledge needed, they're not going to work out either and can put patients at risk."
Prepare thoughtful responses that portray you as someone who knows what you're talking about and is good with people. And remember to focus on the patient experience.
"As a nursing leader, I want somebody who's going to deliver a great patient experience every single time," McCarthy says.
Are You Interested in Earning Your Next Nursing Degree?
Purdue Global offers a range of online nursing degrees that help prepare nurses to advance their careers while they continue working.* Learn about the progression of nursing degrees, including our online RN-to-BSN degree program. Employers are increasingly requiring a BSN, and the credential helps expand your career opportunities. If you're ready to talk to one of our advisors, request more info today.
---
Your Path to Success Begins Here
Learn more about online programs at Purdue Global and download our program guide.
Request Information