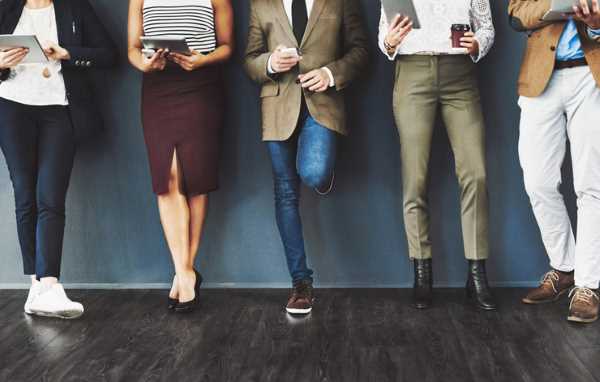 March 2, 2022 | Purdue Global
Knowing how to dress for a job interview is an important part of interview preparation. The way you present yourself can subtly suggest your understanding (or lack thereof) about the company's business purpose and culture.
Selecting an appropriate interview ensemble requires research and planning. You should dress according to the organizational dress code and the role you're seeking.
Dress code policies are being reconsidered due to the COVID-19 pandemic and the increase in remote workers, according to a 2021 article by the Society for Human Resource Management. While companies may be becoming more lax about dress codes, it's still best to stick to the tried-and-true guidelines for projecting a professional image.
Follow along for guidance on proper attire for your job interview.
1. There's No One 'Right' Way to Dress
There's no one-size-fits-all approach in preparing your interview outfit. What you wear to interview for one company may not be right for interviewing with another.
2. Dress for the Work Environment
There's no one-size-fits-all approach in preparing your interview outfit. What you wear to interview for one company may not be right for interviewing with another.
If you know someone who works at the organization, reach out to them for advice about what to wear. It's also OK to ask the person who called you for an interview about the company dress code. Even if the role to which you are applying is remote, follow the company dress code for your interview.
What if you've never seen the company office and you don't know anyone that works there? Here are some guidelines to help you settle on an appropriate look.
Check Out the Company Website
A company's website may clue you in on an organization's dress code. Learn more about the company and search for group or individual employee photos, which you can often find in the "About Us" or "Meet Our Team" sections.
>> Read More: How to Research a Company for a Job Interview
Use what you glean in conjunction with further information you discover to get a better idea about the dress code for a job interview.
Pay attention to whether:
Employees are formally dressed and posed in the photos. They're wearing dark dresses or suits with collared shirts, neckties, or scarves. They're posed in structured rows with straight postures.



This could suggest that the office has a business professional dress code. Of course, there's always the possibility that they were asked to dress up and pose as such for the website photo. Do more research to confirm you're on the right track. Refer to the Business Professional section below in this article for more information.

Employees are informally posed and dressed in the photos. They're wearing sweaters, jeans, chinos, or skirts with crew neck, v-neck, or open collars. They are informally posed in photos as if they're casually hanging out together.



This might suggest that the company has a business casual or even casual dress code. Of course, you will want to up your attire a notch for the interview. Refer to the Business Casual section below for more information.
Look at Google Maps Photos
Photos of business exteriors are usually posted on Google Maps when you pinpoint the company's location. There may also be Interior photos that may hint about a company's dress code.
Sleek, modern, or techy decors might suggest a Business Casual dress workplace. Traditional, upholstered furniture, heavy-looking wood desks, and plush carpets might suggest a Business Professional dress workplace. Keep researching to determine whether your hunch is correct.
Perform an Industry Search
Search Google using terms that can lead to blogs about the proper attire for a job interview for different industries. For example, if you're interviewing with a technology-oriented company, you might search for "technology business dress code" for advice. For a professional office environment such as a law or accounting office, you could search "professional office dress code guidelines."
3. Dress for the Role
A good rule of thumb is to dress as if you're applying for one position above the one in which you are interviewing. Clean, neutral slacks or pants, dress shirts, and jackets are safe and appropriate choices.
Choose Practical Fabrics
A shimmering shirt might look great for an evening out, but it can be too distracting in an interview. Wear fabrics that look and fit smoothly on you. Be sure they're clean and pressed and not too tight or too loose. You might consider fabrics that have some stretch.
Dress for the Weather
You won't look or be comfortable in a wool jacket on a hot day or in thin, cool fabrics on a very cold day. Wear a rain-repellent coat or tote an umbrella along if it's expected to rain on the interview day. It can convey that you're well prepared and adaptable, which are good traits to have for any job.
Wear Colors That Reflect the Workplace and Role
The colors you wear for interviews can spark certain impressions. For jobs in more formal industries such as law and banking, clothes in gray, black, and blue shades are good. Those colors are good standbys for nearly any interview. Save the more colorful shades such as purple, green, and yellow for interviewing for creative roles.
>> Read More: 10 Tips for the Day of Your Job Interview
4. Know the Types of Business Styles
These office dress codes are the most common for interview attire:
Business professional
Business casual
Business Professional
Well-fitting suit jackets or sweaters paired with light-colored, buttoned shirts are classics for this look. Tailored slacks, pants, or skirts (not too short!) are good choices. It's OK to add a tie or scarf, but keep the pattern and color simple. Real or imitation leather shoes in a brown or a black tone can complete this look.
Business Casual
Khakis, chinos, and more relaxed slacks, dresses, and skirts highlight this look. It's safest to stay away from jeans for an interview. Aim to look slightly more dressed up than the average employee. A polo, blouse, or button-down shirt paired with a sports jacket or sweater is a good business casual look. Wear closed-toe shoes, and don't wear athletic shoes/sneakers.
5. What to Wear for a Virtual Interview
Assume that the rules for online interviews are the same as those for in-person interviews. Stick to the dress code you've determined is appropriate for the role and workplace environment, even if the job entails working from home.
Your on-camera background is a part of the total picture the interviewer will get about you. Be sure it projects professionalism and is free of clutter, pets, people walking by, and other distractions.
Dress from Head to Toe
It should go without saying, but it's important for you to fully dress, including wearing shoes, for an online interview. Camera mishaps have happened when job candidates dress only from the waist up. You also feel more professional during the interview, which can translate as confidence to the interviewer.
6. What Not to Wear to a Job Interview
You want the interviewer to be focused on what you're saying, not what you're wearing.
Don't Wear Revealing Clothing
Keep the focus on your face by avoiding:
Low-cut shirts or tops
Short skirts
Anything that shows a lot of skin
Don't Wear Attention-Grabbing Clothing
If you have a doubt about wearing a particular item, don't wear it. You want the interviewer to be focused on your face, confidence, and words, not your clothes.
Avoid wearing:
Loud, distracting prints
Messaging—anything with a printed message, including most graphics
Brightly colored shoes
Brightly colored jackets
Neon colors, except as accents such as a top under a suit
Sunglasses, unless medically necessary
Loud, distracting jewelry
Uncomfortable Clothing
If you're uncomfortable in what you're wearing, it's likely to show. You don't want to distract the interviewer by pulling and tugging at your collar or clothes. Wear fabrics you know you're comfortable in.
7. What to Wear for Other Types of Jobs
Here are some ideas for proper attire for some types of interviews:
Tips for Jobs With a College or University
Use the business professional clothing suggestions as a general guide for jobs at higher-level education institutions. If you're applying for a campus groundwork help position, you might opt to follow the business casual guidelines. Remember, you can always call and ask what attire is appropriate for the job to which you are applying.
Tips for Internships
Strike a balance between general guidelines for the business professional and business casual wear. Consider the environment in which you'll be working, too. If it's a law office or a bank, for example, you might be wise to stick with clothes from the former.
Tips for Summer Jobs
Don't wear casual summer clothes to interviews such as shorts, flip flops, tank tops, sandals or anything that's revealing. Opt for clothing in the business casual category.
More Student Resources
There's more than one way to dress for a job interview. The key is to find the combination that fits the role and working environment to be comfortable in what you wear for the interview. Refer to the Purdue Global career resources blog for more helpful information.
Purdue Global offers more than 175 online programs including associate's, bachelor's, master's, and doctoral degrees and certificates. If a degree or certificate would help you reach your career goals, request more information about our all-online programs.
---
Your Path to Success Begins Here
Learn more about online programs at Purdue Global and download our program guide.
Request Information