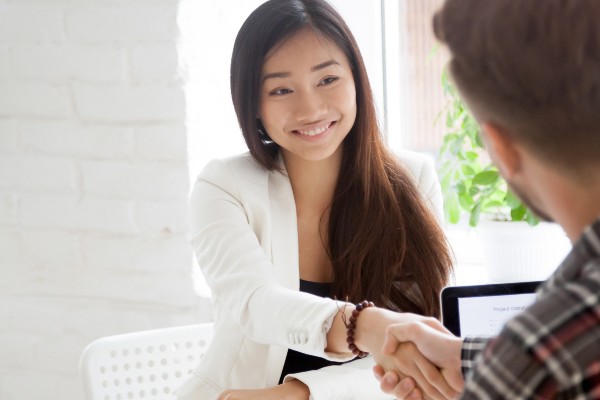 September 21, 2021 | Purdue Global
As the world continues to recover from the COVID-19 crisis, your opportunities for employment may be growing. The U.S. Bureau of Labor Statistics says more companies are hiring, especially in the service industry. In a survey conducted by staffing company Robert Half, 51% of hiring leaders plan to add new positions in 2021.
If you're job hunting, this is good news. Your chances of landing an interview are probably the best they've been in months. You should check out the company you're seeking to join, but many people don't know how to research a company for an interview.
Here are 10 ways to conduct company research for an interview.
10 Things You Should Check Out Before Your Interview
1. Visit the Company Website
Learn about the company from the "About Us" section or any "Meet Our Team" section. These pages will give you an overview of the company, but be aware that these pages may be more geared toward attracting customers or clients. You might be able to get more insight about the job itself if the company has a "Careers" page.
Additionally, more job seekers are placing emphasis on a company's values. In a Glassdoor survey, 73% of respondents said they would not apply to a company unless its values aligned with their own. Check out the company's values page, mission statement, and any company culture page to gain more insight.
2. Check on the Company's Financial Health
You don't want to get involved with a financially troubled company. Investopedia says the single best indicator of a company's financial health and long-term viability is its bottom line profit margin.
For many large companies, you should be able to find this and more financial information from a company's quarterly earnings report, annual report, and maybe conference calls with investors, the latter of which you might find on YouTube. If you're interviewing with a startup, check out its profile on Crunchbase.
3. Learn About the Skills the Company Requires
You should be able to find out a lot in a job posting, including a general description, duties, education, and experience requirements, and possibly starting salary range.
Also take a good look at what they're looking for in terms of knowledge, skills, and abilities. With this information, you should be able to decide what the company is seeking in a qualified candidate. This can help you position yourself in your interview.
>>Learn More: The Top 6 Soft Skills That Employers Want in 2020
4. Browse Social Media
Many companies are using social media to present themselves. According to Statista, 91.9% of larger U.S. companies use social media for marketing in 2021, up from 86.2% in 2013. The way social media is used can give you insight into companies.
Search out the company's Facebook, Instagram, and Twitter pages to gain a sense of how the company wants to be perceived. You can also spot some red flags this way, such as a less-than-professional presence.
Also, it never hurts to check the company out on YouTube.
5. Explore LinkedIn
According to LinkedIn, more than 58 million companies use the site to connect with consumers, other companies, and prospective employees.
Companies share a lot of information on this platform, so make yourself familiar with it. You can see a company's hires, promotions, jobs posted, related companies, and statistics. Also, you can see who they interact with.
You also should search LinkedIn for people who are employed at the company. Learn about the company by looking at their employees' experiences.
6. Search Google and Google News
Google is a valuable tool, beginning with its wide-ranging Search feature. Look for a company's name and see what turns up. You may find out the company's tactics, recent news releases, or plans.
Use the News tab to find out if the company has been in the news lately. You might find out whether the company has been having difficulties or had products recalled.
7. Use Glassdoor and Other Employee Sites
Glassdoor says 83% of users are actively looking for jobs or are open to new opportunities. Explore the company's Glassdoor listing, including their Interview Questions and Reviews section for valuable information for job seekers.
You can also see whether employees have left comments about the company—but realize that sometimes the more disgruntled an employee is, the more likely they are to post.
8. Research the Field and Competitors
It is a good idea to research the competitors of the company you're interviewing with. That can help clarify for you the company's mission and needs.
Head to similarweb.com, type the company's name, and then click "similar sites." You can also look up competitors on LinkedIn by seeing what recommendations you get if you click on the interviewing company's page.
9. Mine Your Current Connections
If you know someone who works at the company now, ask them for their insight. Check with other friends to see if they have friends who work there. This is where your own personal network can help out.
Networking events could also connect you with the right people to find out more information. It's a good idea to keep building your network.
10. Find Out About the Hiring Manager
Lastly, before the interview, research the hiring manager or your interviewer on LinkedIn. Find out what you can about them, and see if there are any commonalities you share. This can give you an advantage during the interview because you'll have a better chance of connecting with them and sparking a meaningful conversation.
>>Learn More: How to Tackle Tough Interview Questions
Grow Your Career With a College Degree
Whether you're moving on or moving up, having a college degree can open up your chances of meaningful employment. Find out more about the online degrees available from Purdue Global. Contact us today to find out more information.
---
Your Path to Success Begins Here
Learn more about online programs at Purdue Global and download our program guide.
Request Information