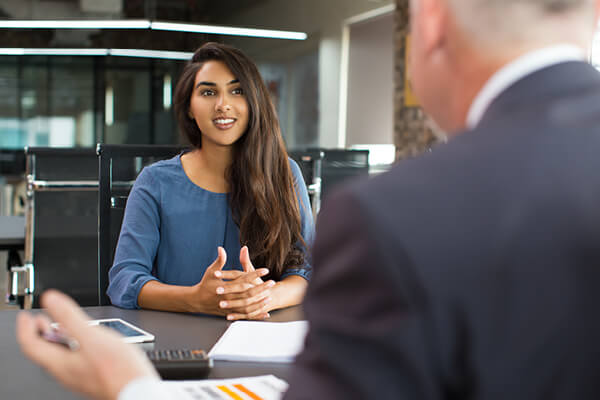 September 29, 2015 | Purdue University Global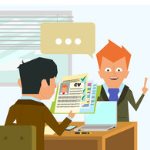 Have you ever been stumped by a question you were asked in a job interview? It's a terrible feeling when you're unsure of how to respond to an interviewer, especially after all the hard work you've put into getting the job interview in the first place.
You've worked hard to earn your degree, spent time polishing your resume, built a professional network, and researched the companies where you would like to work. You've gotten this far, so don't take a step backward from achieving your professional goals by botching the job interview. You could ace your next job interview by preparing answers to some of these frequently asked tough interview questions. If you learn how to answer interview questions through some of these interviewing tips, you could be well on your way to pursuing your next career goal!
Question 1: Tell me about yourself.
This is one of the most common questions interviewers ask, and it's a great time for you to boast a little about your accomplishments. Respond succinctly by highlighting your professional achievements and the career path that got you to the interview.
Sample answer: "I graduated from Purdue Global in 2018 with a bachelor's degree in health sciences and started my career as a patient coordinator. I got along well with the hospital staff, which helped me learn a lot about the inner workings of a hospital. Now I'd like to use that knowledge to take on the role as an administrator at your hospital."
Question 2: What is your greatest weakness?
Many people want to respond to this question with a strength disguised as a weakness. But the interviewer is looking for an honest answer, so it's best to be truthful. Bring up an area where you'd like to grow and talk about how you hope to achieve that in the position.
Sample answer: "At my past job, I enjoyed the initial strategy development process but my manager felt I was too busy with program execution to get involved. So I'm looking for a position and company that will allow some flexibility in my workload so I can participate in strategic conversations."
Question 3: How would others describe you?
Seeking ongoing feedback from your coworkers and bosses is one way to ensure you have a good answer to this question. Think back to past discussions with your former employers and share the feedback you received with the interviewer. If you have any performance reviews, emails, or other written materials that express this feedback, bring it with you to the interview.
Sample answer: "My former colleagues have told me they can always count on me. Working in a deadline-driven environment, I feel it's critical to set realistic timelines and work efficiently to deliver on what I set out to do."
Question 4: Tell me about the worst job/boss you ever had.
This is another one of the tough interview questions. Whatever you do, don't talk negatively about your past jobs or bosses. The interviewer will assume that you'd talk about them and their company the same way. Try to focus on where or from whom you learned the most and use that to describe a positive work experience.
Sample answer: "Some experiences have been better than others, but I've always found a way to make the most out of my situation. In the past, I've gotten along well with my superiors because we were all working toward the same common goal."
Question 5: Where do you see yourself in five years?
This is the perfect opportunity to demonstrate your commitment to the organization. Tell the interviewer why you would like to stay with this particular company for the long haul and discuss some of your career goals.
Sample answer: "I earned my degree in information technology because I'm inspired by the idea that the field is always evolving. I have always seen myself working for a company, such as yours, that shares my passion to be on the cutting edge of technology."
Question 6: Why should I hire you?
If there was ever a time to toot your own horn, this is it. This may be the last thing you're asked, and it also can be one of the toughest interview questions, so provide the interviewer with a memorable response. Remind them why your qualifications and personality are a good fit for the position.
Sample answer: "As you can see from my resume, I have earned a fire sciences degree and have the past experience to qualify me for this position. But as anyone in fire services knows, being a team player is equally important. My positive attitude is infectious and I can bring a sense of camaraderie to this fire station."
Come up with your own answers to these tough interview questions before your next job interview and practice responding with confidence. Be prepared with answers that show off your experiences and personality—you'll not only impress the interviewer but could also increase your chances of acing the interview.
Your Path to Success Begins Here
---
Learn more about online programs at Purdue Global and download our program guide.
Request Information
Your Path to Success Begins Here
---
Learn more about online programs at Purdue Global and download our program guide.
Request Information