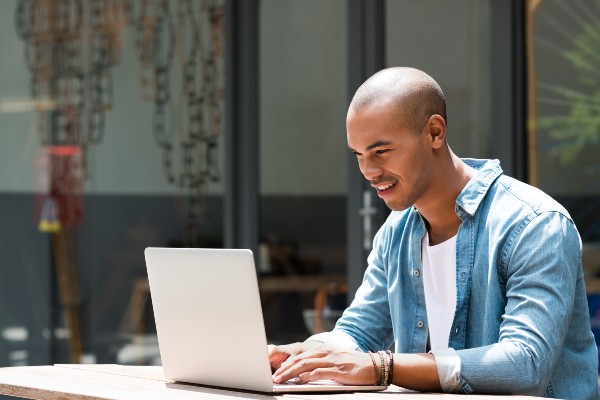 March 12, 2021 | Purdue Global
Google Search is a powerful tool for finding information—the go-to site for nearly everybody looking for answers. Google averages more than 40,000 search queries each second, which comes out to more than 3.5 billion searches each day and 1.2 trillion searches each year, according to Internet Live Statistics.
But finding the right information can be a bit of a challenge sometimes, especially when you're searching for deeper data.
Here are 20 Google tips and secondary Google sites you can use to find the information you need and improve your search literacy skills.
Basic Google Search Tips and Strategies
Some of these Google hacks are beginner level, but they are still some of the most basic ways to get the right information.
1. Simple Google Search Tips
Keep your searches simple. If you're searching for a company but don't know its full name, enter as much as you know. Many search queries don't require advanced search operators or proper syntax.
Refine the words you use. You may be thinking "find me a good book," but you'll have better luck with "bestselling books." Instead of "stomach troubles," realize that a medical site will probably say "stomach disorders" or "abdominal pain."
Use as few words as possible. The more words you add, the narrower your results may be. To begin a search, you want to cast a wide net. "Super Bowl" will grab a lot of information, which you can then refine by adding "champions" or "since 1990."
2. Common Google Commands
Exact phrase. Quotation marks around words will pull up that exact phrase: "leap year"
Exclude in search. A minus sign will exclude some information that might otherwise be shown: board games -checkers
Expand results. Use OR (yes, capitalized) if you're trying to find more than one term and would like one or both to be found: rhythm OR blues
Hashtag search. Explore social media hashtags: #blackhistorymonth
Ranges of numbers. Two periods will help search a range of numbers: wireless earbuds $75..$150
Wildcard search. An asterisk acts as a wildcard to let Google Search fill in the word in a phrase: the devil * details
3. Deeper Search Terms
Find page titles. Page titles can be searched by using "intitle:" before the word or phrase. This one will search for titles with "texas" in them, plus other stories with "snowstorm": intitle:texas snowstorm
Refine page title searches. Use "allintitle:" before the word or phrase. This one will search only for pages that say "texas snowstorm": allintitle:texas snowstorm
Search a cache. Find older versions of a page that may have been changed by doing a "cache:" search: cache:whitehouse.gov
Search for a page with specific words. An "inurl:" search finds matching results within a url address: inurl:nursing
Search inside a site. Get results inside a specific site, much like a Google search, by using "site:" in the browser bar. Combine with another term to find what you're looking for: site:purdueglobal.edu business
Search specific file types. Look for .pdf, .docx, or .ppt files, for example, with "filetype:" searches. The results will be restricted to that file type: food safety filetype:pdf
See similar websites. Search for websites similar to one you're familiar with by using "related:" in front of the address. For example, this search won't return Barnes & Noble results, but it will find similar booksellers: related:barnesandnoble.com
Google sometimes changes how its search works. Find the latest search techniques or changes in Google searches at Google Search Help.
Advanced Search and Other Google Search Tools
Google offers several advanced search tools that a researcher might use to find deeper information. Here are a few that are available.
4. Advanced Search
Google's Advanced Search offers a wide range of parameters to use in your search. Go to the Advanced Search page (you might want to bookmark it) to search for a variety of words, exact words or phrases, and other combinations. You'll then be able to narrow your search by language, region, last update, and more.
5. Google Books
Google Books offers previews and, in some cases, full texts of some books, including free ebooks. Magazines and newspapers are also available. You'll also be able to narrow your search by publication dates.
6. Google Images
Google Images lets you upload or paste an image URL to find its origin and other sizes of that image. It also gives you a view of visually similar images and more information about your selected image. Advanced Image Search works just like the Advanced Search for words and phrases.
7. Google News
Google News lets you search current news events. You can also set up a personal library to watch for certain events and key phrases, which you'll then be alerted to.
8. Google Scholar
Google Scholar is an all-around search site for educational users. This site can help you dig into the Centers for Disease Control and Prevention, Oxford University, and scholarly journals such as the Journal of the American Medical Association and The Lancet. Case law is also searchable at Google Scholar.
9. Google Trends
Find out what other people are searching for at Google Trends, which might help you find information or spur ideas for your own research.
10. Public Data Explorer
Google's Public Data Explorer, along with Dataset Search, offers reams of data that might be useful in research papers. Find useful data from the World Bank, the U.S. Census Bureau, the Bureau of Labor Statistics, and others.
11. Voice Search
Using your computer's microphone, you can speak your search into your Search Bar after you click the microphone. This works especially well on mobile devices.
Other Ways to Use Google Search
There are a variety of other things you can do in the Google Search Bar. Here are some of the most useful.
12. Conversion
Find current conversion rates for money, or turn miles and pounds into kilometers and kilograms, and vice versa. Type in "$5 USD to British Pound Sterling" or "14 miles into kilometers," for example.
13. Definitions
Use "Define: (word)" to get dictionary definitions. You can also search synonyms and antonyms this way.
14. Flight Times
Check your flight times and any changes by adding your flight number. You'll get up-to-date information on times and terminal/gate information.
15. Math
From a simple addition problem to graphing an equation, plugging in numbers can give you the results you need, including a 3D rendering. For example, try searching for this equation in Google: (y*(-1)/sin(x).
16. Packages
Plug in your UPS or USPS tracking number in Search to find the status of your package.
17. Stock Market
Find any stock price results by typing its ticker symbol into Search.
18. Sunrise and Sunset
This will tell you dawn and dusk in any area, simply by typing "sunrise" or "sunset" and the location.
19. Time
Check your time with "Time (place)" wherever you are.
20. Weather
Search "Weather (ZIP Code)" to get up-to-date weather information. You also can use city names.
Search for More Information About Purdue Global
Get ready for the next stage of your career—or launch a totally new one—with online college at Purdue Global.* Find out more about our online degree programs. For more details, request more information.
---
Your Path to Success Begins Here
Learn more about online programs at Purdue Global and download our program guide.
Request Information