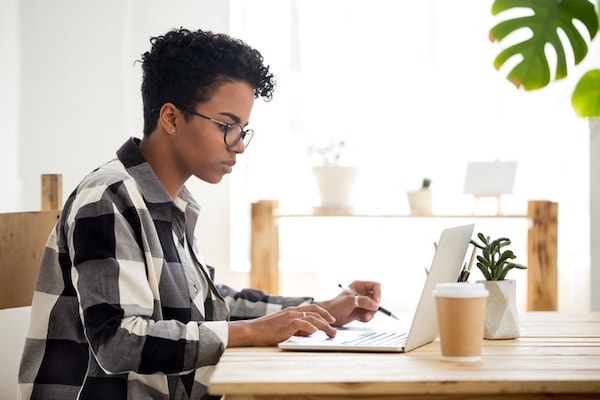 June 11, 2020 | Purdue Global
|
Updated December 15, 2021
Many colleges and universities, including Purdue Global, rely on the American Psychological Association (APA) Publication Manual to guide writing usage and grammar style. While the best resource for APA Style is both the website and the publication manual itself, if you're in the middle of research and need help quickly, you might need to look at research management software in the form of citation generators.
Many developers have created helpful generators to create citations and help you write in APA Style. From APA citation apps to browser extensions to websites, here are some citation manager tools.
Websites for Citations
Several websites can help generate citations in APA Style and other styles. When looking for a citation generator, test that it appropriately cites different sources and reviews all of your citations for accuracy before submitting any class assignments.
Academic Writer is a tool that is offered by many institutions, including Purdue Global, to help students write in APA Style. It is developed by the APA and includes videos and tutorials about APA Style. You can also manage your references and format your paper by creating an account within the site.
This online tool offers a quick and easy way to create references for online books, online journal articles, and web pages.
This online tool offers grammar, punctuation, and plagiarism checkers for a fee, but a citation creator is free to use. APA, MLA, Chicago, and other styles are available to use.
This tool allows students to create references in APA and a variety of other formats. You can either enter the information manually or search source by name or URL, which the Citation Machine then will fill in automatically.
Cite This For Me is a free citation generator that can create citations in APA, MLA, Harvard, Chicago, ASA, IEEE, and AMA style. The site is fairly bare-bones, providing only the generator and some general guidance on when citations are appropriate.
EasyBib offers citation creation and will also scan your paper for plagiarism and grammar errors. It's powered by the same service that runs Citation Machine mentioned previously.
This web-based citation generator offers a simple interface and quick results. It gives you results in MLA, APA, Chicago, or Harvard format.
This old-style online citation generator creates a basic citation for books in APA format. Choose APA from the menu on the left and fill out the fields to create a citation.
Mendeley is an all-inclusive research tool. It is primarily used as a document organizer and research aid, but it also generates references, citations, and bibliographies in a number of different styles.
This web-based generator is easy to use and walks you through everything you need to do to get APA citations. It also offers AMA, Chicago, Harvard, IEEE, MLA, and more. Be sure to use the most recent version of APA (7th edition) when you use it.
Scribbr is an easy-to-use online citation generator that uses the 7th edition of APA Style. The generator is free for students. Scribbr also offers a plagiarism checker, spell checker, and grammar proofing.
Zotero is a robust research tool available for download and includes a quick version for use online. While the program is helpful for many types of research, it also offers a feature that creates references and bibliographies for any text editor and directly inside Word, LibreOffice, and Google Docs.
Almost 55% of website users browse the web and work on their mobile devices, according to StatCounter. A number of mobile-first citation apps are available to help with APA citation.
Author (Apple)
This paid app available for Apple devices provides a tailor-made writing environment. It provides a word processor that automatically saves and works well with Apple apps like Reader. As part of the tool, you can create autocitations by copying from PDF in the companion application Reader and pasting as a full citation in Author or pasting the BibTex or DOI from an academic PDF.
Citation Generator (Free Google Play Version, Paid Google Play Version)
This mobile app, offered in both a lite and full version, offers no-nonsense citation guidance. The free version only supports book, newspaper, software, Twitter, and website sources, whereas the paid version includes 25 in-text citations and reference generators.
Citation Maker (Google Play Store)
This app has an easily understandable layout that produces both MLA and APA formats and can work with a variety of resource formats. It also gives you a preview as you type and can even create citations with incomplete information. Some reviews suggest you double-check results produced by Citation Maker for capitalization errors.
Citationsy (Apple and Google Play Store)
This app, available for both Apple and Android devices, allows you to use your device to scan barcodes of references and then generate citations. Citationsy includes search engines for books, music, podcasts, and scientific papers.
Easy Referencing – Citation (Apple)
This app for iPads will scan a book barcode and serve up citations for a variety of styles, including APA. It also supports university-specific styles and will use the correct one required.
Google Chrome Browser Extensions
Almost 65% of online users prefer Google Chrome for their browser, according to StatCounter. One appeal of the browser from tech giant Google is that it comes with a robust selection of extensions. Several Chrome extensions can help you create APA citations.
Bibcitation and Automatic Citation Generator
This extension works on websites and journal articles, generating citations in MLA, APA, Chicago, and more. It can add citations to a list if you have an account with Bibcitation.com.
This extension creates Endnote, APA, MLA, and customized bibliography items from journal articles, books, and more. The program allows you to copy the citation to put it into an editable format.
Citationsy – Cite Websites and Papers
An extension version of the Citationsy mobile apps above, this tool cites articles, books, papers, podcasts, songs, websites, and more. It supports APA, Harvard, MLA, and many other reference styles.
This extension automatically creates citations in APA, MLA, Chicago, or Harvard styles. Browse to your web page and click the button for a citation.
This toolbar not only generates citations but also gives you advice on the credibility of the website you're citing, which can help with the overall strength of a paper or other work. It will format, alphabetize, and make your bibliography ready to use.
Free APA and MLA Citation Generator
This extension quickly generates sources in MLA, APA, or Chicago. It allows you to add to a bibliography with a quick click of the toolbar icon.
MyBib: Free Citation Generator
This simple browser extension creates APA format, MLA 8 format, and Harvard referencing style citations that can be downloaded and put into Microsoft Word. The extension works with any URL, including PDFs hosted online.
This extension is a bibliography and citation generator for a variety of different types of content, including films and podcasts. It can give you citations in MLA, APA, Chicago, and other formats.
This tool exports web pages and creates a built-in bibliography in MLA and APA format. It also checks a page's credibility.
Grow Your Career With Purdue Global
Purdue Global offers a fully accredited, world-class education that's tailored for working adults. If you're interested in learning how online college with Purdue Global can help you meet your career goals, request more information today.
---
Your Path to Success Begins Here
Learn more about online programs at Purdue Global and download our program guide.
Request Information