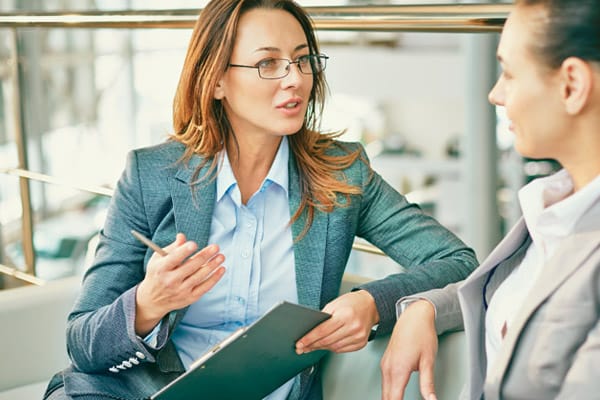 May 29, 2018 | Purdue Global
Congratulations—you have a job interview coming up. You are in competition with every person being interviewed for the job, and there's no shortcut to being prepared. Here are some tips and strategies to help it go well and—fingers crossed—lead to a job offer.
1. Do Your Homework
Hopefully you've researched the company (and the person interviewing you, if possible) before the day of your interview. If you have, today is the day to do a refresher. If you haven't, set aside an hour or so to review key facts, like the company's mission and products.
The reason this is important isn't so you can randomly recite facts or figures; it's so you can give informed, relevant answers. For example:
Imagine you are interviewing at a company called Green Communications. The interviewer asks why you want to work there, and you answer that you like making connections between people, and you believe good communication skills are the key to success in almost any position.
That's a good answer. But a minimal amount of research would have told you that the company specializes in public relations and social media for environmental causes, and that the CEO started the company 4 years ago. Your answer could then highlight how important communication skills are in educating the public about the environment, and how a young company can be especially agile in today's economy by taking advantage of social media to promote causes.
Those are almost the same answer, given two different ways. But the second one tells your potential employer that you took the time and made the effort to explore the company's history and purpose.
2. Practice Out Loud
It's not necessary to role-play, though that's a great exercise. Even practicing to yourself in the car will make a difference in your delivery. The reality is that job interviews make us nervous—a person in authority is judging us in a short period of time—and our words can often get tangled. Practicing ahead of time will keep your pauses and "ums" to a minimum and give you more confidence in your answers.
3. Dress and Carry Yourself Appropriately
While you want to be comfortable, you also want to dress appropriately. In most cases, this does not mean jeans and a T-shirt. One guideline is to dress for one position higher than the one for which you are interviewing. When in doubt, wear nice slacks, a dress shirt or blouse, and a jacket. It is an outfit that can bridge most company cultures.
4. Be on Time and Be Prepared
Allow extra time for traffic, subway congestion, or other delays. Know where you are expected to park. Do a trial run during the same time of day if you're unfamiliar with the area. Take extra resumes (in a portfolio or folder), a notepad, and pens. Bring a comb or hairbrush to adjust your hair in the restroom before the interview. If you wear contacts, take contact solution. If you have allergies or a cough, bring tissues and cough drops.
5. If You're Nervous, Say So
Interviewers understand that you may be nervous. They are used to job applicants. If you stumble over an answer, simply say, "I'm sorry, I'm a little nervous because I really want to do well in this interview. Let me start again." It shows that you are honest, that you can think on your feet, and that making a simple mistake doesn't throw you. If you're nervous enough that your hands are cold, run warm water over them prior to the interview so your handshake will be warm.
6. Be Ready for the Typical Questions
These openers often include:
"Tell me a little about yourself."
"Where do you want to be in 5 years?"
"What are your strengths and weaknesses?"
Understand that the interviewer asks this of everybody, which means they can readily tell when an applicant's answer is thoughtful and original. In truth, no one knows what will come to pass in the next 5 years. But being able to say, "I hope to still be in communications, still be challenged on a daily basis, still be learning new technology, and possibly pursuing management," gives your interviewer an idea of your potential.
7. Be Confident (But Not Too Confident)
Employers want employees who believe in their abilities and can do their work with confidence, but who also are ready to learn and work with others. In an interview, you will be expected to describe your skills—even though you listed them on your resume—and to do so in such a way that makes you seem attractive to the company.
This means no bragging. If you have essential experience or won a relevant award, mention it as something you're proud of and want to build on. The last thing an employer wants is a new employee who thinks they know everything.
8. Be Aware of Your Body Language and Make Eye Contact
When we are interested, we tend to lean forward in our chairs; when we are bored, we tend to lean back. When we are nervous, we fidget and change positions. When we are unprepared, we stall or evade. These are forms of communication, so be conscious of how you are presenting yourself. Find a comfortable position and then sit still. Listen actively to your interviewer, make eye contact, and be present. Don't interrupt, and try not to let your mind jump ahead.
9. Have Some Questions Ready
At some point, most interviewers ask applicants if they have questions about the position. This is not a throwaway question; they really are interested in your answer. If you ask general, one-size-fits-all questions ("What's it like to work here?"), you're going to get general, one-size-fits-all answers. But if your questions show a genuine interest ("How does Green Communications set itself apart in a world filled with social media?"), your interviewer will respond differently—and they will see you as a more credible, solid prospect.
10. Follow Up
The tip here used to be, when you get home after the interview, write—don't email—a personal thank-you note to your interviewer, and put it in the mail that day. This advice is outdated. In today's connected world, an email is acceptable. In it, thank the interviewer for spending time with you, mention something specific from the interview, and reiterate how much you would like to work for them.
Don't fall into the trap of thinking that if you don't hear something immediately, you did poorly in the interview. Interviewers are busy, and getting back to job applicants can fall to the bottom of their to-do lists. If you haven't heard back in a week, send a short, warm email asking where the interviewer is in the process. If it turns out that someone else was hired, ask if the company would keep your information on file in the case of future vacancies. As with every other part of an interview, your performance after the interview can make a difference.
Purdue Global and You–A Winning Team
You've worked hard to earn your degree, and the job interview is your place to shine. As you make your way through the doors that a college degree opens up, take advantage of the Purdue Global Career Services team. We provide comprehensive career planning to students and alumni, and we can help you remain motivated and empowered throughout your job search. Learn more about how we can help.
---