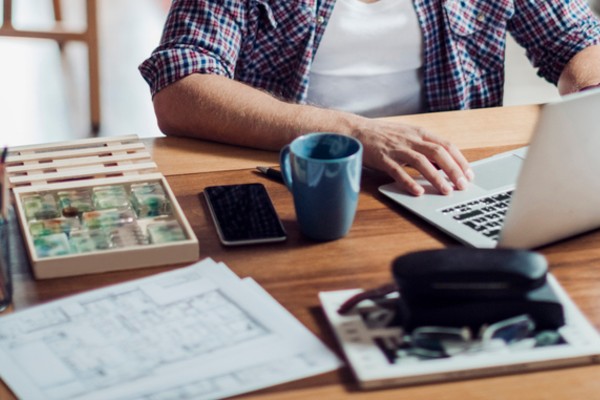 September 18, 2020 | Desiree DePriest, PhD
Internships offer students a tangible opportunity to work in their field of study prior to full-time employment. Students have the opportunity to apply academic learning to experience in an environment that can nurture and hone skills for future employment. Most internships are available to students who are at least midway through their academic programs; however, depending on the field and employer, internships can begin as early as the first completed year of study.
Internships are particularly beneficial to career-changers in order to gain experience in a new field. You can get serious work experience, build a portfolio, and establish a network of professional contacts which can help you after you graduate. Most universities have a student career center to help students search for internship and professional opportunities, both physical and virtual, but very few offer a fully virtual internship program within the university.
Frequently, employers seek candidates who have gained experience in the field prior to graduation. An internship is a perfect way for students to fill that gap. Interns can participate in meetings, complete tasks typical of someone in their desired field, and learn about the day-to-day operations of an organization.
What About Virtual Internships?
It is more common to find internships that require students to physically work at an organization. This has changed to some degree due to the COVID-19 pandemic, but very few internships were originally designed to be completely virtual. There are some professions, such as health care, in which it would be very difficult to offer fully virtual internships due to the physical components that are essential to measure the skill set of the intern. Nursing internships, for example, require working in-person with patients and lab equipment under the guidance of a physician or registered nurse in a clinical setting.
In a College Reaction/Axios poll in April 2020, 73% of the 822 students with summer internships who were surveyed had their work canceled, moved remote, or delayed. This caused quite a disruption nationwide as many students anticipated the social interaction and structure of the physical workplace. Many students from socioeconomically marginalized backgrounds depend on internships to make ends meet during the summer months when they are without student loans.
Many students found their physical internships disrupted this year due to the COVID-19 outbreak. University career specialists hurried to find alternate solutions. The students were encouraged to look for virtual internships or even short-term micro-internships, The New York Times reported. Other suggestions were to find no-cost professional development and business courses, such as AT&T's Summer Learning Academy, a fully virtual curriculum for 100,000 college students.
Who Is a Good Fit for a Virtual Internship?
When it comes to virtual internships, some students may find it difficult to self-motivate without an ever-present manager. There is undeniably a learning curve when going virtual. Especially true for virtual internships, the benefits of any internship directly correlate to the effort that the student puts forth.
There are professions such as information technology, law, and certain types of research that already offer a wealth of virtual opportunities for students to prepare and subsequently get hired in robust career disciplines. With the onset of COVID-19, virtual internships have expanded to include finance, marketing, accounting, and investment management.
The Purdue Global Internship Program – Technology (PGIP-T) offers students a virtual environment in which to learn several IT sub-disciplines. The infrastructure is housed in both AWS and Azure cloud environments. Students are provided tools to explore IT support; networks; database and software development; cybersecurity; and analytics/business development. The students also simulate the roles of department and project managers and executive leaders.
The internship program accepts associate's, bachelor's, and graduate capstone students. Its sister program, the Graduate Information Technology Association (GITA), accepts students at any level of academia. GITA members train in SMART goals and act as apprentices who work with interns. School of Business and Information Technology alumni are also welcome in the program as consultants and mentors.
How Do Virtual Interviews Work?
Key performance indicators (KPIs) in virtual internships require a degree of self-supporting behavior to gain experience. This is distinct from many physical environments. The required hours have hybrid components where interns have a mixture of mandatory organization meetings along with completing hours at their convenience. The KPIs are based on measurable deliverables of an intern's performance, as opposed to observing the physical characteristics (for example, looking busy). This is possible because virtual, or cloud environments, are available 24/7 in all time-zones and work-life contingencies of the interns. Time clocks are also cloud-based applications with screenshots to verify the project applicability of the work performed by the interns at any time.
Cloud environments are on-demand/as needed data systems that enable computing power to be used for tasks online rather than installing software or storing data on a computer. Cloud environments offer many advantages to online learners who otherwise would be unable to experience or afford these tools.
Internships like PGIP-T have the ability to access all the work done by the interns from any device, including mobile. Since software and data are stored on the secure cloud instead of on any individual's computer, interns are able to collaborate, build, and access projects for all departments while working together as a "quantum" team. This allows the software development department to hand off tasks to the analytics department or IT support to manage the ticket system for any other department, just like physical environments. It allows for the network and cybersecurity departments to monitor and ensure secure operations for the entire PGIP-T environment. All of this happens without students incurring any additional costs for using 21st century technologies.
PGIP-T at Purdue Global includes apps to manage projects, have team meetings, and create surveys with conditional programming or spin-up servers for websites or databases as needed. Anything that can be achieved in a physical technology environment, perhaps with the exception of building hardware, can be taught and experienced in a virtual environment.
The PGIP-T internship is integrated with undergraduate and graduate courses at Purdue Global in lieu of the capstone courses. The intern fulfills the majority of their requirements through hands-on, experiential learning in the internship.
The benefits of mentorship in internships cannot be emphasized enough. The intern works alongside professionals at all levels of the organization and can gain a diverse set of experiences that present multiple career opportunities. There are many specialties in health care, IT, education, and research that an intern can discover and experience through connecting with a mentor during an internship.
Where Can I Look for a Virtual Internship?
Purdue Global offers virtual IT internships, and many physical internship sites modified their requirements to create virtual opportunities due to the COVID-19 pandemic. There are measureable benefits from internships that fulfill school requirements and prepare you for future careers. The primary benefit is to introduce the student to the field of interest, research those interests, and discern the requirements of a desired field. Students may find opportunities in a variety of roles, which helps them define their career goals prior to full-time employment.
Companies that offer internships frequently use their programs as recruiting tools. Many organizations consider internships a hiring pipeline and benefit from interns listening to and learning from the full-time employees, according to Forbes. Investment is placed in training the intern in the organization's corporate culture, products, and policies, and ensuring they have the experience to continue as a valuable full-time employee in the future.
To begin looking for an internship that fits your career needs, you can visit the following sites:
Learn More About Purdue Global's Virtual Internship
Internships can be a key component of many students' learning experiences. In a time when fewer internships are taking place in person, it may be smart to look into virtual internships. If you are interested in Purdue Global's IT virtual internship, learn more.