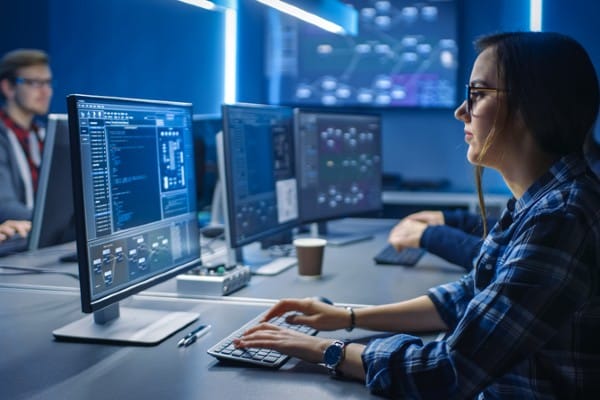 February 26, 2020 | Tina Burton, DM
When students sign up for college and pick their preferred degree plan, they don't often think about the extracurricular activities associated with the program and how those might enhance their learning. In particular, for the adult learner, often attending an online school for its convenience and flexibility, the thought of activities outside of the standard classroom may seem excessive. However, when the activities provide directly relevant opportunities to enhance the very skills being studied in the academic program, the value of such extracurricular events can become quite clear.
Students enrolled in information technology or cybersecurity-related programs have a wide variety of opportunities to participate in activities—often competitions—that can greatly enhance their hands-on skills and experience. While gamification of learning content is not new, specifically cyber-related games and competitions are becoming increasingly popular for colleges and universities, as well as industry training organizations.
National Cyber League
A great example of this type of skill-enhancing competition is the National Cyber League (NCL). The organization hosts capture-the-flag style, virtual competitions for technology students at all levels. The events are scheduled biannually so students can sign up each season and continue to grow their skill set as they progress in the program. The entrance fee of $35 per season is generally affordable for students, and some universities, like Purdue University Global, pay some of those entry fees. Faculty coaches can register for free.
The so-called "season" includes a pre-season period with access to the "gym" for practice, individual games where students are individually ranked, and a team game at the end of the season where groups of 7 students compete together. A college or university can choose to enter multiple teams to represent them. The team game adds the benefit of honing leadership skills and the ability to work effectively on a virtual team, often including individuals who have just recently met.
Players are presented with a series of challenges that enable them to develop and practice their skill sets related to a variety of topics they are learning in their academic programs. Many of the activities directly align with the Certified Ethical Hacking courses taken in the Bachelor of Science in Cybersecurity, and the Digital Forensics courses taken in the Bachelor of Science in Information Technology program.
Just a few of the tasks and skills that NCL reports as part of the competitions are listed below:
Identification of hackers using forensic data
Breaking into vulnerable websites
Recover tasks as a result of a ransomware attack
Open-source intelligence
Scanning, enumeration, and exploitation
Password cracking, traffic analysis, and log analysis
Wireless security, cryptography, and web application security
Another added benefit for participating in the events is that the skill sets used in the competition align with the CompTIA Security+ certification, as well as the EC-Council Certified Ethical Hacking certification, both of which are critical additions to a resume. After the competitions take place, NCL provides scouting reports for the individual and team performance that can be used during a student's interview/hiring process, and also to represent the school's activity and performance.*
National Collegiate Cyber Defense Competition
In addition to NCL, another valuable opportunity for IT and Cyber students is the National Collegiate Cyber Defense Competition (NCCDC), presented by Raytheon. It is the largest cyber competition and now includes over 230 colleges and universities.
Unlike NCL, the NCCDC is considered an "inherit and defend" style competition. This campus-based competition involves a cyberattack being imposed on a typical company's network. While the players are required to fend off the attacks, they must also continue to maintain the business operations of the organization during the attacks. Players have to ensure business operations such as email, websites, databases, etc., remain up and running during the cyberattack they are experiencing. This helps to demonstrate the importance of business continuity plans, disaster recovery plans, and standard operating procedures being in place in case of a crisis.
A few of the suggested topics that competitors and coaches need to be aware of are:
Computer forensics
Database administration
Directory services (e.g., Active Directory)
Domain Name System (DNS)
Email servers (Exchange and Sendmail)
File servers
File Transfer Protocol (FTP) services
Hacking tools (Note: Teams should create their own toolbox to aid in the detection of suspicious activity [e.g., websites to use, tools to download, etc.])
Networking devices (to include switches, firewalls, routers)
Secure Shell (SSH)
SQL
Windows and UNIX/Linux system administration and hardening
The NCCDC is held annually and begins with state qualifying rounds; however, the competing teams generally prepare all year long for the event and bring the best of the best to the competition. Teams of 12 sign up, with 8 of those members competing in an all-day event hosted at one of the local colleges/universities; other members can also attend and observe the activity. The winning teams advance to the regional and then the national level.
In most cases the entrance fee is paid by the school entering the team to compete; currently, the cost is $500 if schools register by the deadline. Students generally pay their costs for travel, but the hosting school provides meals during the entire day of the competition so the cost to participate can be minimal for students.
Competition Improves IT Skills
The ability for students to participate in competitions such as NCCDC and NCL is an important complementary opportunity to a traditional college program. In addition to the technical skills that are enhanced by this activity, the competitors are also honing their critical thinking and problem-solving skills.
A potential employer can see these activities as proof that the candidate has been in high-pressure situations related to securing the company network that might not be evident from academic coursework. Often the competitions employ the latest technologies that might not yet be covered in coursework. The competition exercises provide the application of legal, ethical, forensic, and diverse technological to complex problems, all while working as a team.
Selecting a specific academic program and which college or university to attend is a complex decision for anyone. For those considering the field of cybersecurity or information technology, a program that includes involvement in competitions might help tip the scale. The value added by these extracurricular activities can be a differentiating factor for employers selecting new college graduates for their open positions.
Your Path to Success Begins Here
---
Learn more about online programs at Purdue Global and download our program guide.
Request Information
Your Path to Success Begins Here
---
Learn more about online programs at Purdue Global and download our program guide.
Request Information