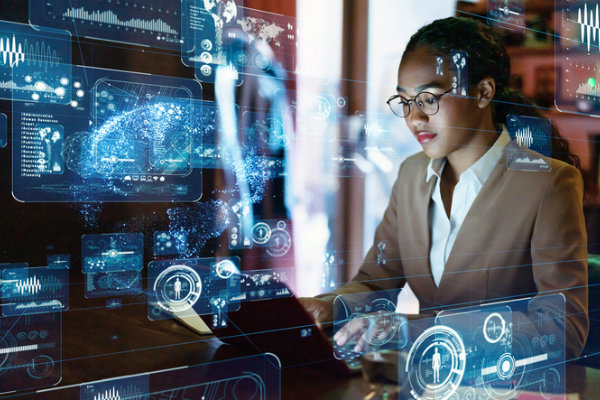 February 23, 2021 | Purdue University Global
Data analytics is growing―rapidly. In fact, the U.S. Bureau of Labor Statistics lists data scientists and mathematical science occupations as among the 20 fastest-growing occupations in the nation. Employment in this field is expected to grow 31% from 2019 to 2029, much faster than the average for all occupations.*
"Data analysts use programming languages and visualization software to turn raw data into useful information," says Robert Kayl, faculty member in the School of Business and Information Technology at Purdue University Global. "These specialists collect data, discover new data, deploy software and hardware updates, and conduct research."
Get answers to the most common questions about data analytics, how to become a data analyst, and whether analytics is for you in this guide.
Is Data Analytics the Same as Business Analytics?
Business analytics involves exploring an organization's data to reveal information that can help drive financial performance and innovation. "Business analytics is more focused internally within an organization," Kayl says. "Business analysts are trying to find business trends and practices with a general goal of higher profits."
Any data analytics job description would indicate that these professionals collect and examine a massive amount of raw data valuable for making decisions. "In data analytics, you're seeking to recognize patterns, with the goal of identifying probabilities and predictions," Kayl says.
What Is a Data Analytics Degree?
A Bachelor of Science in Analytics is a four-year degree program designed to help you learn and sharpen your skills to become an entry-level data analyst.† A reputable data analytics degree program will have courses on:
Apache Hadoop, Hive, Pig, and Spark
Big data
Data science
Data governance
Database schemas
Database architecture
Enterprise data management
Machine learning
NoSQL, MapReduce, and MongoDB
Online Analytical Processing (OLAP)
Predictive analytics
SAP Analytics
Is a Degree in Data Analytics Worth It?
Those who earn a degree in data analytics will possess highly sought after skills. The World Economic Forum says data analytics career opportunities abound and lists the position as one of the most in-demand job categories across all industries. Executives who responded to the survey said the need to make sense of all the data generated by technological disruptions is driving this growth.
The tech boom of the last 20 years has generated more information than organizations know what to do with. Find out more about the rise of the data analyst.
What Kind of Jobs Can You Get With a Data Analytics Degree?
Analytics managers
Data analysts
Data-driven decision-makers
Data scientists
Data systems developers
Functional analysts
"A data analyst career could be specialized, whether it's a business analyst or medical or finance analyst," Kayl says. "Those jobs are plentiful. Data management, statistical analysis, machine learning, deep learning, and artificial intelligence are also within the realm of job opportunities."
Which Certifications Are Best for Data Analysts?
Among the available data analyst certifications are‡:
Amazon Web Services (AWS) Certifications

AWS Certified Big Data—Specialty
AWS Certified Cloud Practitioner—Associate
AWS Certified Developer—Associate
AWS Certified Solutions Architect—Associate
AWS Certified SysOps Administrator—Associate

Certified Analytics Professional (CAP®)
Cloudera Certified Associate (CCA) Data Analyst
Microsoft Certified Solution Expert (MCSE)
Is Data Analytics a Good Career?
According to Investopedia, skilled data analysts are among the most sought-after professionals in the world. The data analytics career path is a desirable one because data analyst jobs can be found in a diverse mix of companies and industries.
"It is a growing career," Kayl says. "For years, we didn't have enough data. And now with the internet, the Internet of Things, and mobile devices generating massive amounts of data every day, data analytics has a great future."
How Difficult Is Data Analytics?
Data analytics can be difficult, depending on your skills and natural abilities. Data analyst qualifications start with proficiency in multiple computer programs, mathematical formulas and algorithms, statistics, quantitative messages, and organizing your findings. Data analysts usually work independently, so you'll need the drive to do your job well on your own.
If you're already in the analytics field, Kayl says you may find data analytics familiar.
"When it comes to data science, data analytics, business analytics, or financial analytics, the techniques are very similar. They're all exploring data to come to some conclusion," he says.
What Skills Does a Data Analyst Need?
Top skills for a data analyst include math, coding, and organizational skills. Among the other skills:
Accuracy and attention to detail
A methodical and logical approach
Analytical skills, including modeling and interpreting data
Interpersonal skills
Problem-solving skills
Programming languages, such as Oracle, Python and SQL
Team skills
Written and verbal communication skills
Does Data Analytics Require Coding?
Some coding is required to be a data analyst. Programming languages you might want to learn include:
C++
HIVE
Java
Julia
MATLAB
Perl
Python
R
Ruby
Scala
SQL
Swift
"Often you use structured query language (SQL) to pull data out of databases," Kayl says. "If you're programming models, you definitely need Python or R."
Do Data Analysts Need to Be Good at Math?
Yes, solid math skills are needed in this role, but according to Kayl, you don't need to be a mathematical genius. "It's good to know mathematics and statistics," Kayl says, "because you'll need knowledge of what algorithms are doing. But that's likely all the math you'd need to be a data analyst."
Is a Data Analyst an IT job?
While not typically what you would visualize when you think of IT, data analyst is more of an IT job than a business job. A data analyst serves as a data gatekeeper, so an organization's stakeholders can understand and use data to make strategic business decisions. Careers in data analytics are more technical than business oriented.
Is Data Analytics a STEM degree?
Data analytics is generally classified as a science, technology, engineering, and math (STEM) specialty. Many students with interests in STEM are more likely to pursue data analytics courses and degrees, along with data science.
Can I Become a Self-Taught Data Scientist?
Data specialties could be self-taught, but in general, it's better to have a degree to back you up. A degree indicates to employers that you have the determination and work ethic to stick with challenging tasks. It also shows that you have demonstrated knowledge of the field and critical-thinking skills. It's always good to have some credentials behind you.
Where Are Different Places I Can Learn Data Analytics?
There are free and low-cost sites that teach data analytics, such as Coursera, EdX, Udacity, IBM (Data Science Fundamentals), California Institute of Technology (Learning From Data), Dataquest (Become a Data Scientist), and the Open Source Data Science Masters.
A data analytics degree from an accredited university such as Purdue Global can offer you more, however. Our program offers a solid foundation to pursue valuable IT certifications, and faculty members are real-world practitioners who bring knowledge from their own higher education and industry experience.
Find out More: Data Analytics at Purdue Global
Do you have additional questions about pursuing a data analytics degree? Find out more about Purdue Global's data analytics program. If you're ready to take the next step to a data analytics career, request more information today.