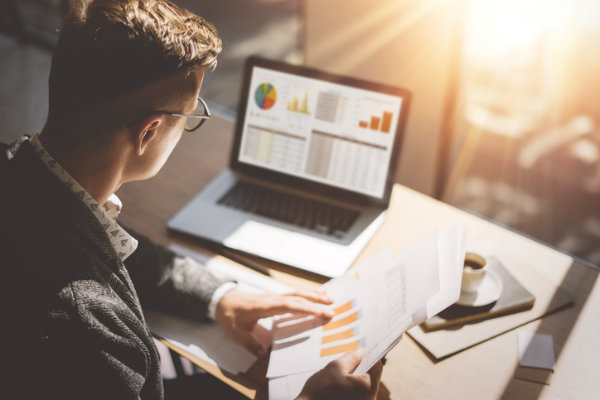 September 16, 2019 | Purdue Global
|
Updated January 15, 2021
The technology boom of the last 20 years has generated more information than organizations know what to do with, and they need people to analyze the data and put it to use to make solid business decisions.
The World Economic Forum listed data analyst as one of the most in-demand job categories across all industries in the U.S. as we enter the 2020s.
This article examines:
The reasons for the increase in demand for data analytics skills
Career paths for data analytics professionals
How a degree in data analytics can help you excel in other areas such as health care administration, supply chain management, professional sports management, manufacturing, and marketing.
If you are interested in data and analytics, there are exciting career possibilities to explore.
Data Science vs. Data Analytics
It's important to understand the difference between data science and data analysis.
| Data analyst | Data scientist |
| --- | --- |
| Answers specific business questions (What is our best source of revenue? What is the age distribution of our customers?) | Formulates hypotheses, tests them, derives business or organizational insights |
| Primarily works with structured data from a single source | Works with unstructured data from multiple disconnected sources |
| Organizes and sorts data to solve problems | Sorts through data to make predictions |
| Provides historic analysis, data-driven decision making | Provides predictive modeling |
| Skills: Statistics, communications, business | Skills: Math, programming, communications |
Data science tends to be a broader term, while analytics tends to focus specifically on business applications, which is our focus.
Why the Increased Demand for Data Analytics Professionals and Skills?
The amount of data that businesses are generating, storing, selling, and sharing is greater than ever. Customer needs drive everything businesses do, and companies need data to make informed decisions.
"In the past, data was gathered by individuals," said Stephen Beyer, PhD, department chair in the School of Business and Information Technology at Purdue Global. "Today, data is gathered by individuals and machines. While individuals sleep, machines never do. So the constant collection of data, in almost all areas of life, requires people who can manage and make sense of this huge volume of data."
In business, we can attribute the increased demand for data (and therefore people who can read and derive meaning from data) to five reasons.
1. Increase in Connected Devices
There are currently more than 31 billion internet-connected devices around the world, according to the data and information analytics firm IHS Markit. At home and at work, we are adding more and more connected devices:
Laptops, desktops, and computer servers and external hard drives
Printers, fax machines (yes, businesses still use faxes!)
Smartphones, tablets, and readers
Wearable smart technology (watches, monitors)
Smart speakers with voice-activated assistants (Alexa, Siri)
Home and business alarms, locks, and security systems
House and building controls (thermostats, light switches, and Wi-Fi-connected locks)
Modems and routers
Streaming devices (Roku, Apple TV)
Gaming devices
Home appliances (refrigerators, washers, and dryers)
That is by no means a complete list of devices that connect to the internet. According to Internet of Business, technology experts predict that by 2025, we'll have 125 million cars connected. The more devices that connect to the internet, the more data we generate; therefore, the more people who are needed to interpret that data.
2. Increase in Data Generation
Data is generated every time someone searches on Google, remotely connects to their Nest cam, shares an image on Instagram, schedules an appointment online, or buys something from Amazon.
In this 2-minute video from VCast Online, the creators show how a simple soccer ball has been transformed into a data-generating device.
In terms of the size of data and the amount that lives and moves throughout the internet, Cisco estimates there are 201 exabytes (EB) of internet traffic per month. By 2022, it will reach almost 400 EB. To put that into perspective:
| Unit | Value | Example |
| --- | --- | --- |
| Kilobytes (KB) | 1,000 bytes | A paragraph of a text document |
| Megabytes (MB) | 1,000 kilobytes | A small novel |
| Gigabytes (GB) | 1,000 megabytes | Beethoven's 5th Symphony |
| Terabytes (TB) | 1,000 gigabytes | All the X-rays in a large hospital |
| Petabytes (PB) | 1,000 terabytes | Half the contents of all U.S. academic research libraries |
| Exabytes (EB) | 1,000 petabytes | About one fifth of the words people have ever spoken |
| Zettabytes (ZB) | 1,000 exabytes | As much information as there are grains of sand on all the world's beaches |
| Yottabytes (YB) | 1,000 zettabytes | As much information as there are atoms in 7,000 human bodies |
Source: eecis.udel.edu

3. Ease of Access to Data
One of the simplest answers to the question of why there's been such a data boom is "because we can." Thanks to innovations in technology (reason #1) and an increase in data generation (reason #2), accessing data is easier than ever.
You may have heard the term "democratization of data." This refers to the widespread availability of data to people who aren't necessarily data analysts. Executives, managers, and staff have access to data about their own company, their competitors, their customers, prospective customers, and even each other.
This is a good thing, but it can also be a dangerous thing. Organizations need people who are trained to mine data and refine it, so they can make intelligent decisions.
"We have more data available to us than could likely be imagined 20 years ago," said Peg Hohensee, department chair in the math department at Purdue Global. "I believe businesses want access to the information in order to develop targeted marketing and product placement to secure or increase market share."
Data is everywhere, and organizations need experts who can help them make smart, data-driven business decisions.
4. Customer Needs and Marketing
Consumers are demanding in the 21st century.
Salesforce, a web-based platform that businesses use to manage leads and customers, surveyed consumers and found that 76% of consumers expect companies to understand their needs and expectations. Other findings from the Salesforce survey:
Customers (84%) say they want to be treated like people, not numbers
Customers (70%) say if you understand how customers use products and services, you'll win their business
Customers are 2.1 times more likely to view personalized offers as important versus unimportant
The message is clear: Customers expect you to know who they are, what they want, and when they need it. Companies have an enormous amount of data readily available to meet those demands.
5. Data-Driven Decision-Making (DDDM)
What is data-driven decision-making? It's using hard facts, rather than intuition and observation, to make decisions. It's not to say that intuition and observation don't have value. In fact, some business advisers and experts recommend using data to inform micro decisions and using your intuition to make macro decisions.
Data can help retailers know how many three-ring binders to add to inventory before back-to-school shopping begins and inform logistics companies about most efficient delivery routes. Those are essential micro decisions that help managers run businesses.
But simply generating data and producing reports and fancy dashboards isn't what data-driven decision-making (DDDM) is about. DDDM is about using that data to make organizational decisions—by testing, measuring, learning, and iterating.
Employment Projections for Data Analytics Professionals
IBM projects that by 2020, demand for data and analytics professionals will increase by 3.64 thousand to 2.72 million openings.* These are not only data analytics roles, but also other job roles that require data and analytics skills.
The Department of Labor, which measures labor market activity and tracks trends across thousands of jobs in the United States, predicts a bright outlook for jobs in data analytics, such as the four listed below. Average job growth across all occupations in the U.S. is 3.7%.
There's more evidence of a growing demand for data analytics professionals, especially among managers and organizational leaders. IBM also predicts that demand for data-driven decision-makers will increase by 110,000 in 2020. To lead analytics teams and craft a company's strategies, executives will need at least a foundational understanding of what the data is and how to analyze it.
Examples of non-data-analyst jobs that use data analytics skills:
Government: Agencies that measure and monitor our census, economics, health and health care, education, military and security, crime and justice, environment, planning and budget, and more are all reliant on vast databases of information to help them form decisions, public policies, and laws.
Business: Every facet of a business—administrative, sales and marketing, finance and HR, information technology, and operations—relies on data to achieve its operational goals.
Health care: If you've been to an emergency room or urgent care in the last two to three years, you may have seen patient wait times through the health facility's website or app. That's data at work. Health care analysts also use data to create patient risk scores for things such as cancer, heart disease, and other chronic diseases and to prescribe treatments.
Supply chain management: Supply chain and logistics are almost synonymous with data analytics; they may have the most obvious and well-established applications for big data. Data is generated from the time a product or service is conceived until it is delivered to the end user.
Sports management: When you think of sports and data, you might immediately think of the film "Moneyball," which tells the story of how a Major League Baseball team used data to build a winning team. Professional sports organizations do use data in powerful ways. According to BizTechMagazine, NBA teams employ data analysts who use tracking devices and statistics to inform coaches and managers.
What to Expect From a Data Analytics Degree Program
Students who pursue a data analytics degree have the opportunity to learn to:
Analyze a complex set of data and apply principles of analysis and other relevant disciplines to create requested reports.
Design, implement, and evaluate an analytics-based solution to meet a given set of requirements in the context of the discipline.
Communicate well in diverse professional contexts.
Acknowledge professional responsibilities.
Make informed judgments in analyzing data based on legal and ethical principles.
Function effectively as a member or leader of a team engaged in activities appropriate to the analysis of data.
Typical coursework involves classes in programming and data analysis, data governance, statistical data analysis, reporting and visualization, artificial intelligence and machine learning, data curation concepts, modeling and predictive analytics, and more.
Purdue Global Offers an Online Data Analytics Degree
Are you ready to take the next step toward a career in this growing field?† Learn more about Purdue Global's online bachelor's degree in analytics. You'll learn technical and statistical tools and processes to analyze many types of data that will allow you to help make business decisions and recommend data-driven decisions to business leaders. If you already have experience working in data analytics, you may qualify for our ExcelTrack® program in analytics, which enables you to earn the same degree faster, for less money.‡ Request more information today.
---
Your Path to Success Begins Here
Learn more about online programs at Purdue Global and download our program guide.
Request Information