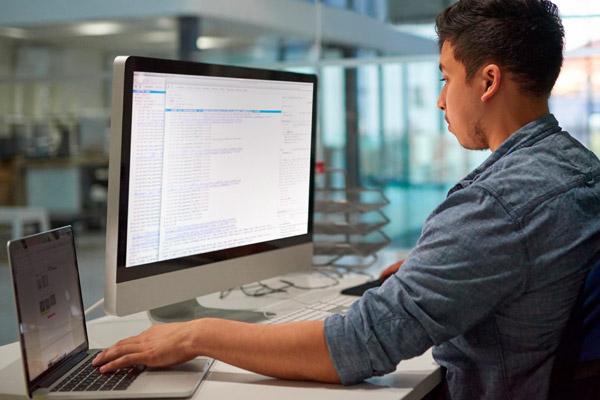 January 29, 2018 | Purdue University Global
With the rise of coding boot camps and self-taught professionals, it's no wonder people consider bypassing a degree on the path to a career in information technology and computer science. While it may work in some cases, earning a degree will set you up for success for six reasons.
1. A college degree provides a strong foundation that's missing in coding camps
It's hard to beat the structure of a degree program that ensures you learn the things you need to know to be career-ready.* When learning on your own, you may learn what you need to know to complete common tasks or projects, but you miss out on the foundation that will help you advance to more complex professional experiences.
Among other things, developers who are self-taught or complete coding boot camps are likely missing experience with:
Discrete mathematics
Relational algebra
Computer architecture
General business and communications
If you aspire to code simple websites, a degree may not be necessary. But if you're looking to have myriad options in your career, a degree can provide a foundation to prepare you for high-level projects and roles.
2. A college degree sets you apart from self-taught candidates
Imagine that a human resources manager is deciding between two candidates. The first candidate has a year of professional experience after learning how to code from a free coding camp. The other candidate has a year of professional experience and a bachelor's degree.
With the same amount of experience, the HR manager would likely choose the college-educated developer, as their educational experience sets them apart as a serious professional who is career-driven and dedicated.
Some job postings will include "or equivalent experience" after education requirements, allowing the company to gain access to a larger pool of candidates. However, if two candidates are stacked against each other with similar achievements and experience, education can become the deciding factor.
3. Notable companies may require a degree
Top companies are usually inundated with resumes for open positions, and they may use education requirements to weed out candidates. Many well-paying organizations only interview candidates with a computer science degree, even for entry-level engineering positions.
In times of high demand for jobs, other popular companies may enact similar strategies to whittle down their candidate pool.
4. Earning a degree gives you access to an important network
Coding boot camps are generally self-directed and offer limited access to other professionals. But, with a college degree, you have access to both your peers and professors to help you expand your skill set and your network of professional resources.
Professors are a valuable resource to have when a recommendation letter is needed. You may also find your peers reaching out with job openings at their companies years after you earn your degree.
5. You can move on to earning a post-graduate degree
By earning a bachelor's degree, you'll always have the option of pursuing a master's degree or doctoral degree.
Without one, you may be accepted into certain programs that allow equivalent experience in lieu of a bachelor's degree. However, it requires additional time and effort to uncover which programs will do just that, and you may have to settle for a less desirable program.
6. Flexible college options are available
For a professional looking to enter this field, earning a degree can seem like a daunting task. While self-directed learning and coding boot camps give you the ability to fit your studies in when time allows, there are flexible degree programs available. You can earn a college degree, even with a busy work and life schedule.
Earn an IT degree at Purdue Global
Purdue Global offers a tailored, competency-based program that enables you to get a degree faster and offers control over how and when you learn.
Are you interested in learning more about earning a degree in information technology? Find out more about Purdue Global's School of Business and Information Technology's degree programs and concentrations in information technology.