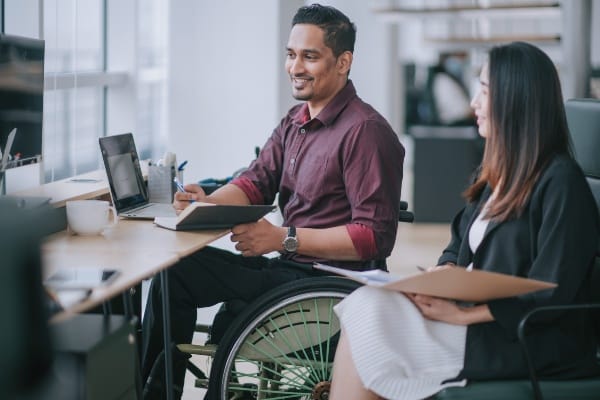 August 16, 2018 | Purdue Global
|
Updated November 16, 2022
A projected 178,000 new technology jobs are expected to be added in the U.S. in 2022, according to a CompTIA report. There is no shortage of job opportunities available for someone looking to enter the technology field—but because so many tech roles are highly specialized, it can be difficult for hiring managers to find qualified talent.
According to a report by Robert Half, 86% of technology managers say that hiring is especially challenging for roles in software and applications development, technology process automation, and cloud architecture and operation.
Earning an information technology certification is a smart way to work toward advancing your IT career and enhancing your knowledge in a specialized area. IT certifications can help you stand out to potential employers and grow your skill set.
Use this guide to learn about some of the most valuable IT certifications available today.
Information Technology Certifications Are in Demand
According to a 2021 Skillsoft report, 92% of IT professionals in North America hold at least one IT certification. Additionally, 80% of the IT decision-makers surveyed in this report claimed that certifications have led to faster performance, better engagement, and improved work outcomes. Earning an IT certification can also help set you apart from other candidates when applying to jobs. In some cases, certain certifications are preferred or even required by employers looking to fill advanced roles.
According to CyberSeek, here are more job openings requesting professionals with specific credentials than there are IT professionals holding those credentials. For example, 2022 data shows that there are 137,140 job openings requesting Certified Information Systems Security Professional (CISSP) candidates—but there are only 94,807 individuals who hold this certification in the U.S.
Valuable IT Certifications
Listed below are seven of the most valuable certifications for professionals working in IT.
1. Certified Information Systems Security Professional (CISSP)
CISSP certification demonstrates to employers that you have the knowledge and skills needed to design, engineer, implement, and manage cybersecurity programs. The CISSP credential is recommended for several experienced security management roles, including network architects, CIOs, IT directors and managers, and security systems engineers and analysts.
According to Cyberseek, there are more open cybersecurity roles requesting CISSP certification than any other certification. With that in mind, it makes sense that CISSP was the most commonly held certification in (ISC)²'s 2021 Cybersecurity Workforce Study. The study showed that 38% of survey respondents held a CISSP certification—compared to just 13% for the next most common certification.
The CISSP exam covers eight different topics, referred to as domains:
Security and risk assessment
Asset security
Security architecture and engineering
Communication and network security
Identify and access management (IAM)
Security assessment and testing
Security operations
Software development security
You are required to have at least 5 years of cumulative work experience in two or more of the eight domains listed previously. If you don't have enough work experience yet, you can earn an Associate of (ISC)² designation while you build up the required work experience for the CISSP certification.
CISSP certification is an approved certification for the Department of Defense (DoD) Directive 8570.
2. CompTIA Security+
The CompTIA Security+ certification is one of the popular IT certifications for individuals who are new to the cybersecurity field. Data from Cyberseek reveals that there are about 94,000 job openings in the U.S. requesting this certification, and Infosec Institute lists Security+ as their number one security certification to earn in 2022.
What makes this certification so attractive to job seekers and employers? While other IT certifications are vendor-specific or focus on advanced concepts, Security+ provides the foundational skills necessary to pursue a career in cybersecurity. CompTIA describes the Security+ certification as "the first security certification a candidate should earn."
The exam is also compliant with Department of Defense Directive 8570 —making it a popular choice for people who work in government roles.
The Security+ certification focuses on the following skills:
Identifying attacks, threats, and vulnerabilities
Operations and incident response
Architecture and design
Governance, risk, and compliance
Implementation
CompTIA recommends that candidates who take the Security+ exam have 2 years of experience in IT administration.
>> Read: How to Become an Information Security Analyst
3. AWS Certified Solutions Architect - Associate
Amazon Web Services (AWS) certifications are top credentials that demonstrate to employers that you have advanced cloud expertise skills. Additionally, they show that you have the skills to design and deploy secure applications on AWS technologies.
The AWS Certified Solutions Architect - Associate certification is designed for professionals who implement cloud initiatives on AWS technologies. According to Skillsoft's 2021 IT Skills and Salary Report, it is the second most pursued IT certification, just behind CISSP.
To be eligible for the AWS Certified Solutions Architect - Associate exam, you must have at least 1 year of hands-on experience designing distributed systems on AWS. If you have 2 or more years of experience operating the AWS Cloud, you might decide to pursue the AWS Certified Solutions Architect - Professional certification instead.
4. AWS Certified Cloud Practitioner - Foundational
Another valuable IT certification is the AWS Certified Cloud Practitioner - Foundational certification. This certification is listed as one of the top certifications for tech candidates in Robert Half's 2023 Salary Guide.
This credential focuses on validating cloud fluency and foundational knowledge of AWS technologies. It is designed for professionals who have at least 6 months of experience working in the AWS Cloud and a basic understanding of core AWS services and use cases. Because this is a foundational-level certification, it can be a great choice for professionals who are new to the cloud computing field and want to stand out to employers.
5. Certified Information Systems Auditor (CISA)
The CISA certification, which meets DoD Directive 8570, demonstrates your ability to control, monitor, audit, and assess IT and business systems within an organization. In addition, the CISA exam measures your expertise in the following fields:
Information systems auditing processing
Governance and management of IT
Information systems acquisition, development, and implementation
Information systems operations and business resilience
Protection of information and assets
Demand for candidates who hold the CISA certification is high. According to Cyberseek, there are over 80,000 job openings that request this certification, but only about 38,000 CISA certification holders are in the U.S.
A minimum of 5 years of professional work experience is required for recognition as a CISA-certified professional. However, up to 3 years of work experience may be waived for individuals who hold a master's degree in information technology or information security from an accredited university.
6. Certified Information Security Manager (CISM)
The CISM certification recognizes IT professionals who have experience in incident and risk management, information security governance, and program management and development. According to ISACA—the organization that administers the certification—the credential is intended for professionals working in IT security and control who are looking to advance into management.
Cyberseek estimates that there are approximately 19,000 CISM certification holders in the U.S. and over 55,000 open positions requesting this certification.
To earn CISM certification, applicants will need to submit verified evidence of at least 5 years of information security work experience, with a minimum of 3 years in a management role. You can take and pass the CISM exam before you gain this work experience, but you will not be officially certified until you submit your work experience history. This work experience requirement must be fulfilled within 5 years of originally passing the exam.
CISM certification is an approved DoD baseline certification.
7. Cisco Certified Network Associate (CCNA)
The CCNA certification is designed to measure your understanding of computer networking. The exam covers the following topics:
Network fundamentals
Network access
IP connectivity
IP services
Security fundamentals
Automation and programmability
This certification is popular for professionals who want to work in networking. Robert Half lists the CCNA certification as one of the best networking certifications available today. In addition, Skillsoft's 2021 IT Skills and Salary Report found that the CCNA certification was one of the top five most widely held IT certifications among survey respondents.
There are no formal prerequisites for the CCNA exam, but it is recommended that test takers have 1 or more years of experience working with Cisco solutions. Cisco also offers a training course to help you prepare for the exam.
After earning your CCNA certification, you can move on to Cisco's professional-level certification—Cisco Certified Network Professional (CCNP). There are several focus areas for the CCNP certification, including security, data center, and collaboration.
>> Read: A Guide to Fast-Growing IT Careers and the Degrees That Help You Get There
Advance Your IT Career With a Degree From Purdue Global
Ranging from associate's degrees to master's degrees, Purdue Global's online information technology degrees and certificate programs can help you prepare for a variety of IT certification exams. We offer programs in analytics, cloud computing, cybersecurity, and more.
If you already hold certain IT certifications, you may be able to apply them toward credit for your Purdue Global program, as long the certifications were earned within the past 3 years.
Request more information today to learn more about Purdue Global's information technology programs.