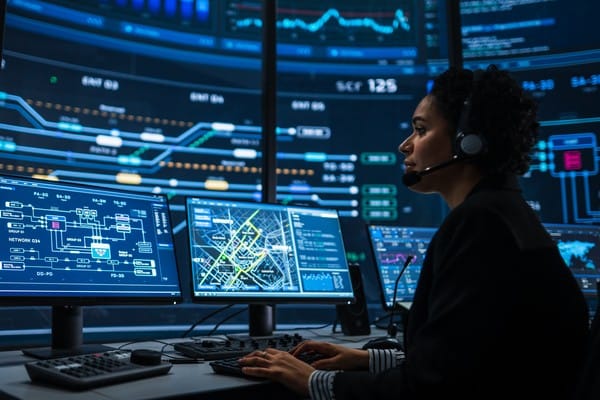 May 18, 2022 | Purdue Global
The more data we keep online—from financial and medical records to personal and work records—the greater the need for cybersecurity. As hackers continue to breach networks, cybersecurity experts are increasingly needed to help secure the data of major organizations.
The need for cybersecurity has led to increased job requirements within the IT industry, with most technology workers now being expected to play a role in data protection.
"Companies are realizing they need to take security seriously, and the cybersecurity field is growing as a result," says Rhonda Chicone, PhD, a Purdue Global faculty member with 30-plus years of experience in the IT industry.
Chicone and her Purdue Global faculty colleague, Donald McCracken, PhD, discuss what you'll need in education, skills and experience to join the ranks of IT professionals in the cybersecurity field.
Why Cybersecurity Is a Growing Field
Our insatiable appetite for the internet in nearly every aspect of our lives is driving growth in the cybersecurity field. It may also be contributing to incidents of cybercrimes, such as phishing, data breaches, cyber extortion, harassing behaviors, and identity thefts. Cybercrimes are affecting businesses, organizations, and individuals at alarming rates.
Identity theft morphed into identity fraud in 2021, according to the 2022 Identity Theft Resource Center (ITRC) Annual Data Breach Report. The impelling cause? Stolen consumer information from data breaches in business. While the consumers were not the main targets, they provided the means through which hackers could infiltrate businesses.
Most data breaches today require powerful preventative measures to ward off increasingly elaborate system attacks. Other highlights from the ITRC report include:
The total number of data compromises jumped 68% in 2021 over 2020.
Ransomware breaches are expected to surpass phishing attacks in 2022 as the primary cause of data breaches.
There were 1,862 data compromises with more than 293.9 million victims in 2021.
"Security can no longer be ignored at any level, from developers building information technology through the end users using it," says Chicone. "Positions like a network engineer or database administrator can no longer look at security as an afterthought."
Meanwhile, employment for information security analysts, which includes those in cybersecurity, is expected to grow by 33% between 2020 and 2030, much faster than the average for all other professions at 8%, according to the U.S. Bureau of Labor Statistics.*
Become a Cybersecurity Professional
Cybersecurity professionals are specialists within the information technology (IT) field. While there isn't a single path to ensure your success in this field, there are online educational programs and cybersecurity skills and certifications that may increase your opportunities in the cybersecurity field.
"You should be a constant learner if you want to be in cybersecurity," McCracken says. That's because the methods cybercriminals use to infiltrate data continually change, he adds.
Chicone recommends that those wanting to enter the cybersecurity field should focus on developing well-rounded skills, including those gained from college programs that may help you become successful in the workplace.
"Going through college helps you learn how to think, how to think critically and how to communicate and talk to nontechnical people," Chicone cites as some cybersecurity skills that are needed for these roles.
For example, Purdue Global's Bachelor of Science in Cybersecurity is designed to help students develop teamwork, leadership, and personal presentation skills that are necessary for building well-rounded employees. The program focuses on short-term and long-term cybersecurity strategies, information security risks, and finance.
Information security analysts are usually required to have a bachelor's degree in a computer-related field such as computer science, engineering, math, information assurance, programming, or cybersecurity. Employers may also prefer analysts to have experience in a related occupation.
Plotting Your Career Path in Cybersecurity
Be strategic about where you want to take your career and what you'll need to do to get there.
"For leadership roles, it helps to understand what return on security investment is and how to calculate it, because you're going to be defending the necessity to invest in security in front of a board or debating with your CFO," Chicone says.
If you're targeting a leadership position as part of your cybersecurity career path, Chicone says a program such as the Master of Science in Cybersecurity Management from Purdue Global may increase your likelihood of gaining a leadership role. That's because it concentrates on short-term and long-term cybersecurity strategies, information security risk and finance.
Certifications for Cybersecurity Professionals
Chicone notes that while certifications paired with a degree make for a more competitive professional profile, a certification on its own may not be enough to jump-start a career in cybersecurity.
Several certifications are available for cybersecurity professionals. Employers may prefer candidates to have certifications to validate their knowledge. Obtaining vendor-specific certifications may help. Some certifications include†:
Gain Skills to Be a Cybersecurity Expert
Certain skills are good to have when you want to become an expert in the cybersecurity field. McCracken and Chicone shared some of the key hard skills and soft skills they believe to be most important.
6 Hard Skills to Acquire for a Career in Cybersecurity
Computer and hardware knowledge—Generalized skills for anyone working with computers
Network security—Understanding how things operate and being able to differentiate between what is secure and what is unsecure
Programming—Being adept at programming languages to automate work
Statistical analysis—Identify network anomalies to learn what is wrong and understanding how to analyze network statistics
System engineering—Understanding how systems and devices interact
Vulnerability analysis—Understanding how networks may be unsecure and the ability to secure them
6 Soft Skills to Acquire for a Career in Cybersecurity
In addition to having strong technical skills, employers also look for soft skills such as:
Communications
Teamwork
Professionalism
Work ethic
Leadership
Multicultural fluency
These qualities are essential when looking at new hires. Chicone says proficiency in these skills can help you to become well-rounded.
Soft cybersecurity skills are more behavioral and related to personality. Consequently, they are more difficult to teach, according to Investopedia. Skills that are good to have include:
Adaptability—Developing a calm temperament. "If there's one constant in technology, it's that it's always changing," McCracken says. "You need to be ready for change."
Being analytical—Always being eager and ready to learn and understand the task ahead
Dependability—Show up on time and dedicate full attention to your work
Meticulousness—Exceptional attention to detail to work with intricate systems
Problem solving—A curious sense to develop solutions to system vulnerabilities and networking problems
Being a team player—"If a team can't collaborate together, the team will never succeed," says McCracken. "Effective communication is also important to the ability to convey what you know and what you've found."
Information Security Career Roadmap
Whether you're just starting on a cybersecurity career track or trying to determine the next step in your IT career, consider creating a career roadmap. You can begin by tapping into your network and asking colleagues about their career journeys and approach to gaining expertise. Then, combine the information you've discovered with your goals and online research to build a fulfilling career path.
Purdue Global offers an online bachelor's degree in cybersecurity and an online master's degree in cybersecurity. Ready for more information? Reach out to us today.
---
Your Path to Success Begins Here
Learn more about online programs at Purdue Global and download our program guide.
Request Information