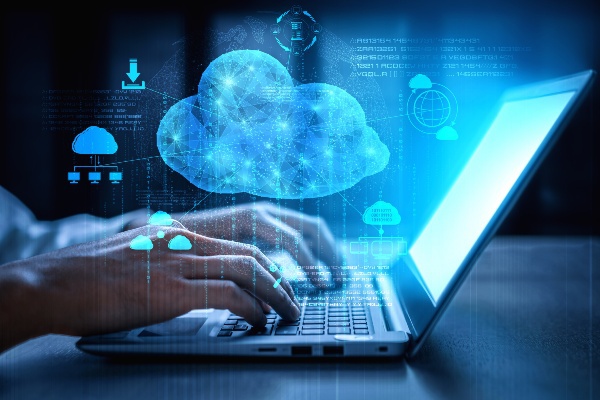 December 21, 2018 | Purdue Global
|
Updated December 24, 2020
Since the term cloud computing was first introduced more than 20 years ago, the industry has grown exponentially and is expected to continue to widen its influence on global businesses. Microsoft, IBM, Google, and Amazon were cloud computing trailblazers when they started promoting the concept back in the mid-2000s, and Gartner predicted the public cloud industry would grow 21.4% from 2017 to 2018, to $186.4 billion.
Cloud computing continues to provide for the needs of adopters—and it presents its own unique challenges, too. Here are five of the most pressing trends affecting the future of cloud computing.
1. Increased Adoption by Global Enterprises
In 2017, Forrester predicted that enterprises would cross the 50% milestone for public cloud adoption in 2018. In a 2018 study of nearly 1,000 IT professionals by cloud computing management software RightScale, 96% of respondents said they used some form of cloud computing. Among enterprises, 81% prefer a multi-cloud strategy.
Public cloud spending is significantly increasing, with 20% of enterprises planning to more than double their public cloud spend in 2018. A report by global management consulting firm McKinsey & Company found cloud providers are expected to account for up to 80% of shipped server and storage capacity by 2018.
RightScale reports serverless cloud computing had the most growth year-over-year in 2018, increasing 75%. Also called "Functions as a Service," serverless cloud computing requires no end-user management. End users simply send code functions to the server, and the provider handles all resource management, saving end users money compared to paying for a fixed quantity of servers.
2. Regulated Industries Will Begin Moving to the Cloud
With increased cloud adoption across global enterprises, regulated industries are increasing their usage, too. A 2018 report by Oracle, a cloud applications and platform services provider, predicts 50% of production workloads in regulated industries will move to the cloud by 2020.
These include sectors like energy, financial, and telecommunications industries. A 2018 report by global market intelligence firm IDC predicts the industries that will see the fastest growth of cloud computing from 2016 to 2021 include telecommunications and banking, with each experiencing a 23% compound annual growth rate.
Though regulations such as the European Union General Data Protection Regulation (GDPR) place restrictions on where customer data can be stored, organizations within these regulated industries can create unique contracts with cloud storage providers that address privacy regulations, data retention, breaching response, and data ownership. Some organizations may also choose to retain data in their own data center, but outsource hardware and software assets, management, and maintenance.
3. Increased Adoption Means Increased Risk
As more data enters the cloud, cloud computing providers are bigger targets for security breaches. A 2018 Gartner survey of 110 senior executives at large global organizations found cloud computing was the top security concern. Some of the threats facing organizations that use cloud computing include:
Reduced visibility and control
Vulnerabilities in management APIs
Multi-tenant data leakage due to failure of separation control
Incomplete data deletion
Stolen credentials
Insider abuse
While cloud providers are vigilant about security and protecting their users, the end users could cause damage by making the applications they have running in the cloud vulnerable, as this InfoWorld article addresses. Gartner reports through 2022, at least 95% of cloud security failures will be caused by organizations.
Organizations that use the cloud must still have dedicated IT staff in place to prevent security threats and mitigate risks.
4. The Cloud Will Continue to Support AI
In addition to cloud computing, the growth of artificial intelligence (AI) in diverse industries is one of the top trends in technology today. In October 2018, HTF Market Intelligence released a report stating AI in manufacturing is expected to have a compound annual growth rate of 53% through 2025. The AI market in general is expected to reach $190 billion by 2025, at a compound annual growth rate of 37% from 2017 on, according to Markets and Markets.
Cloud computing is essential for the growth of AI, since most types of hardware do not have the capabilities to run AI applications efficiently. AI relies on big data processing to improve its services through machine learning.
Cloud computing improves AI processing speed and accuracy, while AI can be used to operate and manage cloud computing. As each industry grows, it enables the other to expand, as well.
5. Demand for Cloud Professionals Will Grow
The increased use of cloud computing means greater demand for cloud professionals. According to the Bureau of Labor Statistics, employment of computer and IT occupations is projected to grow 11% from 2019 to 2029, which is faster than average for all occupations.* No matter what role or capacity you work for in IT, cloud computing is likely to affect your job.
Occupations such as computer network architect and computer systems analyst are responsible for building out cloud networks. In roles such as computer and information research scientist, computer programmer, and information security analyst, professionals may deploy applications to the cloud or monitor and manage an application's performance in the cloud. Working with IT services means interacting with cloud services in many cases.
Be at the Forefront of Cloud Computing Technology
If these trends in cloud computing interest you, you can train to become a cloud computing professional by earning a degree in cloud computing. Learn more about Purdue Global's Bachelor of Science in Cloud Computing and Solutions and the accelerated bachelor's degree in cloud computing, which could help you earn your degree faster and for less money. If you'd like more information about either program, contact us today.
---
Your Path to Success Begins Here
Learn more about online programs at Purdue Global and download our program guide.
Request Information