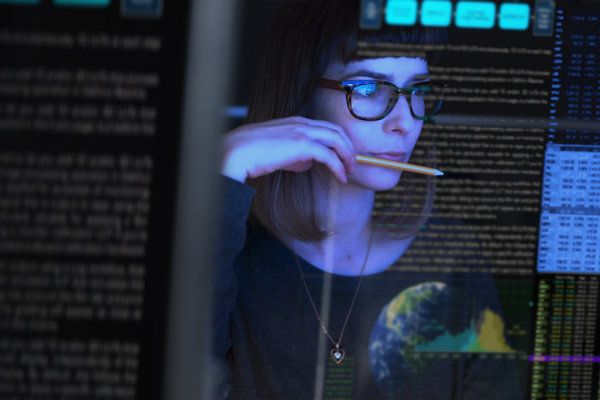 June 14, 2019 | Purdue University Global
Working women have had an interesting relationship with careers in computer science (CS) and information technology (IT) over the last 50 years. The field was dominated by men; then from the 1970s to the mid-1980s, there was a steady increase in women entering the field, then a leveling off, and then a decline. With computer and information technology occupations projected to grow faster than the average growth of all occupations through 2026, there are many opportunities for both men and women.*
This article reviews the history of women in computer science, current opportunities for women, and resources to help women explore and grow in computer science fields.
Quick Look Back: Women in Technology by the Numbers
1970 to the mid-1980s was an exciting time for anyone working with computers and technology, especially as more women began entering a field traditionally held by men. The number of women graduating with bachelor's degrees in computer and information science was on a steady increase.
Between 1985 and 1986, the number of bachelor's degrees in computer science awarded to women reached 36%—an all-time high, according to the National Center for Women & Information Technology (NCWIT). However, between 2015 and 2016, the number of women graduating with computer science degrees had returned to near-1970s levels at 19%.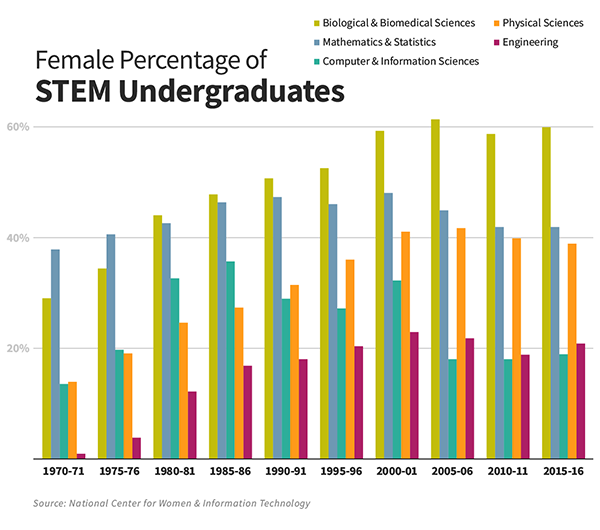 To put this into perspective, nationwide across all industries, women make up 47% of the workforce in the United States, according to the U.S. Department of Labor. Yet they comprise only 26% of the computer and information technology workforce, according to NCWIT.
From yet another perspective, degrees conferred to women in medical, law, and physical sciences have been on a steady increase since the 1970s, according to an NPR analysis from 2014: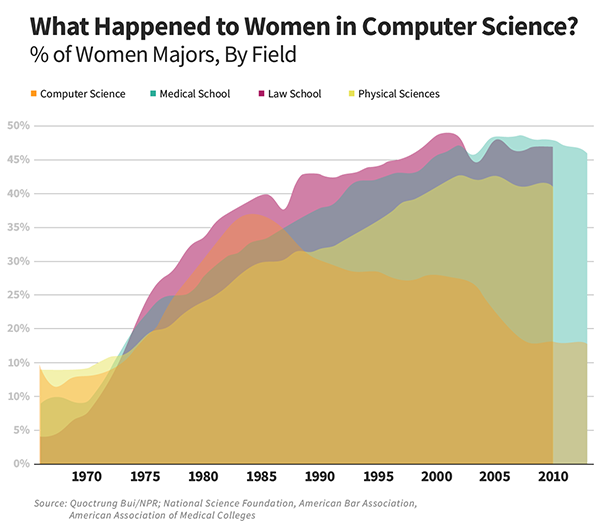 3 Reasons Why Women Should Seek IT Careers
1. Computer-related jobs are growing at a fast pace.
Demand for computer and information technology workers is projected to grow 13% through the year 2026, according to the Bureau of Labor Statistics. That's faster than the average rate of growth for all jobs in the United States.
2. Although women comprise only about 20% of programmers, they're earning nearly equal pay.
If opportunity isn't enough reason, here's another reason for women to get excited about careers in computer science and IT: The gender pay gap is nearly nonexistent between men and women in the U.S., according to research from the American Association of University Women.
Across all occupations in the U.S., women earn about 80 cents for every dollar that men earn.
In computer-related fields, it's 94 cents for every dollar.
3. There aren't enough skilled workers today to fill computer-related jobs through 2026.
If you are a woman who is thinking about a career in IT, or if you are already working in a computer-related field and are ready to get ahead, women in IT have a world of opportunity.
NCWIT predicts that 3.5 million new computer-related jobs will open by 2026, but there won't be enough graduates with bachelor's degrees to fill those positions if our universities continue at the current rate.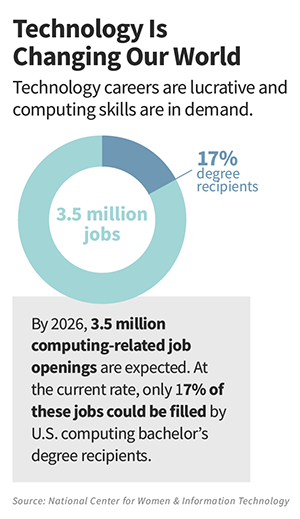 Resources for Girls and Women Seeking Careers in CS and IT
Computer Science and Information Technology Resources for Girls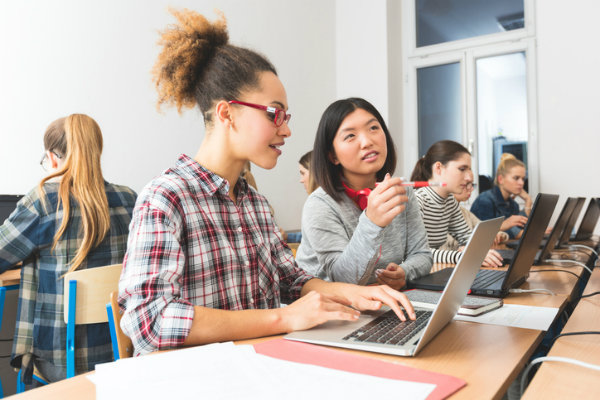 Computer Science and Information Technology Resources for Women

Further Explore a Career in Information Technology
If you are thinking of pursuing or advancing a career in information technology, a college degree may help.† Purdue University Global offers several online degree programs in information technology. Explore our IT degree programs.