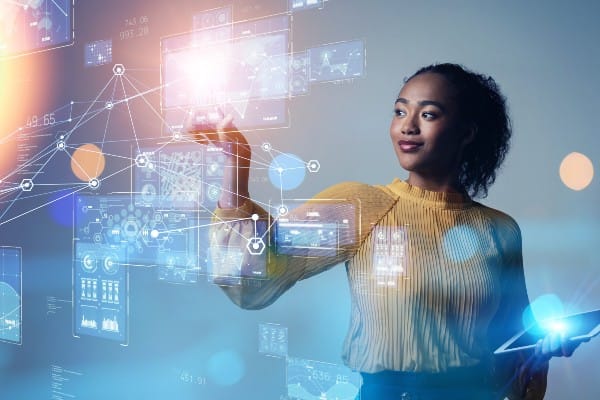 August 24, 2022 | Purdue Global
Many people have outdated notions about IT workers. If you're someone who works in the tech industry, you might find that your friends and family don't understand what it is you do. They may assume most of your job involves asking people, "Did you turn it on and off again?"
Historical inequalities in the technology sector—combined with media portrayals of tech professionals—has led to several IT stereotypes. But in reality, the technology sector encompasses a vast number of careers. According to CompTIA's Cyberstates 2021 report, approximately 12.2 million people in the U.S. work in technology.
Find out how you can combat IT stereotypes and successfully make a career for yourself in technology.
Common IT Stereotypes
According to Tamara Fudge, DMus, MSIT, information technology faculty member at Purdue Global, several stereotypes are prevalent in the tech industry. These include:
>> Read: 7 Myths About Working in Tech
How to Overcome IT Stereotypes as You Navigate Your Career
If you're new to the tech industry, you may feel as though the stereotypes associated with IT careers weigh you down and prevent you from reaching your full potential. Below, we provide some tips for how to overcome the social challenges of information technology.
Follow Your Passions
Fudge recommends that if someone is passionate about information technology, they should pursue it. "If you want it, go for it," she says. "But make sure you're doing it because you're passionate about working with computers and want to contribute to the field."
She emphasizes that a career in IT can be very rewarding for people who are genuinely interested in digging into how computers work. Many professionals in the field also explore information technology as a hobby outside of work.
Ignore the Naysayers
When you're first starting out in a tech career, you might run into coworkers or other professionals who assume you don't have the knowledge or skills to be successful. Try to ignore these naysayers as much as possible and focus on your own work. If a conflict arises, it's best to stand your ground, says Fudge. "If someone says you can't do something, what you need to say is, 'Oh, yes, I can.'"
Fudge explains that women working in IT are frequently subjected to these kinds of assumptions—especially when interacting with people outside their place of employment. "For example, if you're buying a new computer and you ask the repair person a tech question, it's often assumed that you as a customer know nothing," she says. "If you explain to them that you have a background in technology, they'll usually change their tune as they realize that you understand more than they thought you did."
Push Through Any Failures
It's easy to become discouraged when you make a mistake at work, especially if you're early in your career, but it's important to push through these failures and learn from them. "Every time we experience failure, we can learn from it," says Fudge. "For example, if you're a college student and you lose five points on an assignment, why did you lose those points? What can you learn from it? It's all about growth and turning mistakes into something positive."
Make Connections With Leadership and Industry Professionals
Finally, professionals can overcome the social challenges of working in IT by making connections with industry professionals who can support them. Forming a strong relationship with the leadership at your company is a good place to start. According to Fudge, "Great leadership can make a world of difference in anyone's career."
Joining a professional organization is another great way to meet professionals in your field. The following professional organizations provide support to underrepresented communities in tech:
Grow Your IT Career With Purdue Global
Purdue Global offers several online degree programs and certificates in information technology. Whether you're just getting started in the tech field or would like to build upon your existing experience by earning a degree, we can help. To learn more, request information today.
---
---
Your Path to Success Begins Here
Learn more about online programs at Purdue Global and download our program guide.
Request Information