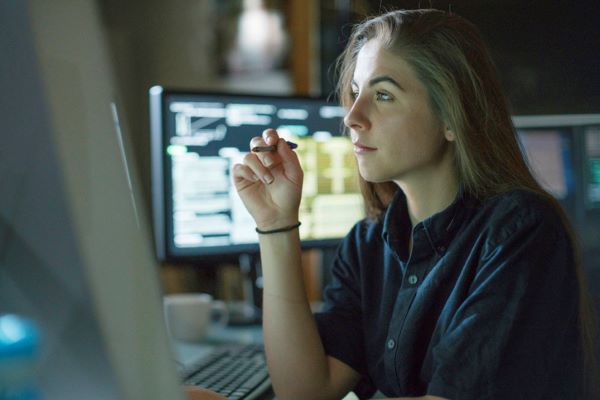 January 25, 2021 | Purdue Global
Employment in computer and information technology occupations is expected to increase 11% from 2019 to 2029, the U.S. Bureau of Labor Statistics reports. That's equivalent to 531,200 new jobs.*
There are plenty of misconceptions about this industry, however. We sat down with Lynne Williams, PhD, faculty member at Purdue Global, to discover—and debunk—seven myths about working in tech.
1. Only Men Work in Technology
Though underrepresented, many women work in technology. Women made up 27.8% of those in the computer systems design and related services industry in 2019, according to labor force statistics from the BLS. As of 2016, women made up 14%, 25%, and 29% of the engineering, computer, and physical science occupation workforces, respectively, Pew Research Center reports. As more girls study tech-related subjects, the number of women in technology may increase. According to AP testing data from the College Board, girls made up approximately 47% of AP calculus test takers and 29% of AP computer science test takers in 2019. Additionally, in its "2020 NCWIT Scorecard: The Status of Women in Computing," the National Center for Women & Information Technology reports that the amount of women earning bachelor's degrees in computer and information sciences has consistently increased since 2010.
2. Verbal and Written Skills Don't Matter
This myth about working in tech couldn't be further from the truth. Having these soft skills may be just as important as having prerequisite technical knowledge, since they affect how you interact with coworkers, manage your workload, and solve problems.
"If you intend to move up in the field, you absolutely need good verbal and written skills in almost every IT-related job," Williams says. "IT people have to be able to communicate effectively with just about everyone in the organization, from users and peers all the way up to managers. They need to be able to clearly explain technical concepts to non-technical people, without sounding patronizing. Nobody wants to think that you're looking down on them. So you need these soft skills if you want to get ahead."
The ability to lead and motivate teams is another soft skill that matters in managerial positions. The BLS lists communication and leadership skills as important qualities of computer and information systems managers.
3. You'll Work in Silicon Valley
Silicon Valley is home to many large tech companies—including Apple, Google, and Facebook, to name a few—but you don't have to live in Silicon Valley to have a technology career.
"Software developers can work anywhere in the world. In fact, these days, many software developers can work remotely," Williams says. "Computer support specialists often work remotely as well. With secure remote access software, you can diagnose and troubleshoot a malfunctioning system from anywhere with an internet connection."
"Ultimately, where you work depends on the position you're pursuing. But don't be discouraged if you don't live in a metropolitan area," Williams says. "You can find opportunities to work in tech all around the country."
4. Tech Isn't Creative
Organization, attention to detail, and strong analytical skills are useful in a tech career. But, don't discount the power of creativity—troubleshooting database problems, resolving network issues, and building new software all require it.
"Especially as you move up and get into areas where you're actively shaping technical infrastructure and making it align with business goals, you can get very creative," Williams says.
When you work in tech, left- and right-brained thinking are beneficial.
5. You'll Work at a Startup
While it's possible you'll work at a startup, this isn't the only environment tech professionals work in. Williams says this myth is similar to the idea that you have to work in Silicon Valley.
"The tech field has so many opportunities," she explains. "If you're a system analyst, you might not work at a startup. If you're a technician or some sort of IT installer, then you might. It just depends on the employer and the position you're going after."
The BLS reports that the biggest employers of network and computer systems administrators in 2019 were:
Computer systems design and related services—18%
Educational services—10%
Information—10%
Finance and insurance—9%
Management of companies and enterprises—7%
6. You Have to Design Apps and Websites
Another myth about working in tech is that website and application development are the main tech careers out there. In addition to application or website development, technology careers also involve cybersecurity, network administration, and project management.
"You'll probably end up wearing a lot of different hats as you progress through your career," Williams says. "It's a good idea to at least have an understanding of how apps and websites work, but you don't need to be able to design them to understand how they operate. For instance, if you work in cybersecurity, you'll need to be aware of the code beneath a website and what can happen with it."
Some tech careers may even be considered essential work. In response to COVID-19, the Cybersecurity and Infrastructure Security Agency (CISA) issued guidance on what occupations were considered essential critical infrastructure workers, and information technology workers made the list. Based on CISA's guidelines, the BLS lists information security analysts as an essential occupation that provides IT support. These professionals plan and implement security measures to protect an organization's computer networks and systems.
7. You Don't Need Formal Education
"There are as many ways to get into a technical career as there are people who want to get into tech," Williams says. "You might run into somebody who's completely self-taught. However, there's something unspoken about a formal education, because it implies that you know how to think critically and communicate effectively. It also allows you to present yourself in a professional manner."
Of the computer and IT occupations listed by the BLS, most require postsecondary education. For example, a bachelor's degree is the typical entry-level education for:
Computer network architects
Computer systems analysts
Database administrators
Information security analysts
Network and computer systems administrators
Software developers
Gaining formal education can help you take the next step toward one of these technology careers.
"A formal education teaches you how to research things. In tech, you blink your eye and it's all obsolete," Williams explains. "When a student goes through a formal degree program, they learn how to think critically and research new concepts so they can constantly learn new skills."
"A lot of students ask, 'Can't I just get some professional certifications?' The trick is, certifications show an employer that you know how to do something, such as how to turn the little red wheel a quarter turn every hour at the half hour. A degree shows them that you know why you're doing it."
The Truth About Working in Tech
There are many different types of technology careers to choose from. Developing soft skills and gaining necessary education can help men and women thrive in a tech career. Purdue Global offers undergraduate and graduate degrees in information technology, cybersecurity, and more. To learn more, request information today.