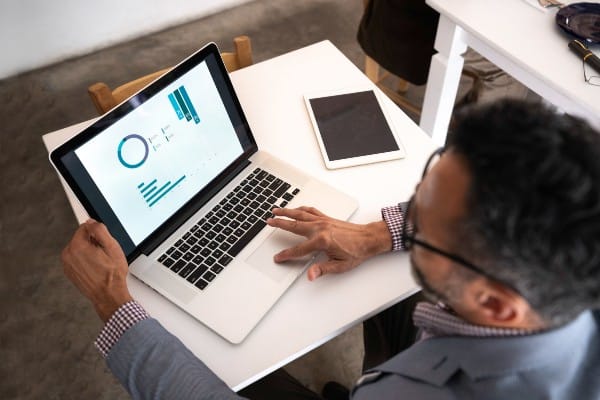 September 15, 2022 | Purdue Global
Data analysts are responsible for making sense of large sets of raw data and providing data-driven recommendations to their organizations.
Demand for data analysts has grown over the last few years, and this trend is expected to continue. According to the U.S. Bureau of Labor Statistics, careers for computer and information research scientists—a position closely related to data analysts—are expected to grow 22% from 2020–2030. This is much faster than the average growth rate for all occupations.
Due to the highly technical nature of data analytics jobs, many employers prioritize candidates who hold certifications. Below, we detail some of the best certifications for data analysts—but this list is by no means exhaustive. The right certification for you will depend on your professional background and the type of role you're looking for.
Data Analytics Certifications vs. Data Analytics Certificates
Data analytics certifications should not be confused with data analytics certificates. Certifications are awarded after passing an examination or assessment that measures your skills against industry standards, while certificates are awarded after you complete an educational program.
Completing a data analytics certificate program can act as an excellent foundation for earning industry certifications later down the line.
Do Data Analysts Need to Be Certified?
You can become a data analyst without earning a certification. However, certifications are incredibly valuable for advancing your career.
A 2021 report by Global Knowledge that surveyed over 9,000 IT professionals found that 92% of respondents held at least one certification. Some benefits of certifications mentioned by the respondents included:
Improved quality of work
Better work engagement
Faster work performance
In addition to helping you grow your skill set, earning a data analyst certification shows employers that you are willing to put in the time and effort to advance your career.
Some employers may require data analyst candidates to hold specific certifications. Even when not strictly required, data analytics certifications can help you stand out from the competition.
>> Read: Data Analytics Career Guide: Is Analytics for You?
5 Popular Data Analytics Certifications
The following certifications may help you grow your career as a data analyst. In most cases, earning a data analytics certification involves passing a standardized exam and meeting any education or work experience requirements.
1. CompTIA Data+
If you're new to the world of data analytics, the CompTIA Data+ certification can be a great way to differentiate yourself as you search for career opportunities in the field.
This certification tests your understanding of several data analytics concepts, including:
Data environments
Visualization
Data mining
Data governance, quality, and controls
Data analysis
CompTIA prides itself on being a "vendor-neutral, independent source of information on a wide range of technology topics." While many other data analytics certifications focus on specific vendor services and programs, the CompTIA Data+ certification acts as more of a foundational overview of data analytics skills.
This certification is designed for beginners, but you will still need to have some background knowledge of data analytics to pass the exam. CompTIA recommends 18-24 months of experience working in an analyst role, as well as a basic understanding of statistics and data visualization.
The Purdue Global + Google Data Analytics Certificate can help you develop the foundational skills needed to prepare for the CompTIA Data+ examination. With this certificate program, you can choose to earn micro-credentials in a variety of industries, such as business, accounting, or health informatics.
2. Certified Analytics Professional (CAP®)
The Certified Analytics Professional (CAP®) certification is designed for data analytics professionals who already have a few years of experience working in the field. Like the CompTIA Data+ certification, this certification is vendor- and technology-neutral.
The requirements for earning the CAP® vary depending on your level of education:
If your degree is not related to analytics, you need seven years of work experience working in data analyst roles.
If you have a bachelor's degree in analytics or a related field, you need five years of work experience.
If you have a master's degree in analytics or a related field, you need three years of work experience.
The CAP® exam consists of 100 multiple-choice questions. It covers topics such as problem framing, methodology selections, and model building. A variety of resources and study guides are available on the CAP® website.
3. Amazon Web Services (AWS) Certifications
Amazon offers several certifications for professionals looking to become more familiar with its Amazon Web Services (AWS) platform. Some of the most relevant AWS certifications for data analytics professionals include:
The recommended experience varies for each AWS certification. Associate-level certifications require about one year of experience working with AWS technology, while specialty-level certifications require more advanced experience. For example, Amazon recommends that individuals pursuing the AWS Certified Data Analytics certification have five years of experience in data analytics and two years of experience working with AWS services.
You may want to consider earning associate-level AWS certifications first and then moving on to the specialty AWS certifications.
4. Cloudera Certified Associate (CCA) Data Analyst
The Cloudera Certified Associate (CCA) Data Analyst certification is designed for SQL developers who want to become more proficient in data analytics. That said, the certification has no formal prerequisites. Data analysts, business intelligence specialists, and database administrators may also benefit from earning this certification.
The CCA Data Analyst certification focuses on using Hive and Impala to generate reports in Cloudera's CDH environment. The practical exam requires the use of data definition language statements and query language statements.
After earning this certification, you will be better equipped to perform data analysis on Cloudera technologies.
5. Microsoft Certified: Azure Data Engineer Associate
The Microsoft Certified: Azure Data Engineer Associate certification helps data analysts produce and store datasets using Azure data services and languages. As an Azure data engineer, you may also design, implement, and optimize data platforms to meet your company's needs.
Candidates for this certification need to be proficient in data processing languages such as SQL, Python, or Scala. They should also have experience transforming and consolidating data from structured and unstructured data systems. To help candidates prepare for earning this certificate, Microsoft offers free online training as well as paid instructor-led training.
The Azure Data Engineer Associate exam covers the following topics:
Designing and implementing data storage
Designing and developing data processing
Designing and implementing data security
Monitoring and optimizing data storage and data processing
This is one of many certifications offered by Microsoft. You can sort their available certifications by role to see which certifications are most applicable for you.
Grow Your Data Analytics Career with Purdue Global
These are just a few certifications that may be worth looking into as you grow your information technology career. To learn about more available IT certifications, read our article, "6 Valuable IT Certifications to Earn Right Now."
Purdue Global's Bachelor of Science in Analytics online degree program can prepare you for several industry certifications. In addition, we offer a Purdue Global + Google Data Analytics Certificate for those looking to build foundational skills without completing a full degree program. Request information today to learn more.
---
---
Your Path to Success Begins Here
Learn more about online programs at Purdue Global and download our program guide.
Request Information