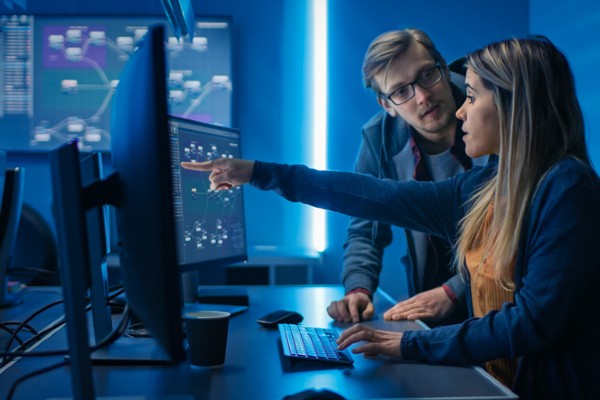 November 12, 2021 | Purdue Global
|
Updated July 29, 2022
Database administrator is listed as one of the ten most in-demand tech jobs in 2022, according to CIO magazine. The future for these big data specialists looks bright, with growth projected at 8% from 2020 to 2030, according to the U.S. Bureau of Labor Statistics.
You probably have a lot of questions if you're considering a career as a database administrator. Here are the answers to some frequently asked questions.
What Is a Database Administrator?
A database administrator works with systems and specialized software to store and organize large sets of data, such as shipping records and financial information. These specialists ensure that servers remain efficient and operational, while they also oversee access, backup, data security, implementation, partitions, replication, and storage.
Being a database administrator can also offer a solid foundation for future career paths in IT, like cybersecurity.
What Does a Database Administrator Do?
Database administrators typically have these responsibilities:
Back up and restore vital data to prevent loss
Certify that organizational data are secure
Confirm that databases operate efficiently and error-free
Identify user needs to create and administer databases
Maintain databases and update permissions
Make and test modifications to database structure when needed
Merge old databases into new ones
Database administrators make sure that databases contain the information that data analysts and other users need. Some administrators oversee the development of new databases and must determine the needs of those who will be using them. They also monitor database performance and support users. Database administrators' other responsibilities may include the migration of data from one system to another and making sure that a company's data is available and usable.
What Is the Job Outlook for a Database Administrator?
The BLS expects employment of database administrators to keep growing through 2030. This growth is in part tied to the expansion of big data.

As the data science field continues to grow, more organizations will rely on data collection and information gathering, creating a need for individuals who can help manage this data.
What Skills Are Needed to Be a Database Administrator?
Solid technical skills are widely considered the most important for database administrators. Familiarity with the database programming language SQL is also crucial, along with skills in database applications such as SQL Server and Oracle.

Apart from technical skills, database administrators need to be well-versed in analysis and reporting. Communication skills are also important for these professionals. Database administrators often need to be able to present technical knowledge to non-technical audiences.
Who Would Make a Good Database Administrator?
If you're considering becoming a database administrator, you should enjoy problem-solving and be familiar with big data database tools related to machine learning and artificial intelligence.
Among other interests, database administrators typically are interested in:
Deductive Reasoning—Using a set of rules to solve problems
Inductive Reasoning—Making general rules or coming up with answers from data
Information Ordering—Ordering or arranging data
Oral Comprehension—Listening and understanding other people
Problem Sensitivity—Being on the lookout for when problems happen
What Certification Is Needed to Be a Database Administrator?
Certification validates your knowledge and that you are aware of best practices. Database administrator certification is generally offered directly from software vendors or other providers. Companies may require you to be certified in their data products. While professional certification is helpful, it is not required for all positions.
To learn more about various database administrator certifications, visit the U.S. Department of Labor's CareerOneStop site.
Where Do Database Administrators Work?
With the growing use of big data, not only are the number of jobs growing but so are the places where database administrators can work. Areas where you might find database administrators include government organizations, nonprofits, the tech sector, education fields, and much more.
According to the BLS, these are the largest employers of database administrators:
| Industry | Percentage of Total Jobs |
| --- | --- |
| Computer systems design and related services | 13% |
| Educational services; state, local, and private | 6% |
| Management of companies and enterprises | 6% |
| Insurance carriers and related activities | 6% |
| Data processing, hosting, and related services | 3% |
How to Become a Database Administrator
Database administrators usually start with a bachelor's degree in a subject related to information or computers, such as computer science. Opportunities can grow with more education in computer specialties.

Some professional experience in IT or even data entry can be helpful for entering into a database administrator role.

It's also important to find out what a database administrator job would look like day-to-day to determine whether it's the right career for you. You can network with other professionals already working in the field to gain a better understanding of the skills you may need.
Get a Degree to Become a Database Administrator
Earning a degree can give you the knowledge you need for database administrator certifications and can help you hone your skills in learning labs. You also may choose to gain real-world experience with an internship.
Purdue Global offers a few degree plans for those interested in becoming a database administrator. You could pursue an online Bachelor of Science in Cybersecurity, a Master of Science in Cybersecurity Management, or a Master of Science in Information Technology. In addition to the degree programs, Purdue Global and Google have partnered to develop a Purdue Global + Google Data Analytics Certificate. This certificate offers courses that cover the foundational skills of data analytics and can prepare you for a career as a database administrator.
Reach out today for more information.
---
Your Path to Success Begins Here
Learn more about online programs at Purdue Global and download our program guide.
Request Information