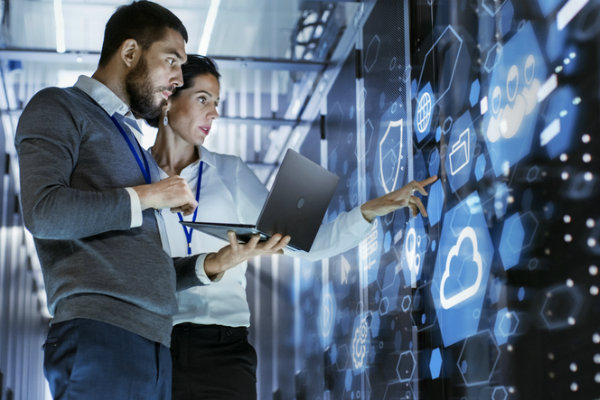 March 19, 2019 | Purdue University Global
Information technology is a broad term that covers a wide range of fast-growing occupations. IT professionals analyze components within large networks, lead teams, and work with business leaders to execute the technology vision for an entire company.
Employers demand more than tech skills from today's IT pros. They're also looking for employees with:
Critical thinking skills
Business aptitude
Collaboration capabilities
Strong communication skills
The U.S. Bureau of Labor Statistics reports employment of computer and information technology occupations is expected to grow 13% between 2016 and 2026, which is faster than average for all occupations.* Under the IT umbrella, there are several high-profile positions that are in especially high demand. Some may require a master's degree in IT for candidates to be considered.
Here are five IT positions for which a Master of Science in Information Technology may benefit you.†
1. Computer and Information Systems Manager
Computer and information systems managers plan, execute, and manage computer-related activities in an organization. They:
Analyze how current systems are doing and make recommendations to improve them
Determine IT goals of an organization and create a strategy to achieve them
Coordinate the installation and maintenance of new computer hardware and software
Manage the work of other IT professionals at an organization
The BLS reports there are expected to be 44,200 new computer and information systems manager jobs added between 2016 and 2026. That's a growth rate of 12%, which is faster than average for all occupations in the U.S.
2. Database Administrator
Data is important for organizations ranging from health care to financial institutions. MarketWatch reports the global big data market is estimated to grow at a compound annual growth rate of 26% from 2015 to 2022, to reach more than $118 billion.
Database administrators store and organize data. They:
Recommend and use specialized software for data storage
Back up and restore data to protect against loss
Identify users who need to access data
Manage and update existing databases
The BLS predicts that 13,700 new database administrator jobs will be added between 2016 and 2026, with a job outlook growth rate of 11%, faster than average for all occupations.
3. Computer Systems Analyst
Organizations need the help of IT professionals who can analyze systems and make recommendations to help them operate more efficiently. A computer systems analyst helps by understanding both the business and IT needs of the company and researching potential solutions.
Computer system analysts:
Work with management to analyze the role of IT systems
Research new technology to determine whether it can make the organization more efficient
Design, implement, and test new systems of hardware and software
According to the BLS, the employment of computer systems analysts is expected to grow at a rate of 9% between 2016 and 2026.
4. Network and Computer Systems Administrator
If there is a group of computers at an organization, then they are likely managed by a network and computer systems administrator. Network and computer systems administrators:
Find and install network software and hardware that fit an organization's needs
Ensure computer systems are operating correctly
Evaluate and optimize network performance
Add and train users who are added to a computer network
It's expected that 24,000 new network and computer systems administrator positions will be added between 2016 and 2026, according to the BLS. That's a job growth rate of 6%, about as fast as average.
5. Computer Network Architect
The people in charge of building the computer networks that network and computer systems administrators manage are computer network architects. Computer network architects:
Design and build data communication networks
Explain to key stakeholders why certain networks are recommended
Identify and implement hardware and software for computer networks
Manage and troubleshoot computer networks
Between 2016 and 2026, the BLS predicts 10,500 new computer network architect positions will be added, resulting in a 6% growth rate.
Interested in One of These Positions? Get the Education to Get There.
According to the BLS and O*NET OnLine, most of these positions require at least a bachelor's degree in a related field to be considered. To obtain a leadership position or to gain a competitive advantage over other candidates, a master's degree in IT may be helpful.
Purdue University Global offers an online Master of Science in Information Technology, enabling students to continue working while they earn a degree. We're regionally accredited, and we're part of the respected Purdue University system. For more information, contact us today.