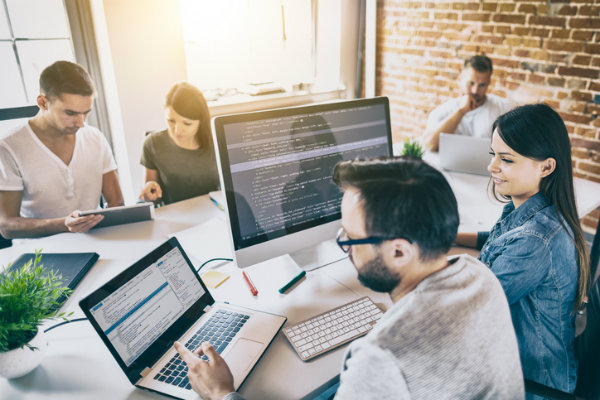 August 7, 2020 | Purdue Global
|
Updated December 7, 2022
According to the U.S. Bureau of Labor Statistics, employment of information security analysts will grow 35% from 2021 to 2031, much faster than the average for all occupations. If you're looking to start or grow a career in cybersecurity, the following blogs, podcasts, professional organizations, and employment resources can help you on your journey.
Top Cybersecurity Sites and Blogs
Cybersecurity sites and blogs are a wealth of information, news, and ideas. They are provided by news organizations, magazines, websites, and some of the top industry professionals. Here are some of the best top cybersecurity blogs and sites.
Shostack and Friends
Shostack and Friends focuses on economics, privacy, and security in a group blog format.
AFCEA
SIGNAL Media provides news content about communications and information technology in the defense, intelligence, and global security communities. SIGNAL is from AFCEA, the Armed Forces Communications and Electronics Association.
CIO From IDG
CIO offers articles with insight and expertise on business strategy, innovation, and leadership. CIO is published by IDG, International Data Group.
CNET Cybersecurity
CNET Cybersecurity has the latest news on cybersecurity and IT issues. It's hosted by CNET, which is known for delivering the latest on tech, culture, and science.
Computer World Emerging Technology
Emerging Technology features news, how-tos, reviews, and videos from the tech world. It's presented by Computer World magazine, which is for IT and business technology professionals.
CSO From IDG
CSO provides news, analysis, and research on security and risk management for IT security professionals. It is another site presented by IDG.
Daniel Miessler
Daniel Miessler is a cybersecurity professional and writer in San Francisco. Besides a blog, Miessler's site offers a podcast, newsletter, tutorials, and IT projects.
Dark Reading
Dark Reading shares news about new cyberthreats, vulnerabilities, and technology trends. The site is an online community of thought-leading security researchers, chief information security officers, and technology specialists.
Data Insider
Data Insider a blog from Digital Guardian, offers articles on data protection, security, threat research, industry insights, and other cybersecurity issues
Forbes Cybersecurity
Forbes' Cybersecurity blog shares articles about security, hacking, malware, viruses, and other IT issues.
GlobalSign
GlobalSign's blog shares articles about security, IoT, quantum computing, and other IT issues. GlobalSign provides identity and security solutions.
Graham Cluley
Graham Cluley offers computer security news, advice, and opinion on his blog. Cluley is a public speaker and independent cybersecurity analyst who has worked in computer security since the early 1990s.
Infosecurity
Infosecurity shares hot topics and trends, in-depth news analysis, and opinion columns from industry experts. It is presented by Infosecurity Magazine.
ITProPortal
ITProPortal delivers news, reviews, and features about cybersecurity. The British site says it gathers, summarizes, and curates leading enterprise B2B technology stories and trends.
IT Security Guru
IT Security Guru shares articles about security, threat detection, data protection, hacking, and other tech issues. It's a daily digest of breaking IT security news stories.
Krebs On Security
Krebs On Security is a daily blog on cybersecurity and cybercrime. It's written by Brian Krebs, an American journalist and investigative reporter.
Mashable Cybersecurity
Mashable Cybersecurity collects articles that appear on its website. It delivers news on security, hacks, VPNs, and other IT issues.
Naked Security by Sophos
Naked Security provides news, opinion, advice, and research on computer security issues and the latest internet threats. It's provided by Sophos, a British security software and hardware company.
PC Magazine Security Reviews
PC Magazine Security Reviews gathers the latest news, reviews, and how-tos on cybersecurity. It's provided by PC Magazine, a leading authority on technology.
PC World Security
PC World Security gathers current news and reviews in the cybersecurity world. PC World has been an online-only magazine since 2013, after it started as a print magazine in 1983.
Purdue Global Information Technology
Purdue Global Information Technology blog provides career advice, tips for succeeding as an online student, trends in information technology, and guidance on growing your IT career.
SC Media
SC Media has news and reviews of a cybersecurity nature. SC has been sharing news and information about security since 1989.
Schneier On Security
Schneier On Security covers cybersecurity issues. It's written by Bruce Schneier, a fellow and lecturer at Harvard's Kennedy School and a self-described public-interest technologist.
Security Affairs
Security Affairs discusses cybersecurity, hacks, the deep web, malware, hacks, and other security subjects. It is hosted by Pierluigi Paganini, who writes for many security magazines and sites.
Security Bloggers Network
The Security Bloggers Network aggregates a wide range of information security blogs and podcasts that cover a range of topics including data protection, malware, ransomware, and more.
Security Weekly
Security Weekly has information about cybersecurity issues online. Security Weekly is a podcast network for the security community.
Tao Security
Tao Security is a blog on digital security, along with strategic thought and military history. It's written by Richard Bejtlich, a senior fellow in the Center for 21st Century Security and Intelligence.
TechCrunch Security
TechCrunch Security gathers the site's top articles on cybersecurity. TechCrunch reports on technology news, trends, and new tech businesses and products.
The Akamai Blog
The Akamai Blog discusses news, insights, and perspectives on the tech world. Akamai is a global content delivery network, cybersecurity, and cloud service company.
The Hacker News
The Hacker News provides coverage of data breaches, cyberattacks, vulnerabilities, malware, and other security issues. The site says it has over 8 million monthly readers.
The Last Watchdog
The Last Watchdog provides articles about cybersecurity, scams, and other digital issues. It's written by Pulitzer Prize-winning journalist Byron V. Acohido.
The Security Ledger
The Security Ledger explores the impact of cybersecurity on business, commerce, politics, and everyday life.
The State of Security
The State of Security shares articles about ransomware, cyberbullying, hacks, and other security topics. Its own staff and guest writers provide commentary, opinion, and other information.
Threatpost
Threatpost discusses the latest news on cloud security, malware, vulnerabilities, and other IT topics. It is intended for security professionals worldwide.
Troy Hunt
Troy Hunt writes about hacking, browser security, and other security issues. He is a Microsoft regional director and runs the website "Have I Been Pwned."
We Live Security
We Live Security provides articles about malware, scams, security, and other digital issues. It is hosted by ESET, a Slovakia-based company that specializes in malware detection and analysis.
Wired
Wired's Security page collects articles about cybersecurity from the website. Wired focuses on how emerging technologies affect culture, the economy, and politics.
ZDNet Zero Day
ZDNet's Zero Day shares the latest in security research, vulnerabilities, threats, and computer attacks. ZDNet is aimed at IT professionals.
Top Cybersecurity and Tech Podcasts
Cybersecurity and tech podcasts are a great way for IT professionals and students to learn more about their field. Most of the top tech podcasts can be heard on your laptop or on your phone with such software as Apple Podcasts, Google Podcasts, Spotify, Stitcher, or other apps.
Accidental Tech
Accidental Tech bills itself as "a tech podcast we accidentally created while trying to do a car show." It features news on tech, security, gaming, and other digital subjects.
Back to Work
Back to Work features talk about online productivity, communication, work, barriers, constraints, and tools. The podcast is presented as a talk show.
Clockwise
Clockwise is a freewheeling discussion of current technology issues. It features two hosts, two guests, and four topics, all under 30 minutes.
CyberWire Daily Podcast
The CyberWire Daily Podcast reviews the top cyber news each day of the week. Host Dave Bittner summarizes the day's stories.
Daring Fireball
Daring Fireball covers a wide range of digital topics. Recent episodes featured discussions about the state of automation on iOS and MacOS, Apple Watches, and USB-C iPhones.
Darknet Diaries
Darknet Diaries bills itself as a podcast about hackers, defenders, threats, malware, botnets, breaches, and privacy. It's run by Jack Rhysider, who ran security for a Fortune 500 company.
Digital Planet
Digital Planet is a weekly program from BBC about technological and digital news from around the world. Among the topics covered are privacy, facial recognition, and digital forensics.
Download This Show
Download This Show is a weekly Australian program about the latest in social media, consumer electronics, digital politics and other issues. Previous shows have discussed Google, Facebook, and streaming platforms.
Mac Power Users
Mac Power Users is about Apple technology and issues with it. Recent shows covered iOS 16, the M2 MacBook Air, iPhones, and the Apple Watch.
Note To Self focuses on the impact that technology has on everyday life. Subjects have included software surveillance, social media, and other issues.
Pivot
Pivot offers insights into the biggest stories in tech, business, and politics. It's hosted by Recode's Kara Swisher and NYU Professor Scott Galloway.
The Privacy, Security, & OSINT Show
The Privacy, Security, & OSINT Show not only provides a roundup of security topics but also interprets daily headlines through the lens of privacy and security.
Risky Business
Risky Business is a long-running podcast about a wide range of information security topics. In-depth analysis of stories and how they impact global security trends provide the backbone of the podcast.
Rocket
Rocket focuses on geek culture, including tech, comics, movies, games, and books.
SC Media Podcasts
SC Media Podcasts cover a variety of topics from several different hosts. Show topics have included end-to-end encryption, cyberspying, bots, and other current issues.
Security Now
Security Now has weekly episodes about the latest breaches, exploits, and other technical cybersecurity developments.
Security Weekly Network
Security Weekly Network features several cybersecurity podcasts. Shows cover enterprise, business, and application security, along with weekly security shows.
Tech Talker
Tech Talker is aimed at both tech professionals and those looking to enter the field. Shows have offered a look at the best iPhone apps, how to rescue a wet device, and other pieces of advice.
TechStuff
TechStuff is about the people, companies, and marketing behind tech, along with its effects on the world. Recent shows have discussed Twitter, whistleblowers, and national security.
The Daily Crunch Spoken Edition
The Daily Crunch Spoken Edition delivers the top startup and technology news from Techcrunch in an audio format.
The Vergecast
The Vergecast is a weekly show that looks at what's happening right now in the world of technology and gadgets.
This Week In Google
This Week In Google discusses the latest Google and cloud computing news. Show topics have included Google debit cards, Zoom security, and Zoom burnout.
This Week In Tech
This Week In Tech features top tech pundits in a roundtable discussion of the latest trends in high tech. Security and privacy issues are typical topics of discussion.
Unsupervised Learning
On Unsupervised Learning, host Daniel Miessler summarizes the top stories in the news related to cybersecurity, technology, and society.
What's New With Wired
What's New With Wired is a daily podcast exploring the ways technology is changing lives. Each day features new stories from Wired.
Wired
Wired features weekly podcasts on a variety of technology topics. Articles have featured discussions of VR, folding phones, and TikTok.
Cybersecurity Employment Resources
Employment for cybersecurity professionals usually falls into one of two categories: government and private sector. Here are some of the agencies and companies that provide employment to cybersecurity and IT pros in both sectors.
Government
Private Sector
Cybersecurity Professional Associations
A number of professional associations strive to provide connections and resources for cybersecurity pros. They often provide continuing education and certification. Some also have student memberships. Here is a list of some of the top groups available.
Meet Your Career Goals With an Online Cybersecurity Degree
Would a cybersecurity degree help you further your career? Purdue Global offers an online bachelor's degree in cybersecurity to help you master the fundamentals of this growing field, as well as an online master's degree in cybersecurity management for professionals who want to prepare for leadership roles. Request more information today.
---
---
Your Path to Success Begins Here
Learn more about online programs at Purdue Global and download our program guide.
Request Information