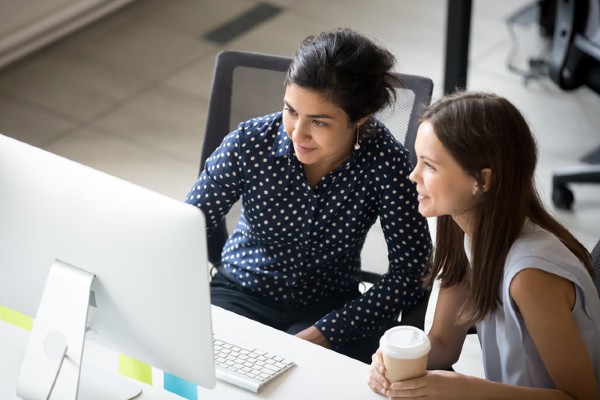 January 29, 2021 | Purdue Global
Having hands-on experience is critical when entering any field. Consider these findings:
93% of executives and 94% of hiring managers are more likely to hire a graduate who has internship or apprenticeship experience. (Association of American Colleges and Universities)
81% of graduates feel that internships helped them switch career directions either significantly (35%) or slightly (46%) by changing their major or classes. (Looksharp)
Graduating seniors who applied for a full-time job and participated in an internship received an average of 1.17 job offers; those who did not have an internship received an average of 0.98 offers. (NACE)
We sat down with Desiree DePriest, PhD, faculty member at Purdue Global, to understand why IT internships are important and what students can expect from Purdue Global's IT internship program.
Why Is an IT Internship Important?
DePriest says it's important for students to gain hands-on experience during school, so they can put into practice what they've been learning and get experience for their resume.
"Internships give graduating students an opportunity to jump into the water of what they've been studying," DePriest explains. "On the academic side, you learn the definition of water and understand what it's supposed to be like. But until you jump into the water, you don't actually understand how the things you've learned integrate and work."
"Internships are essential in my opinion," DePriest says. "I created the internship program based on my own experience coming from psychology to IT. We don't want our students to have that deer-in-the-headlights, 'what am I going to do now?' look at graduation. That's why it's so important that internships and externships are integrated into the academic program."
What Is Purdue Global's IT Internship Like?
At Purdue Global, we have our own internship program to help students gain IT experience. The Purdue Global Internship Program – Technology (PGIP-Tech) is a virtual internship in which you'll learn about different facets of IT, such as networks, cybersecurity, data analytics, software development, and more. It's set up like a real business.
"Students have to complete at least 10 hours of work per week and have a cloud-based time clock that takes screen grabs to make sure they're doing their work," DePriest says. "They have a departmental meeting as well as an all-hands-on-deck meeting. We are very business-oriented. If they want to take a day off, they have to give 24-hour notice—just like a business would ask of them."
PGIP-Tech even has an employee manual. Students must take a security test before they can access it. In addition to the real-world experience PGIP-Tech offers, another benefit of the virtual internship is the technology used. Azure, Office 365, Microsoft Planner, SharePoint, and Amazon Web Services (AWS) are all used to facilitate a quality learning experience.
PGIP-Tech Departments
"Whatever we're offering on the academic side, we have a corresponding PGIP-Tech department where they can apply that knowledge experientially," DePriest says.
PGIP-Tech operates like a business and has six departments that align with the degree concentrations available in the Online Bachelor of Science in Information Technology and Online Master of Science in Information Technology:
Software development
Analytics and business development
Cybersecurity
Database
IT systems network
IT support
Depending on your concentration, you'll work on various projects for clients such as Purdue Global academic departments and outside companies.
The Pay It Forward Program
PGIP-Tech began in 2014 with two interns. Since then, more than 400 interns have completed the program. Part of this growth can be attributed to the Pay it Forward (PiF) program.
"After students completed their internships, they didn't want to leave. They wanted to stay to help other interns," DePriest says.
The PiF program was created for students who wanted to give back after their internship. They become mentors for current interns while continuing to gain IT experience as consultants for PGIP-Tech.
"Essentially, all of our leaders, consultants, and mentors are alumni of Purdue Global, which I'm very proud of. It shows they have pride in their school."
How Does Purdue Global Support Students During Their Internships?
Whether you complete an internship through PGIP-Tech or an externship through an outside company, Purdue Global's staff is here to help you gain experience and grow in confidence. They can also help you write an IT resume or connect you with industry resources throughout the job search process.
"We like to help them find their mental diamonds," DePriest says. "Initially, diamonds look like coal. As you work with them, they become multifaceted and the greatest jewel on earth. So that's our approach with new interns and any insecurities they may have. We tell them it's in them, but there's work to do."
She also emphasizes the importance of adaptability and a positive mindset, since there are many situations in IT careers when a system goes down or something breaks. DePriest wants students to embrace these challenges.
"We let our students know there's nothing they cannot fix," she says. "There's nothing better in an interview than storytelling. As they go out and try to get a job, being able to tell interviewers a real-world story of what they went through when the ticketing system broke down and how they fixed it is going to make an impression. That's what interviewers want to see. They want to see someone who takes ownership of their project and understands that everything is not going to be beautiful. When those things happen, don't freak out; fix it."
Learn More About Purdue Global's IT Internship and Degree Programs
Are you ready to expand your knowledge of and experience in cybersecurity, network administration, or IT support? Learn more about Purdue Global's internship requirements, or explore our online IT degrees and certificate programs today.
If you're ready to learn more about how Purdue Global can help you achieve your career goals, contact us today.
---
Your Path to Success Begins Here
Learn more about online programs at Purdue Global and download our program guide.
Request Information