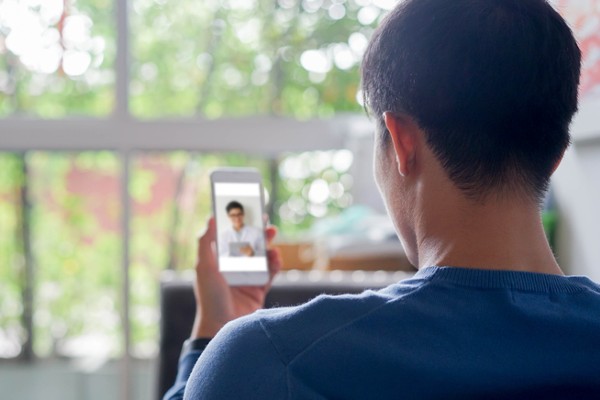 January 6, 2021 | Purdue Global
Telehealth services were on the rise before the COVID-19 pandemic, but now they are skyrocketing—and the use of telehealth to deliver mental health care to clients is no exception.
Take, for example, Ginger, a provider of on-demand mental health support via mobile device. Use rates rose to their highest level ever in the last week of September 2020; text-based mental health coaching was up 159%, and virtual therapy and psychiatry was up 302% compared to pre-pandemic rates, Fierce Healthcare reports.
What are the main considerations behavioral health care providers need to know when providing telehealth services? We sat down with Gary T. Alexander, PhD, faculty, College of Social and Behavioral Sciences at Purdue Global, to learn more.
1. Safety
"Usually, the top two things that concern a behavioral health professional about telehealth are, 'What am I going to do if somebody tells me they're suicidal or homicidal? Or, what if they appear to be having a psychotic episode—how am I going to deal with that?'"
The remedy for that, Alexander says, is to have a safety plan in place which includes agreed-upon locations where sessions will take place and an outline of the steps the provider will take in an unsafe situation.
"The provider's response to those scenarios should never be a surprise to anyone. The client should know when they start services that if they are in a psychiatric emergency where they may harm themselves or somebody else, this is who I'm going to call and this is the process we'll go through."
Setting this up collaboratively ahead of time enables the client to have a hand in the planning process and means no one is surprised about the next steps. Essentially, this preparedness is inherent to the informed consent process. Those steps may involve calling emergency services, having a welfare check done at the home or the location of where that client is logged in, or alerting the client's emergency contact.
2. Developing and Maintaining a Strong Relationship
"No matter what type of therapy one is doing, the strongest indicator of a good prognosis and success is the strength of the relationship between the counselor and the client," Alexander says.
So it follows that care providers would naturally be concerned about their ability to build and maintain a strong relationship with their clients over video or phone.
"What we found in research is that unequivocally, the answer is yes, you can form those bonds," Alexander says. "It takes a bit of an adjustment period for both the professional and the client, but across the literature, we find that relationship is consistently rated as strong as an in-person therapeutic relationship."
3. Privacy
Compliance with the guidelines regarding informed consent and the Health Insurance Portability and Accountability Act (HIPAA) is vital to avoiding security and privacy threats.
"The informed consent form provides for ongoing communication between the client and their behavioral health care provider," Alexander says. "It spells out the expectations and obligations of both client and counselor, and in the context of telehealth, outlines the security measures that have been taken to protect the client's privacy."
HIPAA rules require that all health care organizations:
Ensure the confidentiality, integrity, and availability of all electronic protected health information they create, receive, maintain, or transmit
Identify and protect against reasonably anticipated threats to the security or integrity of the information
Protect against reasonably anticipated, impermissible uses or disclosures
Ensure compliance by their workforce
"Providers need to ensure they are using a HIPAA-compliant telehealth platform that is also effective for their purpose and secure channels for communication of protected data," Alexander says. "Those communications must be monitored to prevent a data breach. The privacy, safety, and security of confidential and protected health information is of paramount importance."
4. Ethics
Matters pertaining to cultural diversity and socioeconomic factors also need to be taken into consideration with the use of telebehavioral health.
"Telebehavioral health can expand access to mental health and addiction coverage and other types of coverage as well for disenfranchised populations," Alexander says. "Many times, we see a lack of access in areas where there may be communities of color who have not typically had access to mental health and addiction professionals. Now, there's this health care equity adjustment that's taking place across the board with the use of telehealth."
This is, of course, a positive thing, but there are also some cultural considerations that mental health professionals need to be aware of in regard to the access.
"Does the client have access to an electronic device and at least some amount of internet data for sessions to take place? Do they have a safe environment where the individual can fully participate and engage? Professionals must recognize that there is this adjustment in access equity that is taking place with availability of telebehavioral health."
5. Belief That It Will Work
The attitudes and beliefs of both client and professional are important to the success of telebehavioral health.
"If the client and/or professional don't believe telebehavioral health is going to be effective, then it may turn into this self-fulfilling prophecy situation, where it's not as effective or used to its fullest."
Behavioral health professionals should be aware that the belief that "it won't work" on either party's side can compromise the effectiveness of treatment.
Learn More About Telebehavioral Health Care With Purdue Global
Purdue Global has developed a telehealth course bundle intended to enhance health care practices and provide new career opportunities in telehealth. Students can take the bundle of four for-credit courses or take any of the courses individually. The bundle comprises:
Essentials of Telehealth
Telehealth Application in Clinical Practice
Telebehavioral Health*
Telehealth Coordination
Learn more about these telehealth courses by calling 877-560-6764 or enroll today.