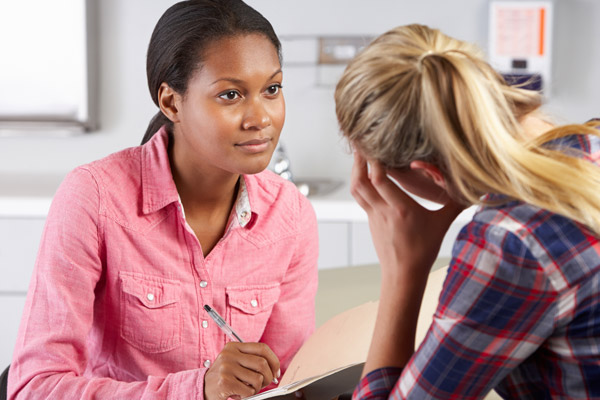 December 11, 2012 | Karen Watson, MS
Learning the Value of Anger Management
Learning about anger management can help us use it in our personal and professional lives. I have been an online instructor for about 6 years now. Before that, I worked clinically with a variety of different populations and did some face-to-face groups and classroom teaching. Throughout my career as a counselor and instructor, I've learned that we're all trying to better our lives and become the best versions of ourselves that we can. Though the stress can be surmountable, the pressures can wear us down.
Long ago, I learned the value of anger management while working at a community mental health agency helping run an anger management group for court-ordered men. One of my clinical supervisors asked me to help him run an anger management group. I didn't have much experience understanding or teaching anger management, but I couldn't say no to helping my supervisor run his group.
When I assisted my supervisor in working with the group, I observed and admired how calmly my supervisor interacted with the men and how relaxed his approach was. He made everyone feel comfortable, discussed some sports with them, and kept his focus on these men and the difficulties they were facing. He would come into the group with a single sheet of paper, usually from a domestic violence prevention handbook. Slowly, he would cover some new anger management topics while encouraging the men to open up about their current life struggles.
While helping my supervisor run the group, I soon realized that I had a lot to learn about anger management. I had grown up in a home where people rarely got angry. But when they did, it was like an explosion. All the past hurts of previous weeks and months would come spilling out and whoever was the receiver was left feeling completely attacked and ambushed.
As I helped teach these men about assertiveness versus aggressiveness or passivity, I realized how challenging it was for me to be assertive. Eventually I took over the group sessions and as I taught them about beginning statements with "I" or "I feel," rather than "You" or "You should/shouldn't," I thought about my own communication with my loved ones. As we talked about relaxation techniques, I realized how much I needed them in my life. As we talked about the different kinds of abuses out there (verbal/emotional, physical, psychological, and sexual), I resolved to always be watchful of these red flags in my personal and professional life. Abuse is abuse and I believe it should be identified as such.
Anger Management Tips
The anger management techniques that I learned and taught through that group have stayed with me all these years and I've used them countless times, personally and professionally. I learned through this anger management group that these negative feelings in and of themselves are okay. They are part of being a feeling and sensitive human being. We don't want to numb ourselves to unpleasant feelings, but sometimes that's exactly what we do. Negative feelings are like little alarms going off in our brains, telling us that something is wrong that we need to pay attention to. We need to listen to these messages and think about what we can control, what we can't control, and what we can do about them.
One should strive to be more cognizant of anger management needs in one's own life and the lives of others. You may see the need to control your anger among your many responsibilities and jobs as well as within your home. It's so easy for one to get stressed out, especially during the holidays. We have family obligations. We have work and school obligations. We have the pressures we put on ourselves and negative feelings to deal with, such as worry, anxiety, sadness, guilt, and anger.
We live in a "feel good" society. Let's do whatever is necessary to keep feeling good. Substance abuse problems are on the rise in our society. Psychotropic medications are prescribed in vast amounts. "Escape… get away from your problems," is the incentive often given. Why do we need to escape? I think we need to stop our hurried pace and listen to what our minds and bodies are telling us.
During this holiday season, I challenge you to take time for yourself and think about what the holidays really mean to you. What is important about this time that you want to keep your focus on? Give yourself and the world around you your attention.

Perhaps the greatest gift you can give yourself is the gift of tending to your own emotional and relaxation needs. While you may be very busy taking care of kids, significant others, older relatives, or even our country, I encourage you to take care of yourself. You can only be good to others if you are being good to yourself. Give yourself the peace, quiet, rest, and space you need to re-energize when you need it and keep strengthening the person you want to be.
Based on my personal and professional experience, I've listed below some tips to help you manage your anger:
When feeling anger, take a moment to recognize that feeling and what is going on in your body. Often there are specific physical reactions that let us know that we are angry.
Think about exactly what is making you angry. You may be getting angry at one person because you are actually angry at someone or something else. Really reflect on what is making you angry.
If you feel overly emotional and irrational, take a break and get away for as long as necessary so that you can cool off a bit. Do something healthy that helps you relax.
Think about some healthy, effective coping methods to turn to when you are stressed—things that help you relax and calm down but also are healthy.
Come back to the situation when you're ready and think about the best way to handle it. Take a problem-solving approach.
When expressing your anger to others, try to begin your statements with "I feel..." rather than "You…" People can easily feel attacked when they sense you're angry and you throw a lot of "You" statements at them. By beginning with "I feel…," you're simply letting the other person know your feelings. We can all relate to feelings. You'll begin by getting the person's empathy rather than raising his or her defenses. Then you can tell the person why you feel that way.
Remember to attack the problem, not the person. Pinpoint what exactly is making you angry and what can be done about it. Think about what you can control and what you need to ask others to help you control. A lot of times, when we get angry, it's about a lack of control. We can't control others, we can only control ourselves and how we react to what's going on around us.
Don't "should" on people. Shoulds are not reality. Try to stick with the reality of the situation rather than how you think it should be.
Learn to say "no" sometimes and be able to set limits with people. Don't overextend yourself and if you find yourself doing that, ask yourself why. Reflect on what is causing you to overextend yourself.
Accept your strengths and weaknesses. We all have them. Don't beat up on yourself for imperfections and flaws. It's okay to work on your weaknesses but it's also okay to forgive yourself for them.
Always remember to ask for help when you need it. If you don't get the help from the person you're asking, find someone else to ask. Keep asking until you get the help you need. Knowing when to ask for help is a hugely important lesson in life. Help is out there for anyone who needs it.
---
Your Path to Success Begins Here
Learn more about online programs at Purdue Global and download our program guide.
Request Information