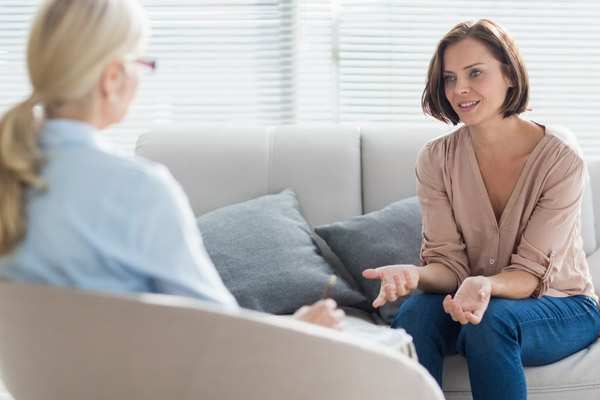 August 25, 2015 | Elizabeth G. Donnellan
Addiction is a powerful, powerful force—a screaming siren. Ask anyone who attempts to give up chocolate or television for a month. Ask any former or current cigarette smoker about his/her attempts to quit smoking. Most people struggle to persist in their abstinence and often return to the target behavior much sooner than anticipated. The subsequent self-talk is often unkind and fuels self-doubt about the person's ability to control urges. In short, we feel powerless to those strong urges that seem to drive our decision making despite our efforts to control it.
The draw of a pleasurable activity can be so strong that it defies common sense and can create a physical reward that ultimately sabotages our efforts to control the activity. Students of addiction science learn that the force that drives this urge is a complicated combination of biological, psychological, and social motivators. No one force seems to be more powerful than the others are. Those who choose to work in this field have a passion for helping others. This is the driving force for the professional, be it counselor, case manager, or advocate, from the first day of employment.
Professionals may be attracted to the behavioral health field for personal reasons, for example, battles with their own addiction, addiction of a family member, or a strong curiosity about the nature of addiction and mental health. Whatever the attraction, a simple interest in the field is not enough to sustain a long and successful career. How does someone harness his/her passion for helping others into a satisfying clinical career?
Those interested in working in any of the behavioral health fields should carefully plan their own career path, including research of license/certification options, education, training, volunteer/part-time work, and full-time work. The plan does not require a specific chronology, as these items are not steps as much as items designed to give students what they need most: knowledge, experience, and professional support. Most students begin their career in jobs or college classes (psychology/addictions or clinical track) or both. Many do not realize that they can pursue work in the clinical fields without a license/certification and that is one of the best ways to begin.
For example, addiction agencies may allow students to volunteer time working in clinics without being hired and without applying. Often, program directors are happy to have students volunteer for events or prevention activities that are not confidential. This is a wonderful way for novice professionals to gain some networking and agency experience. Students who continue to volunteer on an "as needed basis" may have the opportunity later to apply for a job. Sometimes, the novice professional is offered a part-time weekend or evening technician position.
Occasionally, addiction or mental health agencies have too many volunteers or interns already. In that case, the novice professional could pursue volunteer work with a local crisis hotline. Most require volunteers to have a high school degree and either some education or experience in a clinical field. There are many benefits to volunteering for these types of agencies, including free training and opportunities.
Novice professionals can use their education and volunteer or part-time experience as a basis for career planning. Gaining experience from working with a few different agencies helps in deciding whether one wants to focus on working in the addiction, mental health, domestic violence, prison treatment, or crisis-counseling fields. Probably one of the best advantages of being interested in working in a behavioral health field is that every experience and certification/license strengthens the professional's ability to switch paths (e.g. from domestic violence to addictions to school counseling).
Unlike many other careers, behavioral health (e.g. addictions, mental health) professionals are expected to change agencies and disciplines. Most professionals work in a few different agencies while changing career focus (e.g. counselor to case manager) over the course of their career. For this reason, it is important for the novice professional to create 1 year, 5 year, and 10 year career goals so that he/she can pursue the proper training and experience. These goals might include licensure tests, internships, specialized training or certificate programs, graduate school, or other possible disciplines of interest. Creating a plan will neither ensure success nor will it ensure that the novice professional will follow the planned path, however it does are require a crucial step by challenging the novice professional to appraise his/her ability to make sacrifices (e.g. salary, time with family, moving) with career plans. Once the novice professional understands exactly how much he/she can give up to feed the "helping others" addiction, the plan can become a reality.
Without a career plan or at least understanding of the field and its requirements, novice professionals can make the same kind of costly mistakes that cigarette smokers who return to smoking make. Novice professionals often allow their passion for helping others to obfuscate some important factors. Professionals who are switching fields are often shocked by starting salaries in behavioral health entry-level jobs. They are often equally displeased with the hours or lack of control in the job (depending on job and agency). For these reasons, it is important that novice professionals develop a full understanding of their options, ability to make sacrifices, and passion for helping others before committing to a career path in the clinical helping fields.
Elizabeth G. Donnellan is a full-time faculty member at Purdue Global. The views expressed in this article are solely those of the author and do not represent the view of Purdue Global. The University cannot guarantee career advancement.
---
Your Path to Success Begins Here
Learn more about online programs at Purdue Global and download our program guide.
Request Information