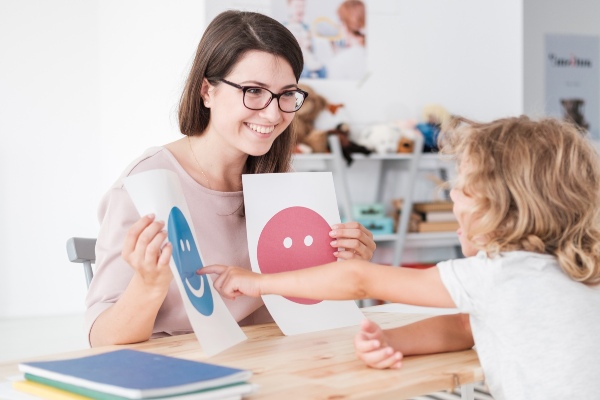 March 15, 2023 | Purdue Global
Obtaining credentials by passing the Board Certified Behavior Analyst® (BCBA®) exam demonstrates your commitment to the appropriate care and treatment of patients who need intervention, both children and adults. The BCBA certification, from the Behavior Analyst Certification Board, is a certification that requires a master's degree or above, 1,500–2,000 hours of supervised fieldwork, and passing the BCBA exam. After passing the BCBA exam, there are a few points to consider, such as finding employment, keeping certification up to date, and more.
Applied behavior analysts often have a personal interest in the field because of experience with family or friends, according to Salomé Brañas Gonzalez, Purdue Global undergraduate psychology faculty member.
"My interest in applied behavior analysis (ABA) was born from my desire to help my daughter who was diagnosed with autism spectrum disorder (ASD) at 2.5 years old," she says. "Within the first few months of her ABA therapy, she gained a tremendous amount of skills and functional language. I knew then that I wanted to do this professionally in addition to my personal interest."
What Are the First Steps Newly Certified Behavior Analysts Take?
According to the Behavior Analyst Certification Board (BACB), you will know whether you passed the exam before you leave a testing center. A BCBA certification number will then be generated and available within 24 hours.
According to the BACB, there are several steps you should take as a newly certified behavior analyst.
Confirm your contact information in your BACB account. The board mails certificates within 4–6 weeks, so make sure there are no mistakes in your mailing address.
Check out the Certificant Registry. This database includes information about all certificants, which is important to employers, service recipients, applicants, and the like.
Make sure your resume and curriculum vitae are updated. New certification is vital to include on any applications you'll be sending.
Know your state licensure requirements. Visit the U.S. Licensure of Behavior Analysts page for more information.
Make a plan for certification maintenance. Find out the specific requirements and tasks needed to maintain your certification. Your BACB account will have more information.
Check out other BACB resources. Journals and databases will help you integrate current research into your practice.
You can begin the process of searching for a position as you take these steps into your professional practice.
How Do Board Certified Behavior Analysts Stay Up to Date?
Certification may be used as soon as you have passed your exam. However, there may be additional state or local requirements for practicing as a behavior analyst. Contact your state licensure board to check for any additional application requirements.
"More and more states are requiring licenses in addition to our certifications," Gonzalez says. "For example, in New York, BCBAs are also required to be a licensed behavior analyst (LBA), which requires additional state-mandated training and a licensing fee."
Gonzalez says her state, New Jersey, passed a similar law that will require licensure. Since this is a developing issue with many states, the BACB keeps an updated list of list of state rules for licensure of behavior analysts.
The BACB also recommends reviewing the Certification Maintenance Requirements and developing a plan to meet them. This includes partaking in continuing education and complying with ethics requirements. Certification must also be renewed every 2 years. The board has more advice in the BCBA handbook.
Other ways to keep up to date include:
What Jobs Are Available for Board Certified Behavior Analysts?
Board certified behavior analysts are much sought after. According to the Behavior Analyst Certification Board, the demand for behavior analysts increased 38% from 2020 to 2021.
"Getting hired as a BCBA is top priority for most recent grads," Gonzalez says. "One of the ways in which this happens is that BCBAs are often hired by the agencies or organizations in which they gathered their supervision hours. This is a great opportunity."
Gonzalez says behavior analysts can work in a wide variety of settings.
"For example, those of us who work with individuals with ASD can work in clinics, schools, and homes," she says. "Each of these settings is completely different and requires a wide variety of different skills from BCBAs."
>> Read: "The Typical and Not-So-Typical Jobs in Applied Behavior Analysis"
Among the areas growing their use of applied behavior analysis are:
Business and organizational behavior management (OBM) – to increase employee retention and motivation
Sports – to help improve the mental toughness of athletes
Public health – to reduce high-risk behaviors and promote overall community wellness
Environmental conservation and policy – to focus on sustainability and behaviors that yield a positive impact on your surroundings
>> Read: "Careers in Applied Behavior Analysis Are Vast and Growing"
How Can Behavior Analysts Get Support in Their Career?
The main support system for applied behavior analysts is the Behavior Analyst Certification Board, which administers the BCBA exam. The organization sends out newsletters, hosts conferences, and keeps behavior analysts up to date on any changes that are coming up in the field.
Another organization is the Association for Behavior Analysis International (ABAI), which Gonzalez says deals with the scientific, academic, and research aspects of behavior analysis. This group has a key conference yearly to share new breakthroughs and offer support. The ABAI has also certified Purdue Global's course sequence.
The Association of Professional Behavior Analysts is focused on the practice of applied behavior analysis. It also hosts a yearly convention, provides professional development opportunities, offers webinars, and more.
"In addition to these big organizations, I found that many BCBAs are really happy to talk about the work they do," Gonzalez says. "I encourage my students to reach out to BCBAs who practice in their field of interest even if they've made no previous connection with them. If you read a great article on how ABA is used in animal training, for example, reach out to the author. You'd be surprised by how happy we are to have a chat."
Grow Your Career in Applied Behavior Analysis
Whether you choose working with children or adults, applied behavior analysis is a wide-ranging field. Purdue Global offers an online master's in applied behavior analysis to help grow your career and get you ready for BCBA certification. Contact Purdue Global to find out more information.
---
---
Your Path to Success Begins Here
Learn more about online programs at Purdue Global and download our program guide.
Request Information