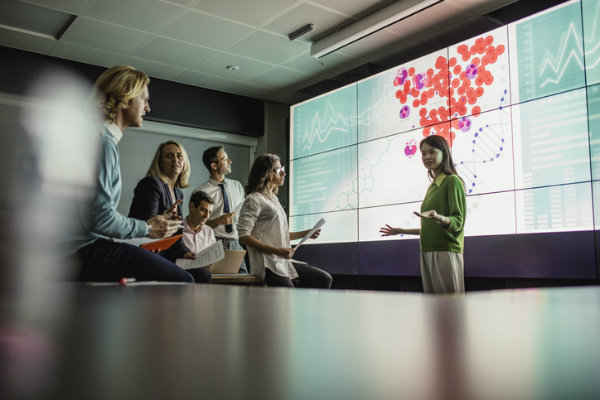 January 16, 2020 | Harla B. Frank, Board Certified Behavior Analyst
There is an often-discussed myth that applied behavior analysis (ABA) is only used to increase the quality of life and success of those diagnosed with autism. While ABA has decades of research supporting the efficacy of our work with this population, behavior is not limited to those with autism—behavior itself is the purview of behavior analysts.
What Does a Behavior Analyst Do?
Behavior analysts address socially significant behaviors in which the modification of a behavior—or the addition of a skill—increases the individual's access to more reinforcement, environments that would otherwise be inaccessible, and skills that lead to more opportunities.
The events in our lives—including the behaviors of others—shape our behaviors every day. We are punished for driving too fast on the highway; we are reinforced by the smile of an elderly neighbor when we help her with little things; we are encouraged by a kind word on a day that has had its bleak moments. Behavior analysts address behavior on a playing field that is vast and growing.
Growing Demand for Behavior Analysts
The Behavior Analyst Certification Board (BACB), the credentialing board for behavior analysts, contracted with Burning Glass Technologies to collect labor market data on the demand for behavior analysts in the United States' job market. In 2018, the BACB released the findings in the report, "U.S. Employment Demand for Behavior Analysts: 2010–2017."
The report noted that between 2010 and 2017, the annual demand for Board Certified Behavior Analysts (BCBAs), master- and doctoral-level certificants, increased by approximately 800%, while the annual demand for Board Certified Assistant Behavior Analysts (BCaBAs), bachelor-level certificants, increased by 995%. These statistics are based upon job postings either requiring or preferring applicants with BCBA or BCaBA certifications.*
These statistics certainly seem to be cause for celebration for those currently in or entering the field. But, what is fueling this high demand?
Applied behavior analysis has a proven record of influencing socially significant behavior through scientific methods discovered through empirical research (Cooper, Heron, & Heward, 2019, p. 2). This empirical research was begun in the early days of the 20th Century, and the principles derived from this research led to the development of a technology of behavior change that is applied in the field.
Career Areas for Behavior Analysts
Through assessment of existing behaviors and their functions, we can manipulate the variables surrounding the behaviors to affect change. In addition to using research-based methods to reduce unwanted behaviors and teach needed skills in those diagnosed with autism and developmental disabilities, behavior analysts apply their technology of behavior change to a wide variety of human needs. ABA can be used to help:
Employees
Organizational behavior management (OBM) is the application of ABA principles and strategies to the workplace to improve employee performance, safety, satisfaction, productivity, and much more.
Brain Injury Patients
Behavior analysts work to improve the success of those impacted by brain injury through the development of skill acquisition programs that allow them to navigate day-to-day responsibilities with more independence, as well as reduce unwanted behaviors that may interfere with success.
Seniors
The field of behavioral gerontology is a growing focus area for behavior analysts. Within 10 years, more than 20% of the population of the United States will be 65-years-of-age or older. Behaviors that will sustain independence will need to be addressed, such as exercise, proper nutrition, adherence to medicine schedules and dosages, memory care, and daily life skills.
Children
Behavioral pediatrics is a unique career focus for behavior analysts. Medical professionals are often confronted with symptoms for which they can find no medical cause. In such cases, behavior analysts can often conduct assessments to determine the causes and functions of the presenting symptoms and design function-based behavior intervention plans to address the behaviors. For example, babies with symptoms of colic and an infant diagnosed as failure to thrive were effectively treated using behavior analytic methods.
Athletes
Behavior analysts work in behavioral sport psychology to increase concentration, goal setting, and exercise, and to decrease performance errors. Behavior analysts working in behavior health and fitness address nutrition and exercise.
Substance Use Disorders
There is a growing area of interest for behavior analysts in substance use treatment. Several applied behavior analysis approaches have been introduced to prevent and treat substance use issues with success.
Sustainability Concerns
Behavior analysis in environmental sustainability is an intriguing focus area for behavior analysts in today's world. Behavior analysts are working with communities and government agencies to reduce pollution and waste and increase awareness of sustainable practices.
Launch a Career in ABA
Behavior analysts work to improve the human condition, one individual at a time. Whether the setting for that work is a mom-and-pop grocery store in an inner-city neighborhood, a pediatric wing of a hospital, a training camp for a college football team, or a child's home, our reinforcement is derived from knowing we are making a difference.
What counts in life is not the mere fact that we have lived. It is what difference we have made to the lives of others that will determine the significance of the life we lead.
—Nelson Mandela
Learn more about the online psychology degree and certificate programs that can help you start or further a career in applied behavior analysis. Or, request more information today.
---
---
Your Path to Success Begins Here
Learn more about online programs at Purdue Global and download our program guide.
Request Information