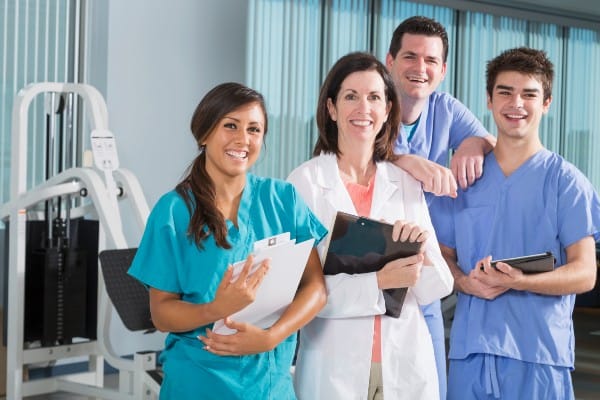 June 29, 2022 | Purdue Global
The medical assistant field is growing at a quickening pace. The number of jobs in the field is expected to grow by 18% from 2020 to 2030, according to the U.S. Bureau of Labor Statistics. That growth is more than the average for all other occupations.*
There is no one degree program for someone pursuing a career as a medical assistant, but medical assistant courses will help you meet the field's requirements.
Read on to find out more about the medical assistant field, medical assistant classes students take, and more.
>> Read "4 Health Care Careers You Can Launch in 2 Years or Less"
Where Medical Assistants Work
A vast majority of medical assistants are employed in physicians' offices. They work in many different types of practices, including the following:
Cardiology
Dermatology
Family practice
Gastroenterology
Orthopedics
Pediatrics
Psychiatric and behavioral health
Urgent care
Women's health
>> Read "Where Do Medical Assistants Work?"
What Is It Like Being a Medical Assistant?
Medical assistants work with patients directly and assist other medical professionals with patient care and well-being. They often are relied upon to complete administrative and clinical tasks in physicians' offices, hospitals, and other health care facilities.
Medical assistants generally help complete patients' vital signs, update medication lists and health records, assist the health care provider, and possibly schedule appointments.
We talked to Danielle Scheetz, DC, CCMA, medical assisting program chair at Purdue Global, to get her thoughts on this popular career choice.
Becoming an assistant is a great way to enter the medical field, Scheetz says.
"If you want to work with patients, you can do that. You can also do more administrative, front-office work if you prefer. There's so much versatility with medical assisting."
She says medical assistants can avoid repetition by learning new skills and applying them, without having to complete more education.
Is the Medical Assistant Field Growing?
Due to the Affordable Care Act and factors such as an aging population needing more health care, there has been a growth in medicine and medical careers.
"In the past, people wouldn't want to go to the hospital or a physician's office to get things checked out because they didn't have insurance, and it was very costly," Scheetz says. "Now, more people are coming in."
According to her, patients are expecting more from health care.
"Patients want flexibility. They want to have the answers now. They don't like to wait until the last minute," she says. "Physicians' offices are trying hard to get that information and data to patients as fast as possible."
Many patients can now quickly access their test results online, but if they have questions, they can seek out a medical assistant for answers.
How Does Someone Become a Medical Assistant?
There are various credentialing exams that certify medical assistants. This means there are education requirements that will help someone move toward certification.
"The simplest route to get certified is to go through a schooling program," Scheetz says.
Popular medical assistant certifications are†:
Certified Clinical Medical Assistant (CCMA)
Certified Medical Assistant (CMA)
Clinical Medical Assistant Certification (CMAC)
National Certified Medical Assistant (NCMA)
Registered Medical Assistant (RMA)
>> Find out more about "How to Become a Medical Assistant"
What Skills Will Medical Assistant Students Learn?
Clinical courses are designed to teach students what they'll need to know to work in a medical office. At Purdue Global, medical assistant students learn through online instruction, online simulations where they practice key clinical skills, and externships. Students acquire both administrative and patient care experience.
According to Scheetz, students learn most skills in the online courses: "When they get into the later clinical courses, that's when we use simulations." And during externships, students get actual experience with patients. At Purdue Global, students gain real-world experience and build their network with a 160-hour externship at a local physician's office or clinic that is approved by the University.
Some of the administrative, or front-office, duties that are taught to students throughout the medical assistant program include:
Carrying out basic accounting procedures
Addressing reception needs
Coordinating patient referrals
Collecting insurance information and proper documentation
Performing medical billing and coding tasks, including ICD-10 and CPT coding
Managing Electronic Health Records (EHR)
Clinical, or back-office, duties include:
Giving injections
Obtaining patient vital signs (such as blood pressure, pulse, and temperature)
Administering medications
Assisting in minor surgical procedures
Obtaining specimens and laboratory testing
Performing phlebotomy
Recording EKGs
Overall, medical assistant students will:
Develop skills in performing clinical, laboratory, and medical office procedures
Gain real-world knowledge through an on-ground clinical experience and externship
Learn from professors who are experienced health care professionals
Prepare for medical assistant certification exams†
What Topics Are Covered in a Medical Assistant Curriculum?
Students can expect to take medical assistant classes that cover the following topics:
Disease
Knowledge of diseases will allow medical assistants to explain and relay medically related content to patients. It will also help them to ask appropriate questions to obtain the necessary information for the physician.
Medical Coding
This covers basic coding principles used to file insurance claims, insurance terminology, and knowledge of different types of health insurance. Medical assistants can be part of the billing and coding process at a clinic.
Medical Ethics and Law
These courses help prepare students to understand the importance of their ethical, legal, and professional responsibilities when working as a medical assistant.
Medical Office
These courses outline procedural guidelines and administrative tasks that medical assistants perform. This includes the handling of patient information, HIPAA guidelines, and more.
Medical Terminology
This helps provide a logical understanding of the language of medicine. This knowledge will help medical assistants document electronic medical records properly.
Pharmacology
Medical assistant students will be taught basic pharmacology principles, including drug classes, dosage calculations and measurement conversions, drug administration routes, and proper medication documentation procedures.
Other Clinical Courses
Other commonly performed procedures covered will include collecting a health history, specimen processing, surgical asepsis and procedures, vital signs, and more.
Get the Training You Need to Become a Medical Assistant
Purdue Global can help you gain the skills you'll need to become a medical assistant and prepare you for certification.‡ Purdue Global's Medical Assistant Certificate is accredited by the Commission on Accreditation of Allied Health Education Programs upon the recommendation of the Medical Assisting Education Review Board (MAERB).
Find out more about the Medical Assistant Certificate Program or contact us for more information today.
---
Your Path to Success Begins Here
Learn more about online programs at Purdue Global and download our program guide.
Request Information