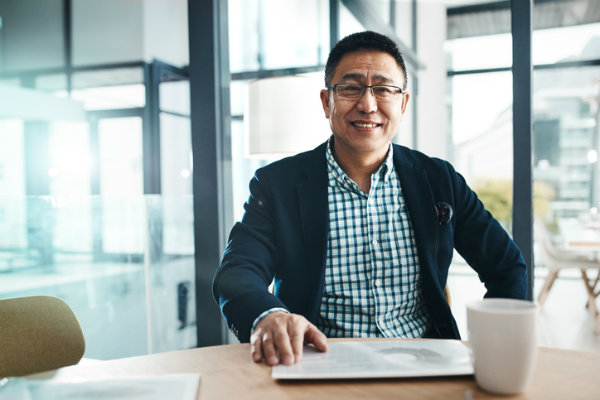 August 22, 2019 | Purdue Global
|
Updated March 16, 2021
A bachelor's degree in health care administration opens opportunities in the quickly growing field of health sciences. But what can you do with that degree?
Lisa Giarda teaches several undergraduate courses in the School of Health Sciences at Purdue Global and oversees ethics and leadership and bachelor's capstone courses. She says job prospects abound for graduates in health care administration.*
"We have more baby boomer retirement coming within the next 5 to 10 years," Giarda says. "And people are living longer due to new technologies. As a result, opportunities in health care continue to grow."
What Is the Job Outlook for Medical and Health Services Managers?
The number of health care administration jobs is trending upward. According to the Bureau of Labor Statistics, there is a 32% projected increase in medical and health services manager jobs in the U.S. between 2019 and 2029.† As of 2019, there were 422,300 medical and health service managers employed in the U.S.
Giarda says a health care administrator position is within anyone's reach. "One can begin in an entry-level position within the health care field and through education, training, and experience—along with professional development that health care organizations offer—get promoted from within."
What Do Medical and Health Services Managers Do?
The tasks of medical and health services managers vary with individual companies, but, in general, they plan, coordinate, and supervise the functions of health care facilities and the staff that work there. Typically, health care administrators:
Give advice on legal or regulatory compliance.
Analyze risks to minimize losses or damages.
Supervise employees.
Direct financial operations.
Implement organizational process or policy changes.
Prepare operational budgets.
Giarda says one path health care administration degree graduates could take is to start their own businesses. "Recently, one of my students had been working for someone else at a home health care business, and she realized she could file for licensing and then take steps to do it on her own," Giarda says. "Now, she has her own business and is hiring her own people to send out to homes."‡
What Is the Work Environment Like?
Health care administrators are not on-call like other medical professionals and usually keep regular business hours from 9:00 am to 5:00 pm, Monday to Friday. People in these roles typically dress in business casual wear, depending on workplace guidelines.
Medical and health services managers work closely with members of health care teams such as doctors, nurses, clinical laboratory technicians, and other health care workers. Others may interact with patients or insurance agents. They work at various locations including insurance companies, hospitals, long-term care facilities, public health facilities, and physicians' offices.
Are You Interested in Earning a Degree in Health Care Administration?
A bachelor's degree in health care administration can be an excellent way to further a career in this growing field. Purdue Global offers an online health care administration degree that's designed for busy working adults. Request more information today.
---
Your Path to Success Begins Here
Learn more about online programs at Purdue Global and download our program guide.
Request Information