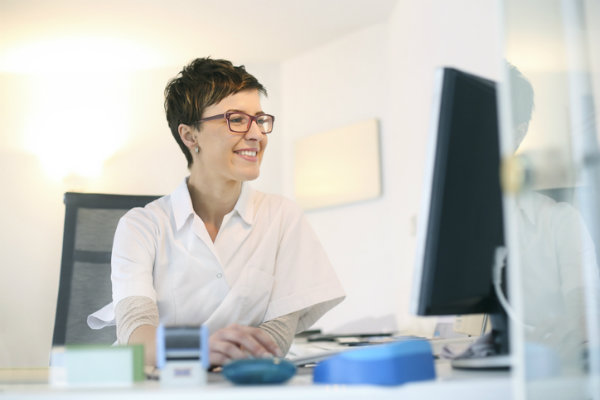 February 17, 2020 | Purdue Global
The outlook for careers in health information management (HIM) is bright. According to the American Health Information Management Association (AHIMA), health information professionals are in "high demand" as dramatic changes in the health care industry increase the need to integrate technology into patient care.
What is health information management? AHIMA offers this two-part definition:
Health information is the data related to a person's medical history, including symptoms, diagnoses, procedures, and outcomes. Health information records include patient histories, lab results, X-rays, clinical information, and notes.
Health information management is the practice of acquiring, analyzing, and protecting such information as a means to provide quality patient care.
Are you considering earning a bachelor's or master's degree in health information management? Here are the career opportunities for these degrees.*
Patient Information Coordinator
An Bachelor of Science in Health Information Management may qualify you for the role of patient information coordinator. They provide inbound and outbound call support and customer service to patients, doctors, medical office staff, and any additional health care customers, AHIMA reports. Responsibilities include:
Recording patients' clinical and financial information, demographics, and insurance information
Scheduling visits
Verifying insurance benefits
Explaining benefits
Releasing medical records to patients and third party requestors (with valid authorization)
Data Quality Manager
A data quality manager leads the quality management department of a health care facility, according to AHIMA. They help with the ongoing assessment, development, and oversight of data quality management. A bachelor's or master's degree in health information management may qualify you for this role.
Responsibilities include:
Coordinating and delegating program activities at hospitals by working with doctors and the rest of the care team
Developing departmental goals and strategies to achieve those goals
Staying current on health care industry standards, industry changes, and compliance issues
Clinical Data Manager
With a bachelor's or master's degree in health information management, you may qualify to be a clinical data manager. A clinical data manager analyzes clinical data to identify and report trends, according to O*NET. Responsibilities include:
Designing and validating clinical databases, including designing or testing logic checks
Processing clinical data, including receipt, entry, verification, or filing of information
Generating data queries to solve problems
Developing plans that address and improve processes including coding, reporting, data transfer, database locks, and workflow
Medical Records and Health Information Technician
A medical records and health information technician maintains patients' medical records for hospitals, doctors offices, and other health care facilities, O*NET reports. Responsibilities include:
Compiling, processing, and reporting patient information while adhering to the medical, administrative, ethical, legal, and regulatory requirements of the health care industry
Retrieving medical records for doctors and other medical personnel
Assigning the patient to diagnosis-related groups (DRGs) using appropriate computer software
Processing admission and discharge documents
A bachelor's or master's degree in health information management can help you qualify for this role.
Compliance Officer
A compliance officer ensures that medical facilities conform to the laws and regulations governing the health care industry and related licenses and permits, AHIMA reports. A bachelor's or master's degree in health information management can help prepare you for this role.
Responsibilities include:
Inspecting and analyzing compliance and enforcement activities
Reviewing data security and ensuring protection of Protected Health Information (PHI) and Personally Identifiable Information (PII)
Providing guidance to coworkers regarding compliance issues
Ensuring new compliance requirements are implemented with regard to regulatory and contract language
Health Information Manager
With a master's in health information management, you may be qualified to work as a health information manager. A health information manager leads a health care facility's health information management department and involves planning, organizing, and following up on all related activities, according to AHIMA. Responsibilities include:
Supervising the department with regards to financial management, goal setting, planning, policy and procedure development, quality assurance and improvement, and supervision and competency of staff
Performing quality assurance functions required for compliance, accrediting agencies, and regulatory issues
Training staff regarding the medical record contents, coding, confidentiality, and security
Creating and monitoring the department's budget
Further Your Career With a Degree in Health Information Management
Purdue Global offers two online HIM degrees:
Gain the real-world knowledge and practical career skills you need to succeed in this exciting and growing field. Our online format is tailored to meet the needs of busy working adults. Reach out to us today to learn more.
---
Your Path to Success Begins Here
Learn more about online programs at Purdue Global and download our program guide.
Request Information