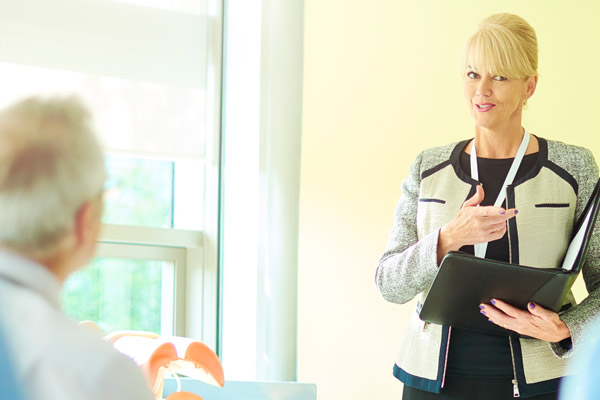 June 16, 2016 | Leslie Young
|
Updated December 24, 2020
Preface:
The Bachelor of Science in Nutrition is designed to prepare graduates academically to pursue a variety of nutrition-oriented careers and advanced education. However, the program was not designed to meet any specific state's requirements for licensure or certification, is not accredited by the Accreditation Council for Education in Nutrition and Dietetics (ACEND), and does not qualify an individual to sit for the examination to become a Registered Dietitian (RD). In addition, some states will not permit individuals to become licensed in nutrition and/or dietetics if they do not possess the RD credential. Purdue Global makes no representations or warranties as to whether the degree or any individual courses meet any specific state's requirements for licensure or certification. Refer to the University Catalog for additional information.

Oftentimes, one's personal interest in a subject matter drives career choices, professional development, or educational mastery. This scenario is one of the major reasons why students choose nutrition as their degree of study. The commonly used quote about loving what you do and never "working" a day in your life may hold some weight in being a "career choice compass" department.
However, the idea remains that when one's "love or passion" for a subject turns into an actual job or work, it fundamentally changes. There will be deadlines, office politics, long work schedules and many other "work" related tasks/situations. Turning one's passion for health into a rewarding career usually requires: successful completion of a nutrition-oriented degree, willingness to accept or try various nontraditional nutrition career routes, and the ability to market yourself as a nutrition professional who can benefit the hiring company more than any other candidate.
A number of health trends in the U.S. have contributed to a rising interest in nutrition—such as staggering increases in both childhood and adult obesity in the last 15 years, increasing public awareness in nutrition's role in disease management/ prevention, and the highest percentage of U.S. citizens reaching retirement age ever recorded as the "baby boom" generation ages (Taylor and Cohn, 2010). For the nutrition-related professional, depending on the career, there are various hurdles for navigating the job market, including certifications, varying state license requirements, or sub-specialty job specifications. This can make the nutrition career field seem surprisingly complicated.
Traditional RD Path
Please be aware that the Purdue Global's Bachelor of Science in Nutrition program is not intended for students who wish to pursue a license or certificate to work as a dietician. Program graduates are not eligible to sit for the Registered Dietician exam to sit for the examination to become a Registered Dietitian (RD).
It's important to note that the educational requirements for those who want to pursue further post-graduate education and/or a 1,200–1,500 hour dietetic internship to become a Registered Dietitian (RD) is very different from those who hold a Bachelor of Science in Nutrition. In addition, RDs typically stay in one or two areas (narrow area) of the nutrition field throughout their career (eatright.org, 2015).
ACEND is the acronym for the Accreditation Council for Education in Nutrition and Dietetics. ACEND oversees nutrition and "pre-RD" educational programs. The 1,200-1,500 hour unpaid dietetic internship is highly competitive with around a 50% acceptance rate as of last published data in 2011 (eatright.org, 2015). The ACEND board instituted a moratorium on new nutrition programs applying for candidacy for accreditation, unless they have a process to assure that all qualified students will obtain an internship position (Gregoire & Taccona, 2015). Purdue Global's Bachelor of Science in Nutrition is not ACEND accredited.
Seeing those statistics and reading the moratorium on not accepting new undergraduate "pre-RD" programs unless they can provide a dietetic internship spot for their students seems to be placing a restriction or "cap-size" on the size of RD career field. Why does RD growth appear to be restricted or why is so tightly controlled when our nation desperately needs access to more nutrition education?
From a very general perspective, in states with licensure protection over the terms dietitian and nutritionist, practicing nutrition is reserved only to RDs and/or Licensed Nutritionists who have completed an ACEND-approved undergraduate program. Medical Nutrition Therapy (MNT) is providing nutrition advice, advising, and dosing nutrition supplements, implementing dietary changes and any nutrition related intervention (therapy) that is based on a patient's individual medical diagnosis, lab values, anthropometric data, or other medical test results.
Non-RD Nutrition Professional
The job avenues for a non-RD nutrition professional are quite various and unique compared to a traditional RD career. A non-RD professional is not bound by the licensure or education restrictions. This allows for unique and nontraditional pathways to be pursued. Demographics are changing, our health care delivery system is changing, and our nation is in a nutrition-weight related crisis—so why should the professional nutrition educational and career pathway remain the same?
The health care, nutrition/foodservice management, and food science industries are very dynamic job markets due to many factors. As noted earlier, these include factors such as the increasing aging population, nutrition/health status of our citizens, and the public's interest in nutrition driving research and product development.
The non-RD pathway is more open to creativity, holistic therapies, and patient driven care. In fact, in 18 months from January 2012 through the summer of 2013 "every one of the dozen plus attempts to get RD oriented bills enacted in states was defeated for the first time in history" (Watson, 2013). Furthermore, in many states, nutrition legislation has been trending in the direction of favoring a more free market/ patient based approach to nutrition practice. In the past, most legislation would only allow RDs to gain licensure in certain states and the legislation would even prevent a person holding a PhD in Nutrition from providing individualized nutrition advice.
Our nation needs more nutrition professionals, not less. Our country's health care and alternative/nontraditional health system has become the world's best by offering patients' choices.
Purdue Global's nutrition bachelor's degree is designed to prepare you to enter this exciting field in which the health and lives of others may be significantly improved through your knowledge and skills. The Bachelor of Science in Nutrition is an approved holistic nutrition education program through the National Association of Nutrition Professionals (NANP).
Students who successfully complete the nutrition degree meet the educational standards required to become professional members of the NANP, and may be eligible to apply to sit for Board Certified in Holistic Nutrition sponsored by the National Association of Nutrition Professionals (NANP).* More information about the benefits of becoming board certified in holistic nutrition information is available via http://nanp.org/hncb.
These are some possible job areas or example titles you may search for with a Bachelor of Science Nutrition. Purdue Global's nutrition program recommends these job titles as examples for a primary job search and not all may apply to each student/graduate:
Purdue Global cannot guarantee job placement or career advancement.

Public health nutrition/community nutrition (e.g., some counties hire nutrition science bachelor's degree graduates for their WIC programs)
Holistic nutrition specialist (chiropractor's office, wellness centers)
Corporate/business wellness promotion–employee education
Dietary manager (hospitals, nursing homes, etc.)
Patient services manager (nursing home, hospitals)
School food service nutrition manager (elementary school nutrition)
Nutritional pharmaceutical sales (e.g., oral and enteral/tube feeding formula companies)
Dietary supplement sales
Food scientist/product development team (private food companies)
Food stylist (combine culinary skills, recipe development knowledge with artistic design of colorful or unique meal/food presentations for restaurant menus, magazine articles, print or internet media marketing)
Nutrition educator or wellness coach for health insurance companies
Nutrition professional for supermarket chains
Food banks or community food outreach companies/non-profits
Regulatory affairs specialists
Product development with food/agricultural-farming companies
Quality assurance technician
Animal nutrition specialist
Nutrition article author/blogger/online contributor (e.g., WebMD, Local Health Examiners)
Insurance Companies (Check with many of the companies that are hiring people with bachelor's degrees in health-related fields to become health coaches or advocates.)
"Extension" offices (Most of these types of positions are affiliated with a state or university's "extension or co-op" office. States may have positions available through grants or private funding that is related to nutrition education/ nutrition outreach in the community.)
An online bachelor's degree in nutrition from Purdue Global can help you pursue your interest this exciting and evolving field.