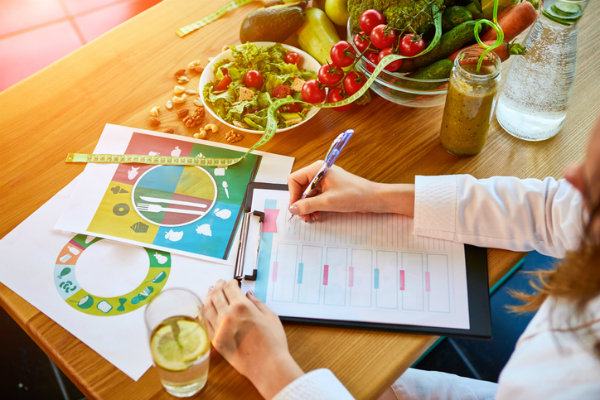 February 5, 2020 | Leslie Young, MS, RD; and Nancy Santiago, MS, PHR, SHRM-CP
The field of nutrition encompasses a vast array of educational and career pathways. Students can choose to focus on the area of holistic nutrition.
What Is Holistic Nutrition?
Holistic nutrition is a unique way to provide nutrition education and advice that takes into account the "complex interplay between the physical and chemical, mental and emotional, as well as spiritual and environmental aspects of one's life and being" (NANP, 2019). Holistic nutrition professionals focus on individual needs and tailor nutrition information to achieve certain health goals.
There is no one-size-fits-all program for a holistic nutrition professional. Yet, in the traditional or mainstream nutrition field, information is often based on population-wide nutrient intake recommendations. Therefore, holistic nutrition professionals can customize their recommendations to fit a person's unique lifestyle and health goals.
Holistic Nutrition Education and Certification
Purdue Global's online Bachelor of Science in Nutrition program is an approved holistic nutrition education program through the National Association of Nutrition Professionals (NANP).
The NANP offers an examination to become board certified in holistic nutrition (BCHN). The NANP also offers a newer credential, Certified Nutrition Professional (CNP), for those who pass the exam and have graduated from a qualified bachelor's degree program, such as Purdue Global's nutrition degree program. New graduates are allowed additional time to meet specific requirements and experience hours required for both credentials.
The combination of a BS in Nutrition from Purdue Global and subsequent specialized credentials, such as the BCHN and CNP from the NANP, can allow for an exciting career in holistic nutrition.
Careers in Holistic Nutrition
A holistic nutrition professional may provide counseling and educational services via the phone, internet, or in person. They may be self-employed, independent consultants/contractors, or employed in the traditional way by a health-related company or organization.
The wide range of career routes and forms of employment in this niche market is likely due to the dynamic nature of nutrition research as it relates to personal health. Various employment opportunities in the holistic nutrition field are also likely related to the ever-expanding web-based health information delivery systems and applications (Hatef, Sharfstein, & Labrique, 2018).
The public's heightened access to health-related information via the internet and traditional means often translates to a person wanting to seek out a professional to help them with health- and nutrition-related issues. The changing health education market is influencing the way in which health-related information is delivered to the public (Matthews et.al., 2019).
The holistic nutrition job market has been significantly influenced by the public's increased interest in non-traditional methods to improve and/or manage their own health. The changing attitudes toward diet and nutrition are showing up across generations and include holistic nutrition approaches such as improving fitness and their overall physical and emotional well-being (Daley, 2019).
Types of Holistic Nutrition Jobs
1. 1-on-1 Holistic Nutrition Counseling
Start your own private practice or contract with a chiropractor's office or wellness center to offer holistic nutrition information to clients.
2. Group Holistic Nutrition Classes
Partner or contract with local or regional grocery chains to offer holistic nutrition/healthy shopping supermarket tours. Contract with general physician groups to offer group weight management education courses.
3. Holistic Nutrition Counseling/Education via Telephone Services
Health management and disease management (such as diabetes management) companies often provide patient monitoring and education services via scheduled telephone appointments with their various health professionals.
4. Web-Based Holistic Nutrition Consulting/Education Business
Start your own private consulting business online or research existing web-based health, nutrition, or wellness-promotion firms to market your skills. You can offer the "in-person" feel by interacting via video-conferencing platforms. Clients can share their dietary intake, and you can even monitor their progress by supervising their weekly weight checks.
5. Health and Wellness Coach/Advocate
Insurance companies often employ health coaches, wellness advocates, or nutrition professionals to help monitor, coach, and educate their insured patients. Additionally, large corporations often have in-house employee wellness promotion programs to help save money on the company's overall health insurance cost.
6. Holistic Nutrition Coach
Work with clients at a fitness center or exercise facility on a fee schedule agreed upon with the facility.
7. Holistic Nutrition Product Developer
Work in a company's product research and development department or develop and promote your own unique holistic nutrition supplement or specialty nutrition product.
8. Corporate Catering/Specialty Nutrition Dining Manager
Large companies that offer their employees generous benefit packages and wellness promotion plans may have on-site dining options. These companies want to encourage healthy eating among employees to save on their insurance costs and boost employee morale. What better way to do this than to cook and prepare healthy food options for employees and serve it at the various on-site cafeterias, mobile snack carts, coffee shops, and even at sit-down restaurants?
9. Restaurant and Menu Development Consultant
The public's increasing need for healthier meal options and food-allergy awareness is paving the way for uniquely qualified nutrition professionals to market their services in menu development and customer nutrition outreach.
Launch a Career in Holistic Nutrition
You can get on the path to any of these holistic nutrition careers with Purdue Global. Our Bachelor of Science in Nutrition program is approved through the National Association of Nutrition Professionals (NANP), and our online format is designed to meet the needs of busy working professionals. Take the first step toward a rewarding holistic nutrition career and request more information today.
---
---
Your Path to Success Begins Here
Learn more about online programs at Purdue Global and download our program guide.
Request Information