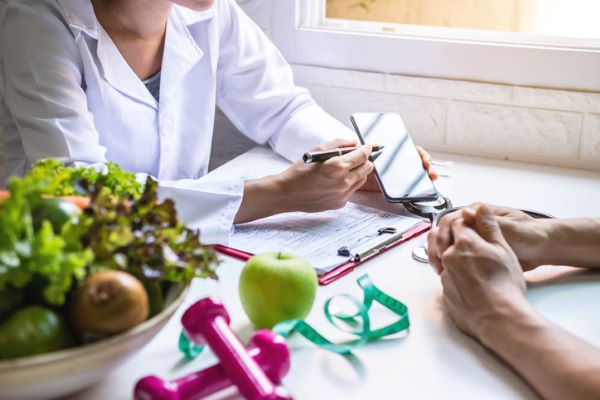 May 13, 2020 | Leslie Young, MS, RD
|
Updated August 23, 2022
The diverse nature of the nutrition field provides a variety of educational routes and career options for students to consider. One such example is the growing demand for nutrition professionals within the foodservice management, specialty dining, and senior care.
What Is a Certified Dietary Manager?
The nationally recognized credentials for nutrition professionals are Certified Dietary Manager (CDM®) and Certified Food Protection Professional (CFPP®), which are obtained in conjunction with each other. The Association of Nutrition & Foodservice Professionals (ANFP) describes a CDM, CFPP's role as providing "quality nutritional care in a variety of non-commercial settings" and performing "a myriad of specialized tasks and roles within a foodservice operation."
CDM, CFPP Certification and Education Requirements
Purdue Global's online Bachelor of Science in Nutrition program can be customized to meet the educational prerequisites for the CDM, CFPP exam as outlined by the ANFP and overseen by the Certifying Board for Dietary Managers (CBDM). The CBDM is the "credentialing agency responsible for establishing and upholding policies for and the administration of the CDM, CFPP Certification Program."
Students who earn their BS in Nutrition from Purdue Global can qualify to sit for the CDM, CFPP examination by Pathway II. Pathway II is for graduates of a 4-year college degree program majoring in nutrition or food service management and requires graduates to send official transcripts along with the exam application. Transcripts should include at least one nutrition course and two courses focused on foodservice management. It's recommended that nutrition majors who are interested in qualifying for the CDM, CFPP exam take the following course electives in the BS in Nutrition program at Purdue Global:
TH213: Food and Beverage Management (open elective)
NS313: Foodservice Management – Principles and Practices (major elective)
Completing these two courses can help students prepare for the CDM examination, as well as meet the transcript requirements for Pathway II. Earning a bachelor's degree in nutrition and subsequent specialized credentials, such as the CDM, CFPP, can open up rewarding employment opportunities.
Certified Dietary Manager Jobs
Combining the CDM certification with a bachelor's in nutrition can bolster the job application and interview process. Most CDMs do not have a 4-year college degree in nutrition. The comprehensive nutrition education provided within a Bachelor of Science in Nutrition program can prepare students to apply their nutrition knowledge and skills in a variety of work environments.
Gaining in-depth nutrition knowledge related to health care diet orders can specifically benefit health care foodservice operations. Extensive education in therapeutic patient diets can be used to "increase employee morale and motivation, which may help decrease the higher turnover rate associated with hourly patient meal-prep positions" (Puckett, 2018). If employees are trained about the why behind specific dietary restrictions (e.g., low-sodium diets), then they can understand how the specific meal restrictions are an important part of the patient's overall health plan and possible outcomes.
According to the BLS, employment of food service managers is projected to increase 15% from 2020 to 2030, which is faster than the average for all occupations. Those with several years of work experience and a college degree in nutrition or foodservice management will have the best job opportunities. To gain related work experience before graduating, it's recommended to apply for a part-time position within a health care foodservice company. If this isn't feasible, then volunteer experience may be a more realistic option. This could be through a food service-related nonprofit, food and nutrition outreach, or a nutrition or agriculture co-op. The National Council on Aging (NCOA) partners with many local food banks, soup kitchens, and nutrition outreach organizations that are in need of qualified and motivated volunteers.
Below are eight examples of the types of jobs that may be associated with the CDM certification:
1. Patient Services Manager (PSM)
A PSM generally works in a food and nutrition department. The patient services manager or the assistant patient services manager is typically in charge of hiring, training, and managing hourly employees who prepare patient meal trays. Patient services managers who hold a CDM certificate and a bachelor's degree in nutrition can apply their extensive nutrition education to help train and educate patient tray-line employees regarding therapeutic hospital diet orders. PSMs develop rotating patient menus, assist in inventory management and budgets, handle specialty oral nutrition supplement orders, negotiate contracts, and provide formulary choices for nutrition supplements. These positions are typically available through specific health care foodservice contract companies.
2. Health Center Nutrition Manager
Health center nutrition managers act as a liaison, on behalf of the patient, to discuss specific patient nutrition and dietary needs with various members of the health care team. Health center nutrition managers oversee nutrition education programs and manage preparation of specialized patient meals. Positions such as these are becoming more common as an increasing percentage of the aging population is interested in specialty long-term care or retirement options. Facilities who hire such nutrition managers may classify themselves as an "upscale continuing care community."
3. Food and Nutrition Department Director or Assistant Director
This position generally requires multiple years of experience within the foodservice industry. Positions can be associated with hospitals, long-term care facilities, rehabilitation hospitals, and assisted living facilities. These positions are typically available through specific health care food service contract companies.
4. Dietary Regulatory Affairs Specialist
This is a unique position that ensures that the development and production of a company's food items comply with all applicable laws. Knowledge of food and dietary legislation is required. Many of these positions work alongside legal aides. Graduates with a BS in Nutrition and a CDM may be a great match due to their demonstrated mastery of food safety laws and nutrition labeling information.
5. Dietary Product Developer
Dietary product developers work in a company's product research and development (R&D) department to develop a specialty nutrition product. Some companies advertise for 8- to 12-week long summer internships (paid or unpaid). These positions can often lead to full-time entry-level positions in nutrition product development.
6. Corporate Catering/Specialty Nutrition Dining Manager
Large businesses that offer their employees generous benefit packages and wellness promotion plans may have onsite dining options. These companies want to encourage healthy eating amongst their employees not only to save on employee insurance premium costs, but also to boost employee morale. CDMs can fully manage and operate various foodservice operations (cafeterias, restaurants, cafes, coffee/snack carts, and catering options) to offer healthy food options for employees. Additionally, CDMs can design unique menus based on employee health goals or interests.
7. Restaurant and Menu Development Consultant
The public's increasing need for healthier meal options and food-allergy awareness is paving the way for uniquely qualified nutrition professionals to market their services in menu development and customer nutrition outreach. CDMs with a bachelor's in nutrition are uniquely qualified due to their knowledge of nutrition analysis techniques, menu development, effective inventory usage/rotation, and other cost-control measures.
8. Assistant Director of Child Nutrition
This position is responsible for helping oversee child nutrition programs on primary and secondary school campuses. The assistant director reports directly to the director of child nutrition (a role that requires additional education and training). District U.S. Department of Agriculture (USDA) surplus foods are received based on applications and are inventoried and distributed accordingly to campuses. U.S. Dietary Guidelines are followed and measured through accurate analysis of child nutrition menus. Effective cost control is demonstrated through adherence to the annual budget and aided through supplemental school lunch program funds.
Become a Certified Dietary Manager
If you're interested in certified dietary manager careers, earning a bachelor's degree in nutrition can help. Purdue Global offers an online degree program with multiple start dates so you can have flexibility in your education, work, and life schedules.
See Notes and Conditions section below for important information.
---
---
Your Path to Success Begins Here
Learn more about online programs at Purdue Global and download our program guide.
Request Information