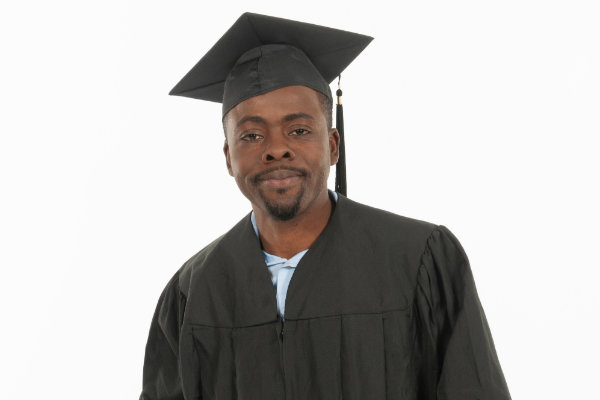 February 19, 2020 | Purdue Global
Emmanuel Adams immigrated to the United States from Africa, and, once here, he launched a career as a certified nurse assistant, married, and had children. The more he learned about the health care industry, the more he realized that continuing his education was the key to meeting his goals. Ultimately, he earned a Master of Health Care Administration online—which he was able to do through Purdue Global.
Deciding to Pursue a Master's Degree With Purdue Global
Adams knew what he wanted; his lifelong goal was to earn a master's degree. But like many working parents, he had concerns that he couldn't make education work during such a busy time in his life.
"I was married, I had a family, and I just wasn't sure if it was the right time. But after having a discussion with my wife, I decided that I didn't want to wait to get my master's. I thought, 'I'm getting older, my kids are getting older, and I just want to go ahead and do it.'"
Adams looked at several schools and found that Purdue Global offered nearly everything he required.
"Purdue Global provided me the flexibility, support, and comfort that I was looking for—I just didn't see it in the other schools I researched. Similar programs were available in other nearby schools, but the flexibility wasn't there, which was something I needed. Purdue Global just checked all those boxes I was looking for."
"As a parent who works 10 hours a day, providing for your family and going to school at the same time isn't an easy thing to do. With support from Purdue Global, I was able to navigate every single one of my classes and pass each of them with flying colors—it was a great experience."

—Emmanuel Adams, Master of Health Care Administration
Purdue Global Class of 2018
Reaping the Benefits of an Advanced Education
Adams works as director of social services for a Wisconsin health care facility. The online Master of Health Care Administration enables him to better understand his field and excel in his career.
"The vast knowledge I gained from this degree opened my eyes and helped me understand just how complicated the health care field is," explains Adams. "It's something that requires you to keep learning, because even when you're already in the role, laws can change over just one year that will shift the health care field drastically. You always have to be open-minded and willing to learn new things to stay on top of your game in the health care field."
Earning the degree has been particularly helpful in Adams' professional development.
"My confidence level is different at work," he says. "I'm not stressed about things. I'm able to respond, because I know I have theoretical knowledge about the vast majority of things that happen in my workplace and in the health care field in general."
Adams calls his experience with Purdue Global "life changing."
"They molded me into something I didn't really expect to be, in a very positive way… It shaped me into the leader I always felt that I could be."
Earn a Master's in Health Care Administration
If you're interested in furthering your career and making a difference in the health care industry, an master's in health care administration may help. Purdue Global is accredited by The Higher Learning Commission, and we're part of the respected Purdue University system. Request more information today.