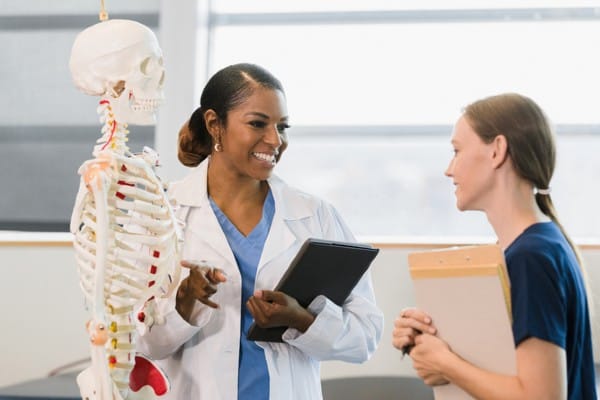 November 30, 2022 | Purdue Global
Health educators have a wide range of responsibilities as they work to improve public health, teach the public about the prevention of illness and disease, work to reduce premature death and disability, and aim to lower the financial and human costs of medical treatment. The U.S. Bureau of Labor Statistics (BLS) says that the responsibilities of health educators often include developing strategies to improve the well-being of individuals and communities.
According to the BLS, the outlook for health education specialists and community health workers is bright, showing a growth of 12% (much faster than average) through 2031. The BLS states 15,200 more health educators will be needed by 2031.
Christopher Gallucci, academic department chair for the public health and health education programs in the School of Health Sciences at Purdue Global, sat down to talk to us about what a health educator does and the education and job requirements of a health educator.
>> Read: Public Health and Health Education: What's the Difference?
What Does a Health Educator Do?
Health educators are often the first line of defense in public health, Gallucci says. They develop strategies to improve the health of individuals and communities that they serve, and they teach people about behaviors that promote wellness.
Among the topics community health educators focus on are:
Chronic diseases
Diabetes management
Injury prevention
School health
Mental health
Tobacco cessation
"When you work in public health or you're a health educator, you're the doctor for the community. You're allowed to effect change at a much larger level," Gallucci says. "When people are passionate about a certain topic in health, they find that instead of working on one patient at a time, they could work with whole groups of people at a time and really create more downstream change."
Health educators may also teach medical clinicians about the best practices for health care, or how to be culturally and linguistically sensitive to all patients.
"When you go and teach the community, you have to understand their culture and how to make things linguistically and culturally appropriate; otherwise, the message isn't received," Gallucci says.
What Issues Are Health Educators Facing Today?
There are several challenges for health educators currently, from the continuing onslaught of chronic diseases to changing regulations to shrinking budgets. Gallucci says infectious disease management is one important current topic, as are COVID-19 and mental health.
"We're seeing a reemergence of infectious diseases that are preventable: polio, measles, and mumps. It is partly because of COVID-19 and the anti-vaccination movement," he says.
Gallucci says there has also been an increase in cases focusing on mental health issues.
"That was kind of on the rise before COVID, but when you think of the social isolation, you think of the issues with kids who spent the most crucial developmental years of their life with little to no human contact besides that of their parents⁠—it's having a significant negative effect," he says. "Chronic disease issues have been on the rise too, and that's something we try to educate a lot of future students about."
To help out, the Society for Public Health Education focused its most recent National Health Education Week on these hot-button topics:
Health equity
Health communications
Ethics and practice
Advocacy
Gallucci says there is an ever-growing need for health educators to get into communities to reinforce the importance of healthy behaviors and self-care.
How Can Someone Become a Health Educator?
A health educator needs to have foundational knowledge about socio-behavioral theory, health equity, diversity and inclusion, and program planning.
At Purdue Global, the Online Master of Science Degree in Health Education program teaches students how to:
Design and critique research in health education programming
Develop and analyze health education programs using the proper concepts, principles, and methods
Gain an understanding of multicultural literacy in the field of health education and wellness
Identify major concepts, theories, issues, and trends in health education and its promotion
Uphold the professional standards outlined in the Health Education Code of Ethics
Upon completion of these education requirements, health educator graduates are eligible to sit for the Certified Health Education Specialist (CHES®) examination given by the National Commission for Health Education Credentialing (NCHEC).
Before allowing students to sit for the exam, NCHEC verifies that the program content the student studied meets all of their prerequisite requirements across eight domain areas:
Assessment of needs and capacity
Planning
Implementation
Evaluation and research
Advocacy
Communication
Leadership and management
Ethics and professionalism
"That is why when we created our health education programs," Gallucci says. "We were very careful to map out our courses to comprehensively cover all of the NCHEC requirements so that there would be no question if our students are eligible to sit for the exam."
What Qualities and Skills Are Helpful for Health Educator Candidates?
There are several skills needed for success. Gallucci says good health educators should be passionate and empathetic. They should be people who want to create change and think big.
Other important skills include:
Active listening
Strong communication
Writing
Adaptability
Social perceptiveness
Critical thinking
Reading comprehension
"You have to be organized, detail-oriented, and have good self-awareness," Gallucci says.
Another hallmark is the desire to continue learning because the health care field changes rapidly. "Once you go into the health education field, you're a lifetime learner," he says.
Find out More About Becoming a Health Educator
With an Online Master of Science Degree in Health Education from Purdue Global, you can pursue a wide range of leadership and management positions in academic, corporate, governmental, and nonprofit settings.
Learn more about the degree program, and find out more information about Purdue Global today.
---
---
Your Path to Success Begins Here
Learn more about online programs at Purdue Global and download our program guide.
Request Information