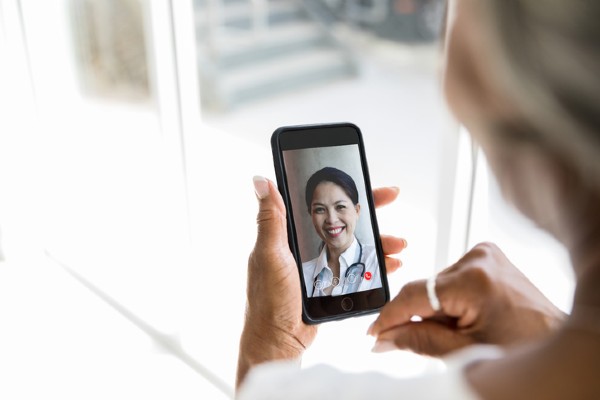 May 5, 2021 | Purdue Global
There's no doubt that telehealth services have been extremely useful during the pandemic. But there are security and privacy concerns with telehealth that run up against HIPAA requirements, as well as ethical and logistical factors to consider.
These are new waters we're treading. How can medical office managers and health care administrators balance HIPAA requirements with the need to deliver safe, effective, and compassionate services remotely?
That's precisely what these telehealth guidelines are about. Jenn Block, PhD, of the School of Health Sciences at Purdue Global, offers some telehealth information, advice, and resources to health care administrators and medical office managers who are overseeing telehealth services in their practice.
Stay on Top of Changing HIPAA Regulations
The Health Insurance Portability and Accountability Act of 1996 (HIPAA) establishes rules for privacy to ensure that individuals' health information is properly protected, according to the Department of Health and Human Services (HHS). Specifically, it requires that health care organizations "ensure the confidentiality, integrity, and availability of all electronic protected health information" that it handles. Organizations must also have security measures to protect that information.
Because of the COVID-19 health emergency, HHS has relaxed some regulations so that medical practitioners can reach quarantined patients in need of their services.
"For providers, we need to understand that the relaxed guidelines are a temporary fix to allow practices to implement and use telehealth quickly," Block says. "It is the administrator's responsibility to ensure that the providers are maintaining privacy and HIPAA guidelines even now."
Despite previous limitations on telehealth, medical practices now can use tools like Facebook Messenger, Zoom, and Google Hangouts to reach patients. "Right now, whatever the patients are comfortable using is the tool that we're going to use," Block says.
Block expects the guidelines to revert to strict enforcement once the pandemic comes under control. For now, "I believe HHS is going to allow the relaxed guidelines to continue through 2021," she says. "It probably will be at least another year before we see the more restrictive guidelines put back into place."
In the Meantime, Here Are Ways to Keep up With Any Changes in Regulations:
Check with HHS often. Follow them on social media (Facebook, Flickr, Instagram, LinkedIn, Twitter, YouTube) and sign up for their newsletter.
Check with your state's health department. The Centers for Disease Control and Prevention offers a complete list of state and territory health departments.
"Administrators will need to make sure that they're paying attention to all regulations that come out specific to telehealth, both federally and within their states," Block says. "Different states have different telehealth reimbursement guidelines that they'll likely return to once the pandemic is over."
Understand the Logistics
Many areas of telehealth have changed during the COVID-19 crisis, not least of which are the new realities of logistics. Changes need to be made to ensure compliance with new regulations and opportunities.
Here are three areas of logistics to consider when delivering telehealth services:
1. Billing
New coding has been introduced to comply with COVID-19 diagnoses. These codes should also be used when using telehealth services. The American Academy of Family Physicians offers a rundown of billing questions and solutions for telehealth.
2. HIPAA-Compliant Platforms
Although regulations have been loosened, you should expect them to return once COVID-19 is under control. To prepare, HIPAA-compliant platforms should be used now. Here are a few things to look for when seeking HIPAA-compliant telehealth platforms:
Ensure data encryption is available. Many video services don't encrypt data, so they should not be relied upon for confidentiality. Seek out platforms that have 256-bit encryption or higher.
Find out where transmissions are stored. Seek out information on the site's security. Make sure they don't store the data onsite, but at a separate facility with security.
Look for the Business Associate Agreement (BAA). This is a contract that ensures HIPAA rules are followed and enforced. If the video platform hasn't signed a BAA, avoid them.
Make sure you're secure at your home or office. Wherever you are conducting telehealth calls, make sure it's quiet and that your patient can't be accidentally overheard.
3. Clinical Services
Determine which services can be realistically delivered via telehealth. For some services and needs, telehealth is insufficient.
"Anything that requires diagnostic testing to make a diagnosis should be seen in the office, such as lab work or X-rays," Block says. "Some are more obvious, such as a biopsy, broken bones that need casting, or wounds that need sutures, for example. Providers should use their own clinical knowledge and judgment to determine which patients they feel should be seen in person."
Pay Attention to Ethical Concerns
Telehealth has been a good alternative to in-person visits during the COVID-19 pandemic, but it isn't without its own ethical concerns.
"We have been promoting the use of telehealth because of people isolating and not seeking the care that they need to stay healthy," Block says. "However, providers need to determine what they are comfortable with via telehealth, and what is safe."
There are three main ethical concerns related to telehealth:
1. Certain Populations Don't Have Access to Telehealth
"Some patients don't have the technological literacy to use telehealth, or they cannot afford access to the internet," Block says. "So, we need to consider how we overcome these potential health disparities created by lack of access to this tool."
"We certainly don't want patients going to public places, such as a fast-food restaurant or a coffee shop, and using their public Wi-Fi, because it will not only jeopardize the security of the visit but their privacy as well."
Block says there are some solutions available to help patients.
Education. Medical offices can educate patients on how to use their mobile devices or computers to access telehealth. "While this may require staff helping patients to set up the links and access initially, it will be beneficial to the practice and the patient," Block says.
Access. Programs are available to help low-income patients gain access to the internet or Wi-Fi. "Social workers, care managers, or other administrative staff can share this information with patients," she says.
"In educating ourselves that this disparity exists and ways that we can overcome it, it will help to ensure that staff are actively engaging to combat it."
2. Telehealth Changes the Dynamic of the Visit
"As we are visiting with patients via video in the privacy of their own homes, we will get a glimpse into more of their lives than we would seeing them in the office, and that changes the dynamic of the visit," Block says. "Providers need to determine what additional information that is brought into the visit, either visually or audibly, is relevant to their care, and what they will do with that information."
3. Liability Issues Related to Treatment Delays or Misdiagnosis
"It's important that providers use their clinical judgment to determine which patients can be seen using telehealth," Block says. If medical treatment is delayed or a patient is misdiagnosed due to telehealth services, the provider could be held liable.
Be Mindful of a Patient's Mental Health
With the pandemic has come an increase in substance use and mental health challenges, according to the U.S. Centers for Disease Control. It reports more than 13% of respondents to a survey reported having started or increased substance use to cope with stress or emotions related to COVID-19.
"With social isolation, people out of work, depression, children out of school, and everything else, we're seeing a significant mental health and substance use crisis right now," Block says. "This is going to continue to grow into what many are saying is another pandemic. We don't even understand all of the implications and the lasting effects right now."
Block says telehealth offers physicians a timely opportunity to reach out to patients to employ screenings and other tools to ensure that they are staying safe and healthy. She advises using a depression and substance use screening at every visit for high-risk patients, along with suicidal ideation screening as needed. Patients should be given resources for any mental health or substance abuse problems.
"I cannot emphasize enough how important this is and how providers can leverage this technology to reach people during this unprecedented time."
>> Learn More: 5 Things Telebehavioral Health Care Providers Need to Know
Learn More About Telehealth From Purdue Global
Purdue Global has developed a telehealth course bundle intended to enhance health care practices and provide new career opportunities in telehealth.* Students can take the bundle of four for-credit courses or take any of the courses individually. The bundle comprises:
Essentials of Telehealth
Telehealth Application in Clinical Practice
Telebehavioral Health
Telehealth Coordination
Learn more about these telehealth courses or call 877-560-6764 to enroll today.