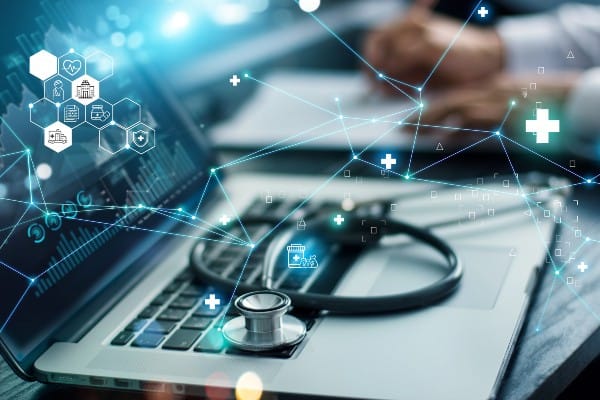 July 1, 2022 | Christopher K. Gransberry, PhD
Health informatics is focused on ensuring the privacy, confidentiality, and security of the health care system. By developing integrated information systems and enabling data exchange, health informaticists play an important role in fulfilling the triple aim of health care—improving patient experience, improving the health of populations, and reducing costs.To deliver quality services and remain competitive in their field, it's essential for health informatics professionals to keep up with the latest developments and trends. Below are a few health informatics trends that are transforming the industry.
Interoperability
Interoperability, or the ability of computer systems to exchange and use information, is what enables seamless and timely delivery of health information. Sending health care information electronically enhances the health of populations and individuals across the world.
While an electronic health record (EHR) is a powerful tool with numerous applications—including the potential to enhance communication across health care systems—the lack of sufficient flexibility has been a major impediment to interoperability. The Health Informatics Journal maintains that EHRs carry highly sensitive, private information regarding treatment and diagnosis. The health providers create, store, share, and retain primary access to the health records, thereby preventing patients from having easy access to past data. As a result, patients who can access their digital health records may be missing parts of their data, resulting in a fractured understanding of their health history.
The Centers for Medicare and Medicaid Services (CMS) continuously strive to improve interoperability and increase efficiency in the coordination of care. The CMS has issued the Interoperability and Patient Access Final Rule, which breaks down obstacles to interoperability and requires health care providers to provide their patients with access to health information when they need it most. The CMS final rule introduces policies that are designed to facilitate the seamless exchange of data, expand access to health information, improve better coordination of care, reduce costs of care, and promote better patient outcomes. The final rule will improve health care quality for all Americans and provide new opportunities for researchers and the industry.
From Sensors to Wearables
One trend in electronic health care is the development of sensors that collect data via medical equipment. This type of medical equipment tends to be mainly found in hospitals.

Sensors can be used to capture personalized and contextual data from patients. As such, the seamless integration of sensors into wearable devices has become a common research area in health informatics. Wearable technology occupies a central place in smart health care, and the ability to integrate sensors within the human body attracts active research.
Internet of Things
The Internet of Things (IoT) is another trending development in data acquisition. While the IoT was not originally meant to be a data collection platform, its virtual ubiquity and its communication capabilities have transformed the IoT into a comprehensive data gathering technology.

However, due to a lack of security and self-protection, IoT devices can be easily compromised through hacking. This has led to the development of blockchain-enabled IoT in health informatics. The emerging technology of blockchain brings enhanced security, authentication, and access to IoT devices.
Why Blockchain Technology?
Blockchain technology is trending development in health informatics that can positively alter the health care system by elevating the interoperability, privacy, and security of medical records.
Studies in health informatics show that blockchain technology may be used to improve the security and efficiency of EHRs. As a cloud-based internet service, the IoT processes and collects patients' data remotely. This method of collecting and storing data helps facilitate the ability to remotely diagnose patients. However, the smart health care framework also takes transparency, trust, scalability, costs, and security into consideration. Thus, it is necessary to address the privacy and integrity of data collected on IoT devices.
Blockchain technology uses several techniques to resolve security problems such as stolen smartcard attacks, denial of service, timing, and forgery. Blockchain helps medical practices uphold absolute privacy in the identification of users involved in a health care transaction. The motivation behind the emergence of blockchain in health informatics is the improvement of data sharing, enhancement of security and immutability, reduction of overhead costs in distributed applications, and elimination of the centralized third party.
Future Career Outlook in Health Informatics
Health informatics has become a key component in the effective use and management of data in clinical research and care. A Master of Health Informatics (MHI) degree provides educators, system developers, and researchers with the knowledge and skills they need to pursue a career in health informatics. Graduates with an MHI degree may work in settings such as hospitals, physician offices, or public health agencies.
Currently, accountable care organizations with reform initiatives are looking for data experts who are highly skilled and experienced in health informatics and health information management. Yet, the supply of health informatics professionals may not meet market demand. Projections from the Bureau of Labor Statistics show that the demand for medical and health services managers may grow by as much as 32% from 2020 to 2030, with approximately 139,600 jobs being added during this time. This is much faster than the average growth rate for all occupations..
If you're interested in starting a rewarding and dynamic career in health informatics, you may be a good fit for Purdue Global's Master of Health Informatics online degree program. For more information, reach out to an Advisor today.
---
Your Path to Success Begins Here
Learn more about online programs at Purdue Global and download our program guide.
Request Information