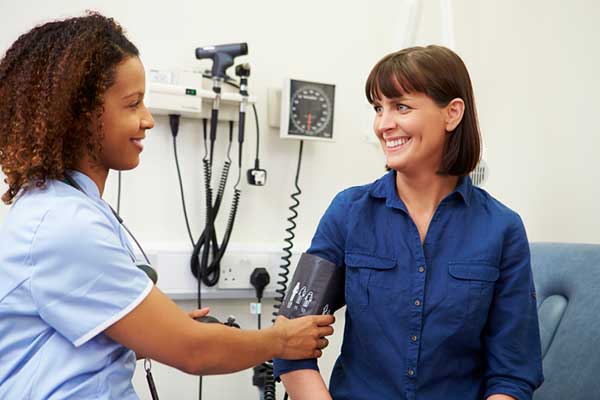 June 21, 2019 | Purdue Global
|
Updated June 17, 2022
If you think you want to work in health care but aren't sure which health care occupation to pursue, consider becoming a medical assistant. It's a great entry point into the field and can help you learn more about what it's like to work in health care. If you find you enjoy the work, it can be a path to other clinical or administrative roles.
There were 720,000 medical assistants employed in the U.S. in 2020, and the number of jobs is trending up. In fact, the BLS reports that employment of medical assistants is projected to grow 18% from 2020 to 2030, which is much faster than the average for all occupations.* Let's look closer at the role and how you can prepare to become a medical assistant.†
What Does a Medical Assistant Do?
As a medical assistant, you'll work hands-on with patients and assist physicians with routine clinical work. Medical assistants work in physicians' offices and other health care facilities. Depending on the location, specialty, and size of the practice, a medical assistant's duties might include:
Recording patient history and personal information
Taking and recording vital signs
Scheduling upcoming appointments
Preparing blood and fluid samples for laboratory tests
Administering injections
Assisting physicians with exams
Creating and managing medical records
As a medical assistant, you can choose a certain path and apply for positions that are explicitly clinical or administrative, or within specific disciplines of health care, such as becoming an ophthalmic or optometric (eye care) assistant.
What Is the Usual Work Schedule of a Medical Assistant?
Medical assistants usually work 8:00 am to 5:00 pm, Monday through Friday. You may be required to work evenings and weekends, and extended hours may be necessary in some ambulatory care settings.
What Can You Wear to Work?
Medical assistants wear scrubs and closed-toe shoes to work, but your workplace attire may vary depending on individual guidelines.
Who Are the People You Work With?
Medical assistants work with primary care providers, patients, and other members of health care teams.
What Are the Education Requirements for a Medical Assistant?
In most states, there are no formal education requirements to become a medical assistant, but employers may prefer to hire those who have completed a postsecondary program. These programs offer hands-on training with medical equipment and procedures and prepare graduates for clinical and administrative work. Programs are offered as a hybrid online/clinical model.
For example, Purdue Global's Medical Assistant Certificate program allows you to study the curriculum online and complete onsite clinical experiences and an externship with supervising physicians to practice such tasks as:
Administering injections
Measuring vital signs
Assisting in minor surgeries
In addition to clinical tasks, courses in medical assisting are designed to help you learn the procedures for proper reporting, the fundamentals of charting, and basic accounting.
After completing your certificate program in medical assisting, you may be eligible to sit for several industry-specific certifications, including the following‡:
Are Medical Assistants in High Demand?
Yes, they are. The Bureau of Labor Statistics projects that employment of medical assistants will grow 18% by 2030, much faster than the average for other occupations.
What's driving such robust growth? As baby boomers get older, the demand for preventive care is rising. Most of this demand falls on the shoulders of physicians and health care facilities. As doctors see an increased number of patients, they'll spend less time on routine tasks that can be delegated to an assistant. This, in turn, drives a need for more medical assistants.
How Long Does It Take to Become a Medical Assistant?
The path to becoming a medical assistant will vary. In addition, if you are in a medical assistant program, completion times depend on course load and program. At Purdue Global, the Medical Assistant Certificate program can be completed in less than 1.5 years of full-time study.
Pursue Your Goal to Become a Medical Assistant with Purdue Global
Entering a medical assistant program is a great next step toward a career in health care. Purdue Global offers a Medical Assistant Certificate program offered online, with onsite clinical experiences and an externship.
If you're interested in learning more about the Purdue Global Medical Assistant Certificate program, request information from one of our advisors today.
---
---
Your Path to Success Begins Here
Learn more about online programs at Purdue Global and download our program guide.
Request Information