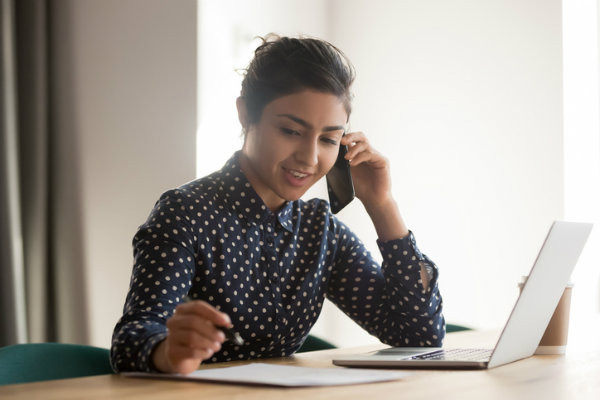 June 23, 2020 | Purdue Global
Much of the country has started to ease up on social distancing following the president's March 13 national emergency declaration. Stores, offices, and restaurants are reopening, and people are returning to work. The potential consequence of this may be increased COVID-19 infections as Americans come into closer contact with each other.
To manage and control these outbreaks, public health departments use an epidemiological strategy known as contact tracing. This helps reduce disease spread through early identification, assessment, and isolation of those who may have been exposed to COVID-19.
The contact tracing field is wide open for those interested. Find out more about contract tracing below, including why it's important and how you can enter the field.
>> Related: Become a COVID-19 Contact Tracer With Purdue Global's Online Course
What Is Contact Tracing and Why Is It Important?
Contact tracing is the process of identifying people who have come into contact with those infected with a disease. Knowing which people are at risk of infection can help them get care and treatment and prevent further transmission.
"The sooner persons are identified, the sooner they can be isolated from healthy people, which prevents the spread of the disease," says Juanita Graham, DNP, adjunct nursing faculty at Purdue Global.
"Contact tracing is an important and longstanding tradition in public health," says Ginger Cameron, PhD, faculty member in the Master of Public Health program at Purdue Global. "It helps us identify people who are at risk, so those people can be moved into a safer situation for both themselves and the community."
Contact tracing takes place in three steps, according to the World Health Organization:
Contact identification: Once someone has been infected with a communicable disease, his or her contacts are identified. These may be family members, friends, health care providers, or work colleagues.
Contact listing: Anybody who has been in contact with an infected person would then be contacted by phone or video conference software to be informed of the potential risk. They'll be told what being a contact means, what actions will follow, and why it is vital they receive early care if they develop symptoms. Contacts will also be told about disease prevention. High-risk contacts may be recommended for quarantine or isolation.
Contact follow-up: Regular follow-up should be conducted with all contacts to monitor for symptoms and screen for signs of infection.
"Part of the contact tracer's responsibility is not just to have the phone call or video conference, but also to gather information," Cameron says. "The tracers will provide information and resources to the people they've been assigned."
What's a Typical Day for a Contact Tracer?
"A typical day for a contact tracer is usually spent at home in front of the computer with a phone in hand making contacts," Graham says. "As a contact tracer, you'll refer people to resources they may need and give them the steps to take if they start to develop symptoms. You'll be a connection for that person to get their questions answered."
Graham points out that the job isn't as technical as the title may imply.
"A lot of people hear the term 'contact tracer,' and they think it's a highly technical or clinical job for which they need a major degree," she says. "The minimum requirement to become a contact tracer is a high school diploma or a GED equivalent. There's a huge pool of candidates out there that are qualified for this."
What Does the Contact Tracing Field Look Like?
Because of the COVID-19 outbreak, more contact tracers are needed. According to an NPR survey, there were about 11,000 contact tracers working in late April 2020. A report from the Association of State and Territorial Health Officials and the Johns Hopkins Center for Health Security estimates that 100,000 contact tracers are needed.
"The job openings will vary from jurisdiction to jurisdiction, just like the makeup of public health organizations and functions vary from jurisdiction to jurisdiction," says Graham. "Most positions will be with a state or a local public health agency. Many are going to be remote work from home."
Become a COVID-19 Contact Tracer With Purdue Global's Online Course
Purdue Global's new COVID-19 Contact Tracing Course employs the latest Centers for Disease Control and Prevention guidelines to maximize efficient training through accurate, ethical, and legal principles. This non-degree, non-certificate course is free through September 30, 2020, and covers all of the CDC's recommended training objectives using a variety of learning strategies, including reading materials, video, case scenarios, and knowledge assessments.*
In this course, you will learn:
How COVID-19 is contracted and transmitted
Strategies to reduce the spread of the disease
COVID-19 contact tracing protocols
Contact tracing legal requirements
Effective risk communication
Analytical skills for quality improvement, and more
"While the course is designed to help prepare people to be contact tracers, it's also a great opportunity for people who are just interested in contact tracing and how it works," Cameron says.
More training may be required for someone considering a career in the field.†
"An individual organization and jurisdiction may have some additional training standards and requirements, but this course lays a foundation to get people started," Graham says.
Learn More About Purdue Global Degrees
Purdue Global's COVID-19 Contact Tracing Course is one of many courses built to help students gain practical career skills. Find out more about online health care and health sciences degree programs at Purdue Global, or request more information today.
---
Your Path to Success Begins Here
Learn more about online programs at Purdue Global and download our program guide.
Request Information