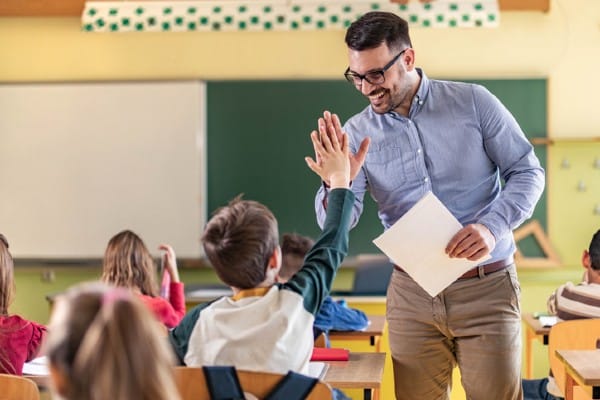 November 12, 2021 | Purdue Global
Teaching has been a big challenge during the COVID-19 crisis. The rapid shift to online or hybrid learning changed how teachers perform their job, and new technologies became the way to meet these difficulties. Despite the changes, teaching remains an important career. The U.S. Bureau of Labor Statistics says kindergarten, elementary, middle, and high school teaching positions should continue growing about as fast as the average for all occupations through 2030.
Misty LaCour, faculty member in the Purdue Global College of Social and Behavioral Sciences, spoke to us about whether you should be a teacher and the process for becoming one.
Why Be a Teacher?
Being a teacher means making a difference. LaCour says the impact a teacher has on an individual can be lifelong.
"As a teacher, you can be a catalyst for change in a person's life, propelling them on to opportunities and greatness," she says. "It's powerful to know that you can contribute to someone's life and help them get opportunities they may not have otherwise had.
"If you're seeking a way to positively impact others and make your community a better place, teaching's a very good choice."
What Are the Qualities of a Successful Teacher?
Among the qualities someone considering a career in teaching should possess are:
1. Good Communication Skills
Teachers must be able to convey their ideas clearly with students, other teachers, and administrators. "They also must be able to connect with parents and families to discuss student progress and, if necessary, intervention," says LaCour.
2. Patience
Teachers must be ready to stay calm in challenging situations, such as teaching new concepts or meeting the needs of students. " "Patience and empathy are essential dispositions of an effective teacher in order to meet the needs of diverse learners in the classroom, such as students with varying abilities and personal situations," she says.
3. Resourcefulness
Being a teacher means coming up with new strategies to engage students and adapting lessons to meet their needs. According to LaCour, "Being quick on your feet to work out new solutions is a must. A teacher must have 'withitness'—awareness of what is happening in the classroom—to adequately, and with care, meet the needs of the learners in the classroom."
4. A Heart for Children
"You really need to teach each individual student," she says. "You're not just teaching content, you're teaching people. So, you need to teach to the whole student to meet their needs."
5. A Passion for Teaching
"What you do has to be your passion," LaCour says. "Particularly with teaching, you have to love it. You must be called to it. That will get you through those long days.
"But then when you look back over the years, you can really see the impact that you've had through your career in teaching."
What Are the Qualifications to Become a Teacher?
Every state requires public school teachers to be licensed or certified in the specific grade level they will teach. Teachers in private or charter schools may not be required to be licensed.
Certification or licensure requirements for teachers vary by state but generally involve these points:
A bachelor's degree with a minimum grade point average
A student-teaching or internship program
A successful background check
A general teaching certification test
"I always tell those interested in being certified that they need to talk to their certification officer at their state or school district for details," LaCour says.
Search "teaching certification requirements in <state>" or visit your state's department of education website to learn more.
LaCour recommends beginning as a substitute teacher to get a good look at the field.
"That is a great way for someone to just get a look at the aspects of the day-to-day life of a teacher to see if it is for them and to make an informed decision," she says.
What Do Teachers Do Besides Teach?
Teachers have a wide range of duties besides teaching. Their job often includes time working after school and during the weekend.
Among the other tasks teachers may find themselves doing are:
Assessing students to evaluate their abilities, strengths, and weaknesses
Communicating with parents or guardian about their child's progress
Creating lesson plans to teach students subjects, such as reading, science, and math
Developing and enforcing classroom rules and administrative policies to teach children proper behavior
Grading students' assignments and exams
Observing students to evaluate their abilities, strengths, and weaknesses
Preparing students for standardized tests required by the state
Supervising children outside of the classroom—for example, during lunchtime, recess or detention
Working with individual students to challenge them and to improve their abilities
"Most of these duties are intertwined with teaching," LaCour says. "But teachers also serve as advocates, and mentors. They build rapport with students and support them and their families."
How Has Teaching Changed Because of COVID-19?
Although schools shut down during the beginning of the COVID-19 crisis, the majority have gone back to in-person teaching. According to a survey by the American Institutes for Research, 54% of districts planned to have classes primarily in person, and 36% expected a combination of in-person and remote learning.
However schools intend to have classes, virtual classes are likely to remain an option, whether for crisis situations or due to restricted access to classrooms.
"I think virtual learning will remain a permanent option at some level, even if it's hybrid or for emergency days," LaCour says. "Teachers are learning how to integrate virtual instruction with face-to-face instruction. They're using technology for lectures, such as PowerPoints, and other virtual content.
"Teachers are being much more creative now. The crisis has opened the door to more innovation in the K–12 classroom."
Take the Next Step to Teaching
"While many careers are either stagnant or in decline, teacher positions are remaining steady or increasing," LaCour says, citing the BLS employment figures. "If you want to make a difference in someone's life and in your community, then teaching is a good choice for you."
Purdue Global offers several degree plans that prepare students to become teachers.*
Find out more about Purdue Global's programs by contacting us today.
---
Your Path to Success Begins Here
Learn more about online programs at Purdue Global and download our program guide.
Request Information