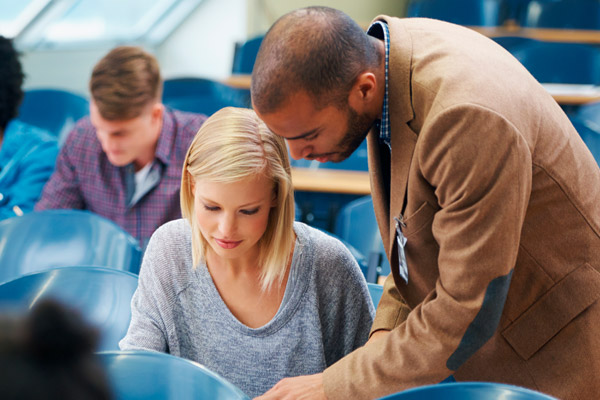 June 25, 2015 | Purdue University Global
Teaching is a career that can be a first, second, or third choice throughout a person's working lifetime. Some choose teaching as a profession for very practical reasons. They may be searching for a steady paycheck, summers off, or a job that offers tenure.*
But practical reasons often aren't enough to feel satisfied with your work. Most teachers cite a desire to work with children as their reason for choosing teaching as a career. Would you enjoy being a teacher? If you think the answer may be "yes," here are some questions to ask yourself.
Are you good at building relationships with children? This is a skill teachers need to cultivate. It's not enough to look at past grades. Find out what books they enjoy reading, the kind of music they listen to, or a personality trait that makes them different from the other students. When a teacher connects with a student, it can make all the difference in the world.
Do you rely on routine or are you able to manage the unexpected? A teacher's day may be disrupted by a number of unforeseen circumstances. For example, a child comes to school sick and vomits on another child. What do you do? The lights go out, a police report causes a lockdown, and a parent shows up demanding a change. These incidents occur and you need to know how to respond appropriately and graciously.
Are you willing to put in extra hours at school and home? The reality is, teaching requires attending afterschool meetings, grading papers, and writing lesson plans. Time for this often gets shoved aside during the day and keeps teachers working when they get home. The National Education Association reports that teachers spend an average of 50 hours per week on instructional duties, with an average of 12 hours each week spent on uncompensated school-related activities.
Can you accept receiving lower pay than other professionals with a comparable education? A study by the National Association of Colleges and Employers showed that those in the teaching profession had a national starting salary of $30,377, an amount lower than other fields with similar training and responsibilities.† That said, when teachers add in their benefits, and if they earn tenure, teachers can earn a very respectable living along with the potential for a pension down the road.
Are you a lifelong learner? If so, you will be able to earn certifications and advance your career. You can share your knowledge with a crowd of curious kids. In fact, according to the National Education Association, more than half of teachers hold a master's degree.
Your Path to Success Begins Here
---
Learn more about online programs at Purdue Global and download our program guide.
Request Information
Your Path to Success Begins Here
---
Learn more about online programs at Purdue Global and download our program guide.
Request Information