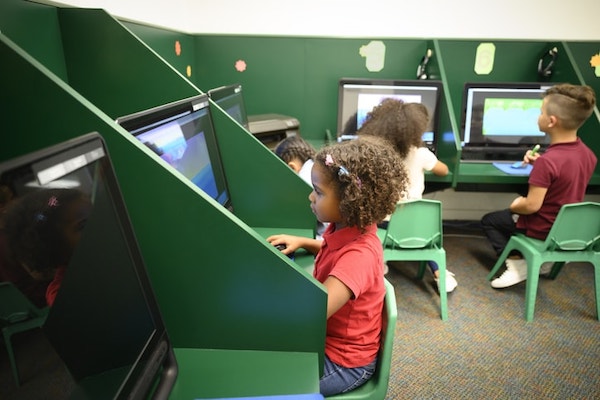 July 7, 2020 | Carol Laman, MA
Over the past several years, integrating technology in early childhood learning environments has become a topic of concern among the early childhood professional community. Educators worry that children spend too much time on electronic devices at home and it may not be developmentally appropriate to utilize technology at a young age.
How Much Time Are Children Spending on Technology?
There is no denying that young children are growing up in the digital age and technology is an integral part of their world. A study published in 2017 by Common Sense Media revealed statistics of technology use for children from birth to age 8 by comparing usage from 2011 to 2017. The statistics revealed:
The percentage of families who used mobile devices rose from 52% in 2011 to 98% in 2017.
A third of all screen time is mobile for this age group. This is an increase of 31% from 2011.
The average time spent on mobile media has tripled, increasing from 5 minutes to 48 minutes per day.
Overall, from birth to age 8, children spend an average of just over 2 hours per day with screen media.
Does Technology Have a Place in the Early Childhood Curriculum?
A joint statement released by the National Association for the Education of Young Children (NAEYC) and the Fred Rogers Institute in 2012 was the beginning of a movement to start integrating technology into the early childhood environment. Prior to this, many felt that young children should not be exposed to technology in the early learning environment because they already have enough exposure in the home environment. However, this statement indicated that technology, when used appropriately and with intention, can be an effective tool to support learning and development. The phrase "with intention" is a key point in this statement and refers to technology being considered only if it is an effective way to extend learning beyond what traditional methods can offer.
According to Highscope's Position Statement on Technology, there are some important considerations when adding technology into the early learning environment. Early learning educators should have a choice about whether or not to offer technology in the classroom, but the educators should be mindful that lack of exposure to technology may negatively impact children's school readiness when compared to programs that do incorporate technology. Developing digital literacy skills has increasingly become a part of the early childhood curriculum.
What Are the Common Obstacles When Implementing Technology Into the Curriculum?
To be used effectively, technology depends on the tools being used in the right way by skilled users. Early childhood educators will want to provide opportunities for children to gain new skills and have access to new content. According to a study by Head Start, the primary obstacle for early childhood programs when trying to successfully implement technology effectively is the lack of staff technology literacy. Therefore, in order to provide extended learning, many teachers may need professional development to familiarize themselves with new strategies and techniques in the areas of digital literacy and technology.
Highscope's Position Statement indicates that early learning should still primarily occur through interactions with a child's peers, adults, hands-on materials, and actual experiences. This consideration is shared by the NAEYC. When identifying the key factors that create a high-quality early learning environment, NAEYC includes interacting with caring adults, hands-on learning, play-based activities, as well as providing opportunities to explore and experience independently. Consequently, finding ways to appropriately integrate technology into these types of activities can be challenging for many early learning programs.
How Can Early Learning Programs Use Technology Effectively and Appropriately?
The Office of Educational Technology within the Department of Education believes guidance is needed when using technology with early learners. This is based on the reality that families and early educators have access to a wide range of technology including apps, games, video chat software, and digital books. The Department has created four principles to help guide parents and educators on the appropriate use of this technology for early learners. These guiding principles are as follows:
Technology—when used appropriately—can be a tool for learning.
Technology should be used to increase access to learning opportunities for all children.
Technology may be used to strengthen relationships among parents, families, early educators, and young children.
Technology is more effective for learning when adults and peers interact or co-view with young children
Although accessing some form of technology has become commonplace with young children, these principles clearly guide early educators with the appropriate use of technology in the learning environment. The principles stress that technology should not be used for technology's sake alone. Integrating technology should only be done if it is used for learning and can help meet developmental objectives. Technology can be used along with art activities, books, and play materials.
The Department of Education describes the use of technology as either active or passive. When children are passively participating in technology, they can be watching a television program without any participation. Active participation is defined as content that should "enable deep, cognitive processing, and allow intentional, purposeful learning at the child's developmental level." For example, a child can be using a computer but engaging with imagination or responses and include learning with intention.
According to the American Academy of Pediatrics' (AAP) Brief "Media and Young Minds," children under the age of 2 are not encouraged to engage in technology because it is not developmentally appropriate. However, for young children ages 2 through 5, technology can be beneficial if used appropriately. An example provided by the AAP is that technology can aid in expanding cultural diversity in the early learning environment by exposing children to communities and cultures outside of their own. When used in this way, we can expand children's understanding of the world around them in a way they haven't experienced, with only a discussion or a book. By adding technology to these other methodologies of learning, a child can experience learning at a deeper level.
Learn More About Early Childhood Development and Education
If you are interested in early childhood development and education, you may consider a bachelor of science in early childhood administration. Students in Purdue Global's early childhood administration program learn the skills to provide developmental and learning opportunities for children from birth to age 8. For more details, request more information.
---
Your Path to Success Begins Here
Learn more about online programs at Purdue Global and download our program guide.
Request Information