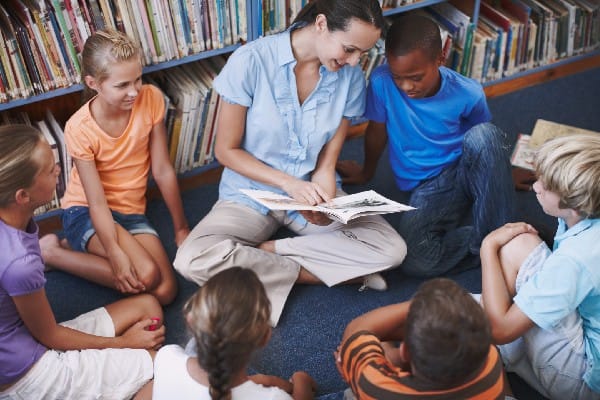 June 27, 2022 | Purdue Global
By promoting diversity in their classrooms, teachers foster an environment in which students of all backgrounds feel included and supported. In many cases, teachers achieve this by developing classroom activities that celebrate diversity. These diversity activities encourage students to become more open-minded about different cultures and lifestyles.
"When we talk about diversity in a classroom, we're talking about the general makeup of students in the classroom," says Kasey Weaver, EdD, adjunct faculty member in early childhood administration at Purdue Global. "Diversity encompasses many areas, such as gender, race, background, socioeconomic status, and even your abilities."
Discover why cultural diversity in the classroom matters and how you can incorporate diversity into your K-12 lesson plans and activities.
Why Is Diversity in the Classroom Important?
Data from the National Center for Education Statistics shows that public schools in the U.S. have become more racially diverse over the last decade. However, many students still attend schools where the majority of their peers look like them. According to Pew Research Center, 79% of white students in U.S. public schools attend schools where at least half of their peers are also white. These numbers are disproportionate for other ethnicities, too. Fifty-six percent of Hispanic students and 42% of Black students attend school where more than half of the students share their ethnicity.
With this in mind, it's up to teachers to help students explore cultures that differ from their own. "It's important for us all to honor our differences," says Weaver. "And as the adults in the classroom, teachers have to model what that looks like for our children."
There are several benefits of teaching diversity in the classroom:
Students can learn from each other's perspectives. "When we have discussions in the classroom about diverse experiences, it helps students see things from the point of view of their peers," says Weaver. "We have a lot that we can learn from each other, and diversity-focused lessons allow us to bring in multiple perspectives and insights."
Diverse representation promotes feelings of self-worth among students. A report published in Contemporary Issues in Education Research found that teaching students about the achievements and history of diverse cultural groups can help foster resilience and self-esteem in students who share that cultural background. Bringing in speakers from diverse communities has a similar positive effect. "Diverse activities can really help students develop a sense of self-efficacy," says Weaver.
Working with a diverse group helps students improve problem-solving skills. Weaver explains that diversity within the classroom can actually improve educational outcomes. "Students become better problem solvers when they work with a diverse group of students," she says. "A diverse classroom encourages ideas to be bounced off of each other, allowing students to find creative solutions to problems."
Diversity in education may help reduce prejudice. According to the American Psychological Association, cooperative learning activities are one way to overcome prejudice at school. "By talking about what makes us unique—as opposed to ignoring it—we let students know that it's okay for us to have differences," says Weaver.
>> Read: Should You Be a Teacher?
Five Activities for Teaching Diversity in the Classroom
Since diversity in education can lead to a number of social and academic benefits, it's no wonder that many teachers are trying to elevate diversity within their lessons. Below are a few recommendations for diversity activities in the classroom.
1. Create a Cultural Passport
One of Weaver's favorite activities for promoting diversity is to create a cultural passport that accompanies virtual field trips. During a virtual field trip, students will be guided through a website that provides educational images, videos, and audio clips. These guides are often focused on a specific place, such as a museum or a national park.
"Virtual field trips are an excellent way to expose children to different cultures around the world, or even cultures that are representative in their own school," says Weaver.
She recommends providing a mock passport that students can fill out as they complete various virtual field trips. "Each page on the passport can feature a different culture. At different points throughout the year, you can visit that culture through a virtual field trip, and have students fill in information about what they learned."
Since these virtual field trips can all be completed online, this is also a great way to support distance learning students.
2. Explore Diverse Literature, Art, and Music
A report by New America found that people of color are still underrepresented in popular children's books.
When choosing books to read aloud in the classroom, Weaver recommends picking stories from a variety of cultures. "Make sure you're choosing books that are from cultures represented in your classroom, as well as from cultures that might not be represented in your classroom," she says. The same advice goes for selecting art and music to share with the classroom.
Keep in mind that diverse stories incorporate more than just racial and ethnic diversity—they also include diversity in gender, religion, age, and more. "The idea is to help expose students to perspectives that might be different from their own," says Weaver. "For example, if you teach at an all-girls school, it's good to incorporate stories that are told from a boy's perspective."
3. Visit Your Library
Your classroom library can only hold so many books. To help your students broaden their horizons, make frequent visits to your school library or local library. "Talk to the librarian to ensure that there are books representative of all cultures and backgrounds," says Weaver. "Oftentimes, librarians can help provide suggestions for titles that explore specific themes."
By visiting your school or local library, you're giving students an opportunity to discover books that explore a wide variety of topics. You could even set up a library scavenger hunt in which students are challenged to find books of different types. For example, a book written by a woman author, a book written in another language, or a book discussing a specific holiday. If you're teaching online, you could conduct a virtual library scavenger hunt using your library's online catalog.
4. Start an Open Dialogue
According to a survey conducted by EducationWeek, the majority of teachers see the importance of discussing complex issues with their students:
79% of teachers agree it's important to discuss race and ethnicity
75% agree it's important to discuss immigration
70% agree it's important to discuss national politics
Despite the fact that many teachers want to have open discussions in their classroom, it can be hard to know how to approach sensitive topics in a way that is age-appropriate and does not make any students feel uncomfortable.
Weaver says that creating an open dialogue starts with encouraging students to ask questions. If you're leading a class discussion around a particular news story or current event, you need to ensure that students are not afraid to speak up. "Not everyone will have the same perspective on a topic, and that's okay. Recognizing our differences helps everybody feel accepted as part of the community," she says.
"We don't want to ignore what makes us different. We want to celebrate it."
5. Build Connections with Other Students
Finally, Weaver recommends building connections with students from other classrooms, or even from other schools. "Having students socialize with their peers is a great way to create a welcoming and inclusive classroom environment," she says.
For example, during story time, lunch, or recess, you might invite kids from the exceptional children or special education program into your classroom. This gives your regular-ed students a chance to socialize with kids they might not have met before. "By allowing your students to make connections with kids from other classrooms, you're creating an environment where everyone feels included. Plus, your students will be exposed to kids who have different backgrounds than them," says Weaver.
Enhance Your Teaching Skills with Online Education Programs
Weaver stresses that teachers should not underestimate their role in creating diverse and inclusive environments. "It's so important for us, as the adults in the room, to model what we want to happen in our schools," she says. "Diversity activities in the classroom are only one piece of the puzzle—as teachers, we need to model empathy and respect for students of all backgrounds."
If you want to grow your teaching skills, Purdue Global offers several online degree programs in the education field, including Bachelor of Science in Early Childhood Administration, and Master of Science in Education programs.
Find out more about our programs by contacting us today.
---
Your Path to Success Begins Here
Learn more about online programs at Purdue Global and download our program guide.
Request Information