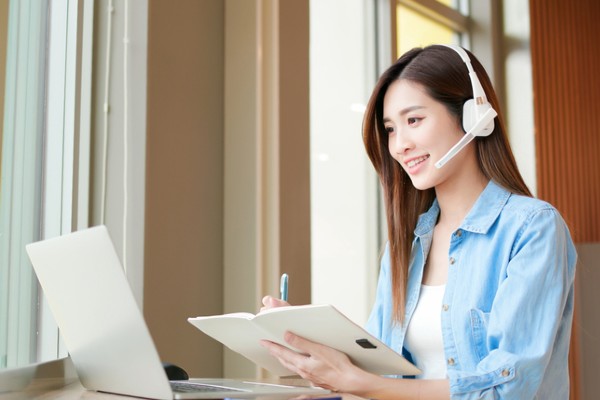 April 23, 2021 | Purdue Global
The COVID-19 pandemic has thrown education into disarray worldwide. Less than 1 month into lockdowns and isolation, 94% of students across the globe were affected—about 1.58 billion students in 200 countries, according to the United Nations. The effects will continue to ripple, the U.N. says, with an estimated 23.8 million students lacking access to, or dropping out of, schools in 2021 because of economic impact.
COVID-19 will continue to influence the "new learning reality," says Jeffrey L. Bailie, EdD, faculty member in the College of Social and Behavioral Sciences at Purdue Global. He says schools at all levels were faced with limited options to continue enrollment during the mandated closures.
"We found that many systems simply were not prepared for extended closures, nor were most academic institutions equipped for the remote learning challenges spawned by COVID-19," Bailie says. "Hopefully online learning doesn't get a black eye due to various participants being forced into a learning environment, which they were not previously accustomed to."
Bailie says the pandemic has made clear that e-learning is key now and in the future, and this offer extends a timely opportunity for those considering a career in instructional design and technology.
"We came to recognize the need for solid instructional design, since it is the foundation of effective learning and instruction," he says.
Find out how instructional designers and technologists can seize new opportunities in this era and grow their careers.
What Are Instructional Designers and Technologists?
The role of the instructional technologist and designer is to produce engaging learning content that effectively leads to the accomplishment of predetermined learning outcomes. The instructional designer—sometimes called instructional coordinator—is responsible for constructing training content that guides students toward mastering the desired goals and objectives as they participate in the learning experience.
"These professionals are skilled to package instructional content according to established design principles and standards," Bailie says.
Instructional designers will increasingly be depended upon to design new classes and instructional materials. Not just for online students, too. The skills offered by these educational experts will be called upon to improve the educational experience for students learning face-to-face, touching the full range of theory and practice of teaching, or pedagogy.
Inside Higher Ed says COVID-19 "may enter the history books as pedagogy's greatest transformer."
With jobs in many types of educational facilities, the titles of instructional designers vary widely. Among other instructional coordinator job titles, according to O*Net Online, are as follows:
Curriculum and instruction director
Curriculum coordinator
Curriculum director
Curriculum specialist
Education specialist
Instructional systems specialist
Learning development specialist
Program administrator
What Do Instructional Designers and Technologists Do?
Instructional design and technology experts craft learning materials that reflect best practices from various theoretical practices, including the fields of educational psychology, technology, assessment and evaluation, and project management. They often work as a key member of a multidisciplinary team of experts including subject matter experts, learning management system specialists, graphic designers, and technology staff to design and refine an effective and efficient learning experience.
According to the U.S. Bureau of Labor Statistics, instructional design technology experts are typically tasked with the following:
Analyzing students' test data
Assessing and discussing the curriculum standards with school staff
Developing and implementing the curriculums
Establishing procedures for teachers to implement a curriculum
Mentoring or coaching teachers to improve their skills
Planning, organizing, and conducting teacher training, conferences, or workshops
Recommending teaching techniques and the use of different or new technologies
Reviewing and suggesting textbooks and other educational materials
Training teachers and other instructional staff in new content or programs
Bailie says instructional designers "apply established theories of learning to package curriculum in a way that is learner-centric and in a way that will work more effectively."
The BLS lists important qualities of successful instructional designers:
Analytical skills
Communication skills
Decision-making skills
Interpersonal skills
Leadership skills
How Do You Become an Instructional Designer or Technologist?
Instructional designers and technologists typically need a master's degree and related work experience, such as teaching or in-school administration, according to the BLS. Some need a degree in a specialized field, such as history or math.
Master's degree programs in this specialty, such as the Online Master of Science in Instructional Design and Technology or Online Graduate Certificate in Instructional Design and Technology at Purdue Global, typically do the following:
Emphasize the design, development, and evaluation of educational and informational programs, materials, and media in higher education, corporate, military, government, and nonprofit environments.
Include active, applied learning experiences that help students master technical, pedagogical, and project and program management skills.
"This field offers a career path for practitioners that have a keen understanding of contemporary learning theory and its application in various training settings, including schools, corporations, or the military," Bailie says. "Designers work with various tools of technology to create a curriculum that results in efficient and effective instructional delivery and measurable results."
In public schools, instructional designers may be required to have a state-issued teaching license or an education administrator license.
What Is the Outlook for Instruction Design and Technology Jobs?
The future for instructional designers looks solid, according to the BLS. It says job growth should be faster than the average from 2019 to 2029. This may be further impacted by the adjusting of curriculum needs and instructional changes in the aftermath of COVID-19, when more schools used e-learning. In fact, Inside Higher Ed says instructional design certificate and degree programs have had difficulty keeping pace with demand, even before COVID-19.
The largest employers of instructional designers and coordinators in 2019, according to the BLS, were the following:


| Employer | Percentage |
| --- | --- |
| Elementary and secondary schools; state, local, and private | 44% |
| Colleges, universities, and professional schools; state, local, and private | 19% |
| Government | 7% |
| Educational support services; state, local, and private | 6% |
As might be expected, the numbers of instructional designers are highest in bigger states. Here are the five states with the highest number of instructional designers employed in 2019, according to the BLS:
| State | Employed |
| --- | --- |
| California | 20,910 |
| Texas | 18,560 |
| New York | 17,120 |
| Georgia | 11,080 |
| Florida | 9,720 |
Start the Process in Instructional Design and Technology
After COVID-19 became a global pandemic, stronger focus has been placed on online learning, and instructional designers are well positioned to lead the way. Find out more about the online Master of Science in Instructional Design and Technology and the Graduate Certificate in Instructional Design and Technology at Purdue Global. Reach out today for more information and learn how you may be able to participate in this exciting and growing field.
---
Your Path to Success Begins Here
Learn more about online programs at Purdue Global and download our program guide.
Request Information